Cable TV Cord Cutting Won't Come Quickly, Could Be More Expensive Than Cable
We are obviously moving toward an era of streaming and other services that don't rely on Cable/Satellite providers, but it will still take some time to get there and for it to be cost effective.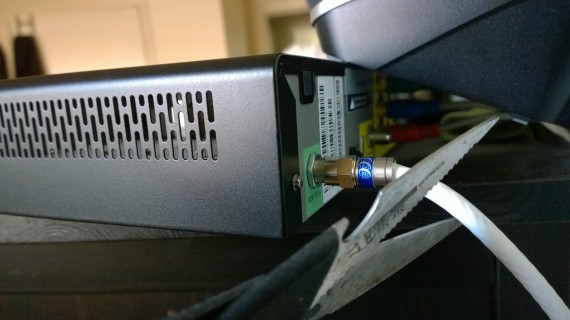 Last, HBO announced that it would begin offering an online streaming service next year that would not require a consumer to have a cable or satellite dish subscription to use. The next day, CBS announced that it was beginning immediately a service that would stream all of its shows with the exception of NFL Football and, presumably other sporting events such as golf and NCAA Basketball. As I noted when I wrote about both decisions at the time, these were big steps forward down a road that, someday at least, would allow consumers to truly "cut the cord" and access programming without having a cable subscription. Beth Braverman at The Fiscal Times notes, however, that cord-cutting is definitely a long way off, and it may not be as much of a benefit as some people think.
Braverman breaks her argument down into four categories.
First of all, of course, is the rather obvious point that you'll need additional devices to access content without a cable subscription. A computer or tablet would fit the bill of course, but there are other potential options such as Roku box or HDMI stick that fits into a plug on your television, a Chromecast stick, or even an HD Antenna that would allow you to access at least the broadcast television channels in your areas over the air for free. Additionally, most Blu-Ray players include Internet access that allows to access streaming services like Netflix, Amazon Prime, Hulu Plus, and YouTube as well as other services. Presumably these devices will also be able to access additional streaming services in the future. Each of these costs money that ought to be factored into any decision about whether or not cord-cutting would work for you. At least initially, of course, most people inclined to do this are going to have at least some of the technology needed to pull it off but many average television viewers won't, and many of those people won't necessarily be technologically sophisticated enough to figure out how to pull all this technology together. Because of that last factor, adoption of cord-cutting technology is likely to be slow outside of the millennial generation and others who are sophisticated technology consumers.
Second, of course, even if every cable network eventually moves to streaming content, you'll need paid subscriptions to replace the content that you will no longer be able to access via cable but still want to see. So far, we don't really know what the pricing models for these streaming services might be; HBO, for example, has yet to discuss what the pricing for a non-cable subscription to its streaming service might cost. However, even if you just have a few cable channels that you want to watch without having to pay for everything else, that means paying for a bunch of subscriptions that may, in the end, come to a total cost that isn't all that different form what you're paying for cable itself. Additionally, the rise of streaming services is likely to cause cable companies to offer discounts and bundles with more competitive pricing that could change the corded v. cordless calculus for many people.
Related to this point but not mentioned by Braverman is the fact that some niche networks may not survive in a pure streaming world, or one where streaming becomes enough of a business factor that cable networks become more parsimonious in home much they are willing to pay for content. It may be the case that well known networks like Discovery, Animal Planet, and HGTV, The Food Network, and other networks might not be able to survive in a market where streaming is the predominant source of content. Of course, some of these networks are owned by larger media companies — USA Network is owned by Comcast/NBC for example, and TNT, TBS, and CNN are all owned by Time Warner — so they may survive under that umbrella by being sold as part of a package of streaming services or via some other arrangements. The same could happen to the major cable news networks, although it's worth noting that news has never been a money maker for any network and, if the broadcast networks someday no longer need to rely on over-the-air broadcasts then the "public service" need for news departments will largely disappear. In other words, at least initially, the streaming world may end up having less content available than what we have today.
Next, Braverman notes something that I've mentioned before:
You won't find the current season of cable hits like "Mad Men" or "Sons of Anarchy" available anywhere besides your cable television package. That can mean a year of missing out on post-show discussions and trying to avoid spoilers.

For sports fans, the availability of programming is pretty scarce, especially if you want to watch a live game on your ginormous-screen TV. Many of the sports leagues will let you watch a streaming game online for a fee, but only if that show is not being broadcast nationally or locally. (ESPN does have an app for digital viewing, but you need a cable log in to access it.)
Of all the programming on cable and broadcast television, there's nothing that is likely to cost more in a streaming world than sports. This would be especially true if you end up having to get separate subscriptions for each sport, but even if that's not the case, there's more to the sports television world than ESPN —- NBC Sports, Fox Sports, and the channels run by each of the leagues just to name three — and for someone who is a fan of more than one sport, individual subscriptions to all of that content is likely to add up quite quickly. More importantly, cord cutting right now would mean losing access to much of this content since there presently are few options for the sports fan who doesn't have a cable or satellite television subscription.
The final note is the most obvious one. In order to access all of these content, you're going to need an Internet connection and the majority of Americans presently get their Internet access from the same company they get their cable television, often as part of an overall package that often now also includes home telephone service of some kind. Even if you get rid of the television side of the subscription, you'll still need to use the Internet side, and that subscription may end up being more than you're paying today because it won't be subsidized by your subscription to the television side of the equation.
None of this is to say that cord-cutting is a bad idea, or that we won't one day see the day when most people are accessing their content over the Internet instead of via a wired service. Indeed, that day seems as though it will inevitably come. However, it's not going to happen any time soon and it's likely to bring with it its own costs and headaches that could be just as frustrating and expensive, at least initially, as dealing with the local cable monopoly. The one advantage that such a world may have, of course, is that a plethora of content providers will likely lead to much greater competition that should keep downward pressure on prices. And, of course, there is likely to be technology coming down the road that will make the whole process easier and cheaper than it is right now. For the moment, though, cord-cutting as a way of life is going to remain on the bleeding edge for awhile, and it's not likely to be much cheaper than cable unless you just want to watch one or two "channels" all the time.