CBS Announces Streaming Service, And Cutting The Cord Starts To Become Easier
One day after HBO, CBS announces its own streaming service. And the future approaches just a little bit faster.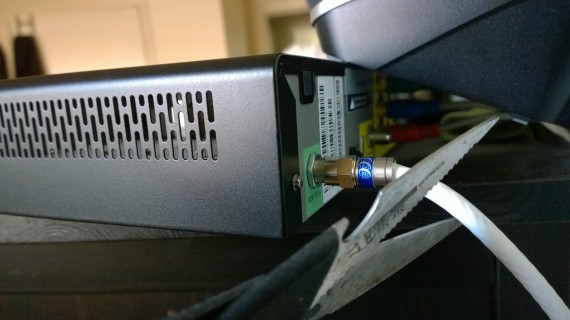 One day after HBO said that it would be offering its own stand-alone streaming service, CBS announced it would be doing the same, but you won't be able to use it watch football games just yet:
CBS announced a new subscription Internet streaming service on Thursday that allows people to watch its live television programming and thousands of its current and past shows on demand without paying for a traditional TV subscription.

The new "CBS All Access" service, costing $5.99 a month, is the first time that a traditional broadcaster will make a near-continuous live feed of its local stations available over the web to non-pay-TV subscribers. At its start, the live stream will be available in 14 markets in the United States.

CBS's announcement comes a day after HBO said it would start an Internet-only offering that would not require a traditional television subscription.

The moves by CBS and HBO signal the arrival of a new age of web-delivered television, where viewers have more options to pay only for the networks or programs they want to watch — and to decide how, when and where to watch them.

After much anticipation, this new era of à la carte TV has suddenly arrived — all at once and more quickly than many industry executives, observers and television fans had expected. And with it, the virtual monopoly that cable, satellite and telecommunications companies have had over TV programming is dissipating.

"Everybody is talking about it," Leslie Moonves, chief executive of the CBS Corporation, said in an interview. "It is an important part of our future. Our job is to do the best content we can and let people enjoy it in whatever way they want. The world is heading in that direction."

The push into web-only offerings by HBO and CBS, two networks that have enjoyed billions of dollars in profits from the traditional system, highlights how rapidly the television landscape is shifting.

Their moves are largely a reaction to the success of Netflix, whose popular streaming service has more than 50 million global subscribers. Along with Netflix, a host of other insurgents like Amazon and Hulu now offer on-demand programming that can be watched anytime and anywhere on a laptop or a smartphone.

Subscribers to "CBS All Access" will be able to watch local CBS television stations in 14 markets, including New York, Los Angeles, Chicago, Philadelphia, Dallas and San Francisco. More affiliates are expected to join.

Available in all other United States markets beyond the initial 14 markets are episodes of current prime time shows like "The Big Bang Theory" and "NCIS" the day after they are shown, and more than 5,000 episodes of such series as "Star Trek," "Cheers" and "MacGyver."

In a notable carve-out, National Football League games will not be available on the service. CBS executives said they are now in discussions with the N.F.L. and that other live sports are already available for streaming. A similar service from Showtime, the premium cable network owned by CBS, is likely in the "not too distant future," Mr. Moonves said.
The highlighted portion above is, I think quite significant because it poses a real challenge to Netflix and Amazon Prime Instant Video which, until now, have been the best sources for being able to watch streaming versions of television shows that are no longer on the air. To a large degree, both services are at the mercy of the studios and other copyright holders who have an interest in these shows already, which is one reason why you occasionally see certain movies or television series appear and disappear from one of these services seemingly at a whim. What's generally happening in those cases, of course, is that the licensing agreement that the streaming service had with the studios has expired and was not renegotiated. The prospect of the studios and broadcast networks themselves getting into the business of streaming their own vast libraries of shows, minseries, and movies without going through the middleman of Netflix of Amazon is one that appeals to executives in the entertainment industry. Among the companies that would stand to be able to profit from a business model like this most readily from this type of arrangement, of course, would be Disney/ABC, which has one of the most valuable media libraries of any entertainment company out there. Others companies that would no doubt be interested in this avenue of distribution would include Sony, Twentieth Century Fox, NBC, and pretty much any other company that has been involved in the production of television shows and movies for the past thirty years. This doesn't mean that everything that has ever been produced would become immediately available, of course, but there's not theoretical reason why this couldn't eventually be the case on either an a la carte or subscription basis at some point in the future.
What all of these developments suggest, of course, is that the days when it will become more technologically feasible for people to "cut the cord" and still be able to enjoy the entertainment and information sources that they prefer at a reasonable price and in a way that is easy for the average person to access are fast approaching. Since that model is going to upset business models that have been around for a very long time. Broadcast networks like CBS, for example, have been around since the dawn of television and now one of them is announcing plans to start offering its content in an entirely new way that will allow people to skip watching the show on broadcast television. At some point, that's going to have an impact on ratings, especially among the valuable younger demographic groups, and that, in turn, will have an impact on what advertisers are willing to pay for slots on even the top rated shows on these networks. No doubt, there will be some advertising included with the streaming product that's offered, but its unlikely to include as much advertising time as a regular broadcast would. So, that's going to haven impact on the entire way that consumer product companies of all kinds market their products to the public. The other industry that will obviously be impacted most directly are the cable and satellite companies that deliver content to people's homes. Eventually, they're going to have to find a way to offer their product in a way that appeals to people who might be attracted to streaming packages, and do it in a way that makes it both convenient and competitive with what CBS and other companies might be offering. Of course, that part will depend on how long the networks are willing to license the cable companies to carry their product, or how much they might want to charge for it. Finally, there are some things available on cable today that may not translate well into the streaming world. Can you really see a world where there are three separate streaming news "channels" available? I can't.
None of this is going to happen overnight, of course. Older Americans, for one, are probably going to be less likely to cut the cord than millennials so they'll still be loyal cable/satellite/broadcast network viewers for some time to come. Nonetheless, the process is beginning and it's going to be irreversible at some point.