The Future of Streaming TV
The current business model is collapsing. It's about time.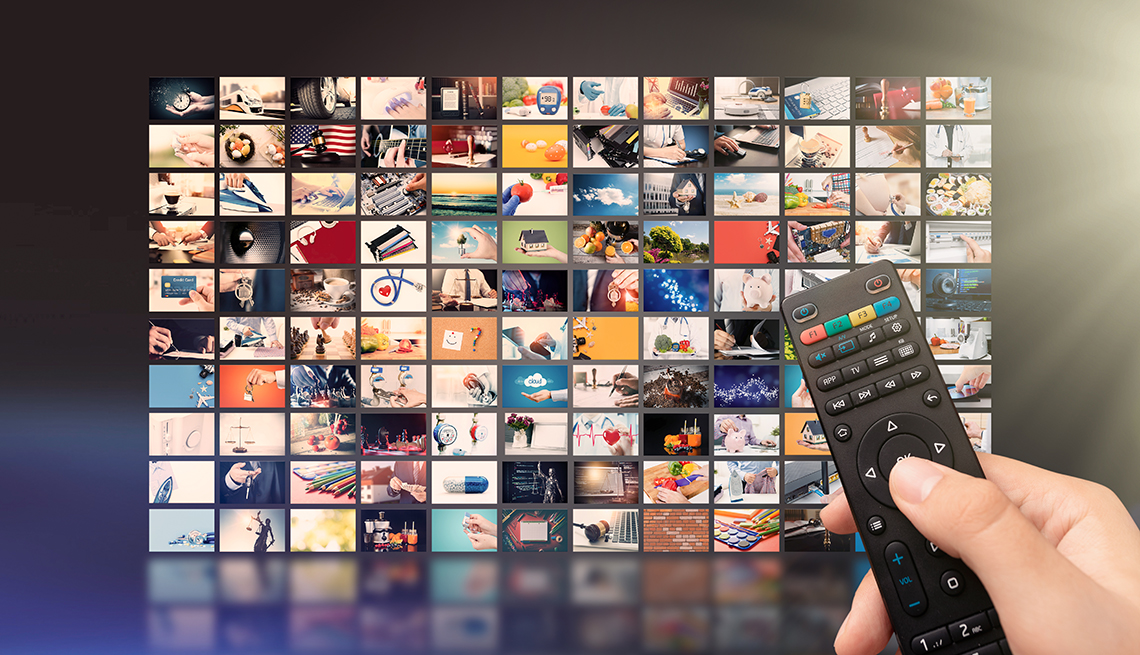 There has been another spate of articles on television streaming services in the wake of multiple venues simultaneously raising prices while cutting back on content—including taking down already-produced shows. The ones that most caught my attention:
FT ("Hollywood calls time on golden era of cheap streaming"):
The era of cheap streaming is ending, as Hollywood's largest studios turn the screws on customers with price rises that rival the expensive cable television "bundle" consumers began ditching for Netflix 15 years ago.

A basket of the top US streaming services will cost $87 this autumn, compared with $73 a year ago, as Disney, Paramount, Warner Bros Discovery and others have raised their prices in response to pressure from Wall Street to end the profligacy of the streaming boom. The average cable TV package costs $83 a month.
These numbers strike me as comparing apples to oranges. For $87, I can get all manner of outstanding programming but, crucially, not the live television with DVR capability that cable provides. Meanwhile, I don't think an $83 cable package comes with any of the "premium" channels like HBO or Showtime.
Enticed by low prices, consumers rapidly cut the cable "cord" in favour of streaming services, with Disney+ attracting more than 100mn subscribers in only 16 months with a $6.99 subscription.

But privately, media executives warned of a looming "car crash" as they splashed out tens of billions of dollars on TV shows and films.

As interest rates have soared over the past year and a half, the crash has arrived. Media stocks have suffered a bruising correction as Wall Street grew impatient with the heavy streaming losses.

After watching their stock valuations more than halve, Warner Bros and Disney have shifted towards austerity, laying off thousands of staff and raising their subscription prices to curb billion-dollar streaming losses. Even Netflix ditched its basic $9.99 advertisement-free monthly subscription earlier this year, with new customers paying $15.49.
This has been the way across tech for years: they build up a customer base with highly-subsidized services that can't possibly be sustained, and hope customers will stick around and pay way more (often for less service) once they're accustomed to it. It's seldom a workable model.
Here's their handy-dandy tracking of price increases for the last year: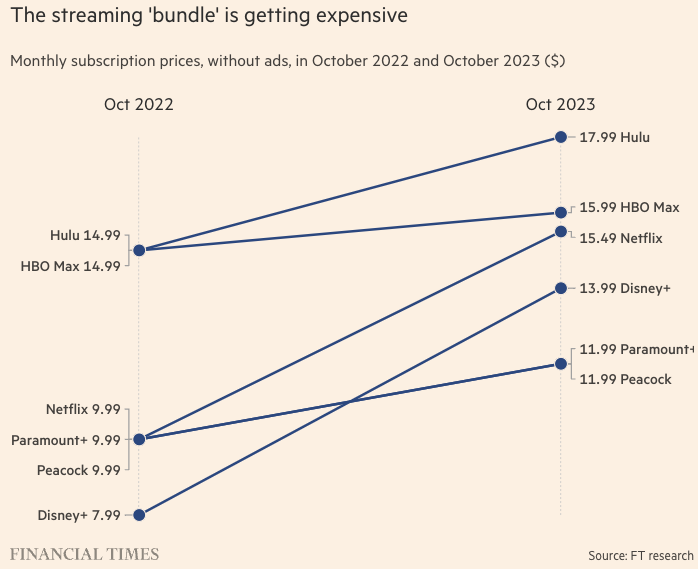 Now, in all candor, none of these are enough to impact my choices much. We canceled HBO Max a long while back because there's just not enough Must Have content to justify the price. If I had more time to watch TV, I'd get Paramount+ to watch some of the Star Trek spinoffs. And we recently got Peacock to watch Yellowstone. (We canceled Apple TV+ after the trial period but we only got it to begin with the watch Ted Lasso.)
Still, not only are prices going up while programming cutbacks are diminishing the value of the products, but we're going back to one of the worst features of the Good Old Days.
There are cheaper streaming options, of course, but those come with another unloved feature of old-school TV: advertising. "We're very optimistic about the long-term advertising potential of this business, even amid a challenging ad market," said Bob Iger, Disney chief executive, this week. He noted that the company had signed up 3.3mn subscribers to the ad-supported version of Disney+, which costs $7.99.
More on this later.
"Does cutting back on content and raising prices work?" said Rich Greenfield, an analyst at LightShed Partners. "Can you raise prices another 30-plus per cent, reduce content spending and continue to grow subscriptions or maintain subscriptions?" Rogers said there were ways to encourage subscribers to keep paying. "At a certain point you've got to watch out for people unsubscribing," he said. "But [streamers] also have mechanisms for that — they can give a discount if you buy for a year rather than pay month to month."

As a historic Hollywood labour strike continues, these entertainment giants also risk running out of new shows at the same time that they are wringing consumers for more cash. "[Disney] is asking more and more of the customer . . . while the amount of new content on offer will likely decline," said analysts at media consultancy Enders, who warned of "a negative spiral and real consequences" if the strike drags on. "Lack of fresh content, particularly for Disney+, will increase churn," they added.
We shall see, I guess, but I'm skeptical.
WaPo "Tech Friend" Shira Ovide helpfully suggests "5 ways to save money as streaming gets more expensive." Alas, most of them suck.
Subscription options with commercials are a better deal

The price gap between watching with and without ads is becoming hard to ignore.

The cheapest monthly subscription to Netflix without commercials now costs $15.49 in the United States. (Netflix is killing a $9.99 option.) But if you're okay sitting through commercials, you'll pay $6.99 a month.

Disney said last week that it's raising the monthly price of Hulu without commercials to $17.99 from $14.99 starting in October. But the cost of the subscription option with commercials is staying at $7.99 a month in the United States.

Peacock, Max (formerly HBO Max), Disney Plus and Paramount Plus (which includes Showtime) also have subscription tiers with commercials. In some cases they are half the cost of options without ads.
It would also be cheaper if I generated my own electricity by bicycling during the shows. It would similarly suck. I'm barely willing to put up with commercials during live sporting events at this point. I've completely given up on radio, for example, in favor of streamed music and podcasts—and will skip the commercials during the latter and stop listening to shows altogether if there are more than two commercial breaks in an hour that I have to skip through. There is literally no scripted television show that I'd be willing to sit through commercials to watch. I'm just too accustomed to the peacefulness of being able to just watch.
Most of her other suggestions are just too cumbersome. I'm not going to shop around for coupons and for short trials or hop from credit card to credit card for incentives.
The only suggestions he has that are worthwhile are the ones we already know about:
Look for freebies or discounts from your phone company

Verizon recently started offering some mobile phone customers a discount on combined subscriptions to Netflix and Paramount Plus with Showtime for $25.99 a month. The subscriptions separately cost about $32, Vulture reported.

T-Mobile and AT&T also throw in streaming subscriptions such as Netflix or Apple TV Plus with some mobile phone plans. (Vulture made a handy list.)

If you buy a new iPhone or some other Apple products, the company adds three months free of Apple TV Plus.
and
Subscribe for a few months, stream like crazy and quit (or pause)

With the Hollywood strikes stopping production of many new shows, streaming services might not have as much stuff to keep you entertained month after month.

You could be better off subscribing to one streaming service for awhile, watching what's interesting to you and canceling. Then repeat with another streaming service.

You can always come back and subscribe again.
These are somewhat cumbersome but make sense if you're making decisions for just yourself or a couple. Most of us have limited viewing time and like to binge-watch shows rather than skipping around from show to show. (I seldom watch more than one episode of a one-hour show or two of a half-hour show at a time. But we will tend to dedicate our scripted TV watching to a very small number of shows–typically one for the adults and another to watch with the kids—at a time.) It gets harder, though, when there's a larger family with different viewing interests. It's hard to quit a service when someone in the family is in the middle of binging a long-running show.
Vulture's West Coast editor, Josef Adalian, points to a much better option, "Could a True Streaming Bundle Be Upon Us?"
A veteran media executive I've known for decades has long had a theory about how the streaming revolution will play out. Even as legacy companies such as Disney and NBCUniversal started blowing up their business models to compete with the Netflixes of the world, he kept warning me that many of the momentous changes we were seeing wouldn't last forever. "All TV regresses to the mean," he would tell me over and again, almost like a mantra. His prediction has been proven right several times in recent years, from the shift back to weekly releases of shows to the introduction of ad-supported tiers on services that once shunned them. And now, there's evidence another golden oldie of TV's linear age could be poised for a comeback: the TV bundle.

The buzz about bundling has been steadily growing in TV industry circles since May, when Warner Bros. Discovery CEO David Zaslav took a break from his usual mustache-twirling to lay out case for why companies with streaming platforms needed to get on the ball and figure out a way to package their respective services together in one consumer-friendly package — a.k.a. a bundle. "For me, it seems very clear that if we were to package this great product that we have with others … it would be great for consumers," Zaslav said during an appearance at an industry conference. But more importantly from a corporate point of view, a bundle "would probably reduce churn," the CEO said, and could make it possible to spend less on promotion and customer acquisition since all parties in the bundle would "be marketing one product."
There is, naturally, a lot of hesitation on the part of the various companies who would need to go along with this idea:
While Disney has had success packaging together streaming services it owns (Disney+, Hulu, ESPN+) into the Disney bundle, it hasn't shown any inclination to let its platforms be connected with third-party streamers. And while there are signs attitudes are softening — more on that later — that's largely been true of the other six biggest American streamers (Netflix, Max, Prime Video, Apple TV+, Paramount+, and Peacock). An industry insider I spoke to this week believes the holdup is understandable given the risks involved. "You're making serious trade-offs if you do this," he said.

The most obvious is that, because bundling involves discounting, companies make less money per subscriber than they would on an à la carte basis — particularly if a current customer switched to a bundle to save some dough. And with ad-supported tiers now standard across major streamers (even on Apple TV+, which has advertising in its sports programming), "You have to think about what the ad split is among partners and how it's constructed," the industry insider said.

And then there's the thorny question of whether competing streamers would want to handle the packaging and promotion of a bundle themselves (the way Disney does with its in-house services) or allow someone else to play middleman. The latter scenario would more closely mirror the linear model, where an Xfinity or DirecTV sells a bundle of channels and then pays individual services a pre-negotiated fee per subscriber. Both Paramount Global and Warner Bros. Discovery (at least under Zaslav) have been relatively relaxed about working with outside parties: Both participate in the Amazon Prime Video channels program, while Paramount has also opted into the Apple TV channels universe. Netflix, however, has refused to let its content get aggregated into those ecosystems, while Disney also currently boycotts those programs.
This is, of course, very back to the future. People "cut the cord," killing off the old cable and satellite bundles, because they got tired of paying for so much content they didn't want. Netflix was originally a pretty good substitute but then the networks and studios realized they were killing off their main revenue sources and rebelled. This forced Netflix to start making their own content, kicking off the Golden Age that's now dying off.
Adalian goes into some detail on some models that are being tried or considered to make bundling work. He concludes,
Despite all the signs that streaming's future will involve more bundles, we might still be a few years away from anything close to what the cable ecosystem offered: one platform, one price. As noted earlier, several big streamers remain staunchly opposed to sharing the same user interface as rivals, and it's hard to see that changing soon. And as much as platforms want to reduce churn and, if possible, increase overall subscriber counts, they also want to be careful to not end up selling their product too cheaply. If you take in $2 less per user but net 20 million consistent subscribers, a bundle makes perfect sense. But if most of your users switch to a cheaper bundle deal and you only net a few million more customers, "Do you end up limiting your upside and how much you make overall?" our streaming industry insider wonders.

What's more, with so many changes expected to hit the industry over the next two years — many analysts have hinted at major mergers and acquisitions next year and in 2025 — there's always the danger of doing a deal that seems good now but ultimately becomes a headache. "Once you get into bed with someone, you're in bed with them for a while," the insider says. "You don't want to be locking yourself into the wrong deal." And yet, this same source also thinks we are still likely to see more aggressive bundling emerge relatively soon because, despite the risks, many streamers desperately need new ways to boost subscriber counts and revenue. "I wouldn't say everything is on the table, but the entire industry is looking for models that work," he says.
One thing is for sure: 2025 is going to look quite a bit different. It just makes no sense for every network to be trying to sell a separate streaming service. There needs to be consolidation one way or the other.