The Cable Bundle is Dying. We'll Miss it When it's Gone.
As much as we hate paying $200 a month for television, the future is likely going to be worse.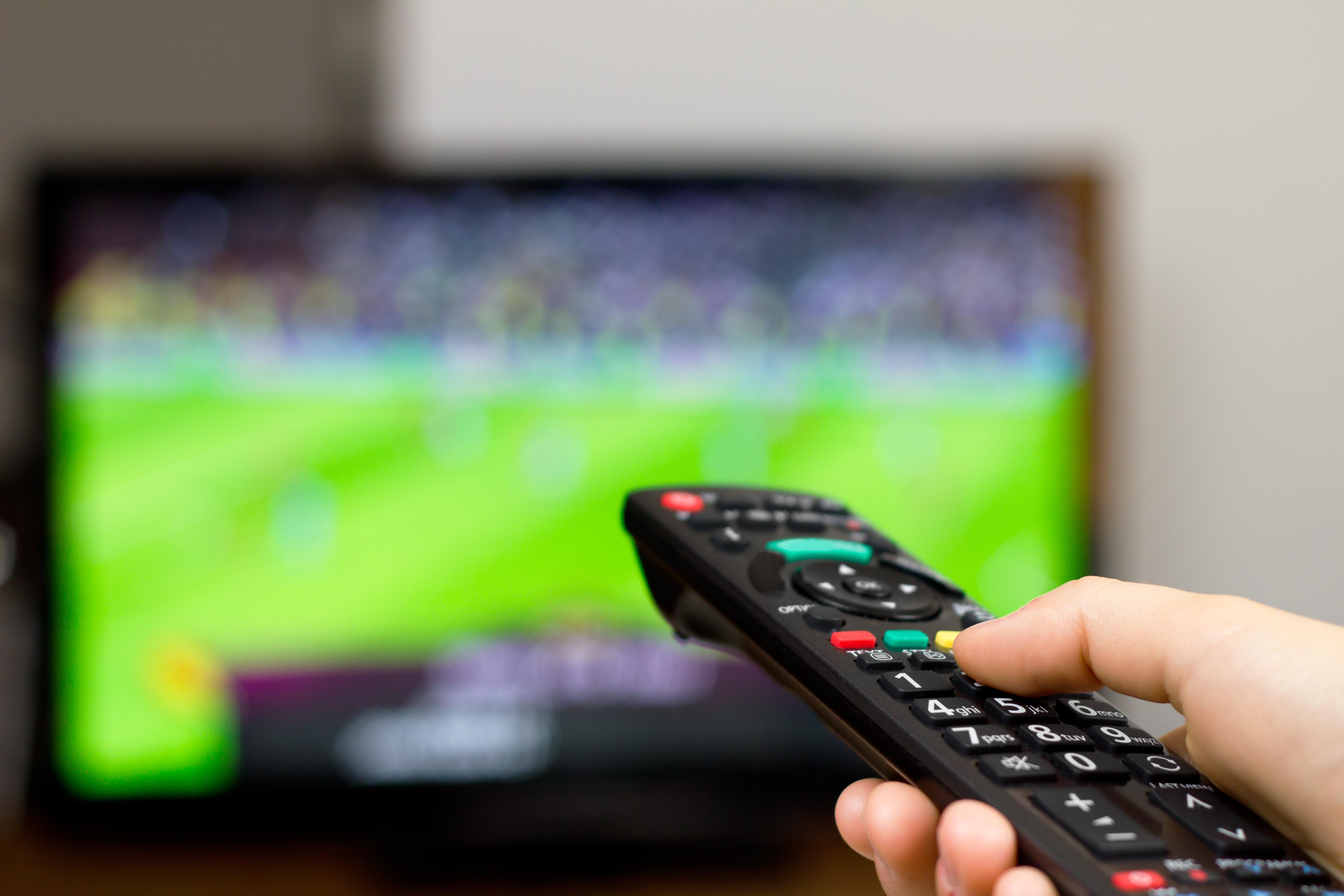 Bloomberg's Gerry Smith examines "Who Killed the Great American Cable-TV Bundle?"
He begins with the obvious:
The reason American consumers are abandoning their cable subscriptions is not a mystery: It's expensive, and cheaper online alternatives are everywhere.
But argues that it's more complicated:
But who exactly is responsible for the slow demise of the original way Americans paid for television? That's a far trickier question. The answer can be traced to a few decisions in recent years that have set the stage for this extraordinarily lucrative and long-lived business model to unravel: licensing reruns to Netflix Inc., shelling out billions for sports rights, introducing slimmer bundles, and failing to promote a Netflix killer called TV Everywhere.
But the next paragraph would indicate that the bundle is still with us:
The TV bundle with hundreds of channels, which took off in the 1990s and was ubiquitous in U.S. homes at the start of this century, has fallen from 100 million to 95 million subscribers in the past five years. This quarter, pay-TV giants such as Comcast, Charter, Dish, and AT&T saw an additional 744,000 subscribers disappear.
I'm no mathematician but a five percent decline off peak doesn't strike me as catastrophic. The accompanying graphic makes it look stark because of scaling choices: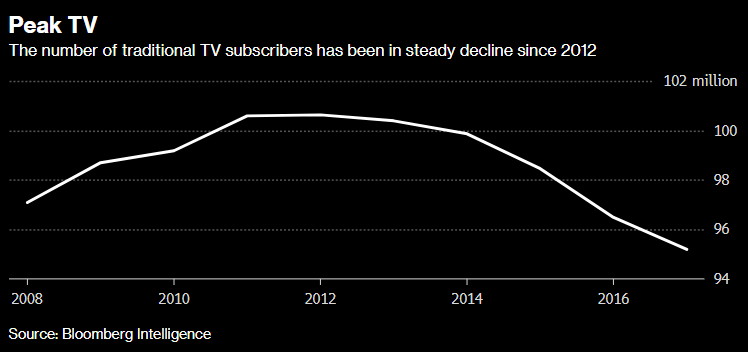 Obviously, it's not a trend that the industry wants to see. But it's quite possible that the bulk of those who are willing to live with the inconvenience of non-bundled options have already cut the cord and we'll see a plateau in the near future.
This steady decline is the driving force behind a series of blockbuster mergers reshaping the media landscape, such as AT&T buying Time Warner, Walt Disney acquiring much of Fox, and Comcast pursuing Sky. Entertainment companies, nervously watching their business model waste away like a slowly melting glacier, are deciding they need to get larger and expand globally to compete with deep-pocketed rivals like Netflix—or sell.
We've been seeing mergers in the media sector since deregulation of the industry started four decades ago. Indeed, the pace was much more frenetic in the days when owning a cable or satellite conglomerate was seen as a license to print money.
The TV industry isn't suffering financially, however, because it keeps raising prices on the remaining customers. The average pay-TV customer today spends $106.20 a month, up 44 percent from 2011, according to Leichtman Research Group. Since 1980 cable, satellite, and phone companies have generated $1.8 trillion in revenue from selling TV service, according to Kagan, a unit of S&P Global Market Intelligence. Revenue last year was $116 billion.
This is perhaps the most amusing part of the trend to me: people are cutting the cord because television bundles are inordinately expensive and the industry is responding by increasing the price of said bundles. It's a truly bizarre business model but it's one that seems to be working in the short run.
But many believe a reckoning for the cable bundle has arrived.

"You've got high prices, big bundles, and broadband," said Warren Schlichting, group president of Sling TV, which has more than 2 million people paying for an online service that starts at $25 and offers about 30 channels. "At some stage, the consumer is going to revolt."
I have plenty of friends in my age cohort, who have been accustomed to the old norm since young adulthood, who are making six-figure incomes, and nonetheless dropping cable or satellite coverage because they (or, more often, their wives) are tired of paying $200 or more a month for television. I've certainly considered it but have held on both out of inertia and because I enjoy the convenience of a massive DVR and, especially, easy access to live sporting events.
Smith interviewed dozens of industry professionals and identified numerous culprits.
Perhaps no one deserves more credit for threatening the old TV business model than Netflix Chief Executive Officer Reed Hastings. As the driving force behind the world's largest streaming video service, with about 130 million subscribers, he's taught consumers to expect an abundance of old and new shows and movies, without the irritation of commercial interruptions, for just $8 a month.

But if Hastings's success is responsible for the decline of the cable industry, he had plenty of accomplices among TV executives who fueled Netflix's rise in the early going. Over the past decade, media companies have licensed their old hits to Hastings, getting a short-term payout but jeopardizing the long-term health of the industry.
I'm a longtime Netflix subscriber and long viewed it as a modest supplement to my DirecTV package. Increasingly, though, it's a competitor in that I only have so much time to watch programming.
Looking back, some TV executives express regret for doing business with an up-and-coming Netflix, and they struggle to justify their decision to do so. Had they withheld shows from the companies, TV executives might have been vulnerable to lawsuits by the Hollywood talent who have a financial stake in a show being sold to the highest bidder. Netflix frequently offered the most money.

Investors also pressured media companies to take Netflix's cash. Take, for instance, Time Warner Inc., which is now owned by AT&T Inc. While Disney, CBS, and others licensed many of their old shows to Netflix, Time Warner initially held out. Starting in 2009, Time Warner and Comcast Corp. tried to rally the industry around an idea to slow Netflix by making TV episodes available online—but only to cable subscribers. The idea was called TV Everywhere.

By 2012, however, Time Warner's investors were demanding to know why the company wasn't selling its reruns to Netflix, according to one former Time Warner executive. "We sat out for a few years, and all of Wall Street said, 'What the hell are you guys doing? You're leaving value on the table for your shareholders!' " the former executive said. "So we relented. That was the beginning of the end."

Time Warner's Turner Broadcasting did its first deal with Netflix that year. Another transaction the following year brought in more than $250,000 per episode for reruns of shows like Robot Chicken and Aqua Teen Hunger Force, according to the former executive. Time Warner figured Netflix's money would make up for any lost advertising revenue from viewers who watched on Netflix instead of a cable box.

By 2015, Wall Street had changed its tune. With about 40 million U.S. subscribers, Netflix was becoming a clearer threat. Analysts started pushing media companies to reclaim those old episodes from Netflix to make cable TV more attractive, which could slow the rise of cord-cutting. That year, Todd Juenger, an influential analyst at Sanford C. Bernstein & Co, estimated that big media companies, including Viacom, Fox, and CBS, would have been worth a total $45 billion more if they hadn't done business with Netflix in the first place.
Again, in my case, the ability to stream previous seasons of shows on Netflix (and, to a much lesser extent, Amazon Prime) was long a mere adjunct to my regular television viewing. In some cases, as with The Wire and Deadwood, I binge-watched shows that I never saw when they were airing after they'd gone off the air. In many other cases, though, including most recently Better Call Saul, I started watching the shows on my DVR as they came out after catching up on previous seasons via Netflix.
We're likely getting to the point where there's enough content available via streaming that watching new scripted programming as it comes out is less attractive than it once was. While social media has made it more important than ever for some people to watch the latest episode in real time, that's a small niche. And I've lost the patience not only for watching commercials but even fast-forwarding through them.
Regardless, while hindsight is 20/20, Smith's article makes it pretty clear that turning down Netflix's money for reruns was really not an offer executives of publicly-traded companies could refuse.
Smith's second culprit is arguably both a blessing and a curse:
TV executives have also spent billion of dollars acquiring sports rights, which has driven up the price of TV service—and almost no one has bid more aggressively for sports than Disney CEO Robert Iger. Disney, owner of ESPN, is on the hook for $45 billion in sports rights in the coming years. To cover those fixed costs, ESPN charges TV operators about $8 per month per subscriber, making it the most expensive channel and an easy target for critics.

"ESPN created the model of everybody paying for sports even if only a fraction of the country cares," said Rich Greenfield, an analyst at BTIG and a Disney critic. "The cost of the bundle has gotten so absurd because of what Disney has done with sports rights."

Sports programming is still an undeniably huge draw. Justin Connolly, Disney's executive vice president for affiliate sales and marketing, said ESPN is a big reason why people sign up for new online services such as Sling TV or DirecTV Now. And, of course, access to big-time sporting events is one of the reasons many people renew their cable-TV subscriptions.

For its part, ESPN is happy to avoid a deep inquiry into the connection between sports and rising prices. "We as an industry need to figure out how to avoid the finger-pointing around who is to blame, and provide consumers with the feeling that if they spent $35 or $40 or $90 or $100 on a pay-TV package, they see real value," Connolly said.

If anyone is responsible for the high cost of sports, it's not ESPN—it's sports fans, according to  Bill Rasmussen, who co-founded ESPN in the 1970s. "The fan is responsible for ESPN," said Rasmussen, who no longer works at the network. "They just kept demanding more sports, and ESPN kept going out and buying more rights."
The nature of the bundle is that everybody pays for some channels they don't want in order to get all the channels they do. I'm skeptical that the $8 a month for ESPN in a package costing upwards of $100 was the straw that broke the camel's back even for non-sports fans. Beyond that, the reason companies continue to bid up live sports is because that's one of a handful of events that consumers feel compelled to watch in real time. Indeed, it's not only by far the number one driver of my continued willingness to pay the exorbitant cost of the monthly bundle but DirecTV's exclusive right to NFL Sunday Ticket has been the main thing keeping me a subscriber.
Even the egregious examples aren't that convincing:
To some executives, no company offers a more egregious example of how the value of sports has spiraled out of control than Time Warner Cable. In 2013 the cable company, now owned by Charter Communications Inc., agreed to pay an average $334 million a year to broadcast Los Angeles Dodgers games for the next 25 years on its cable channel, SportsNet LA. That's roughly eight times what Fox reportedly paid in the previous Dodgers deal. To cover the cost, Time Warner Cable initially charged almost $5 per month per subscriber, making it one of the most expensive in the bundle.

Five years later, no other major TV provider around Los Angeles carries the Dodgers channel because of the steep price. Unable to watch their favorite team, many Dodgers fans have either switched to Charter, which carries the channel, or else cut the cord. Charter declined to comment.

"That was such an extreme overpayment for sports rights," one TV executive said of the Dodgers deal. "That's what's killing the bundle."
Granting that Dodgers fans are a relatively small segment of the LA community, it's hard to believe that the cost of a happy hour beer is really driving away that many consumers in high-cost-of-living area.
The third culprit, though, is more persuasive:
The cable bundle was badly wounded by a man who made one of the great fortunes from it: Dish Network Corp. co-founder Charlie Ergen.

[…]

The cable industry argued prices would rise if consumers could choose only certain channels, and channels aimed at minority groups, for instance, wouldn't survive without every subscriber paying for them—regardless of whether they watched.

It wasn't until 2015, when Ergen introduced Sling TV, that the floodgates truly opened. Sling TV is a so-called "skinny bundle," giving online subscribers the option to buy just a few channels and pay a much lower monthly fee—in this case, about a fourth of the average cable bill. Since its arrival, at least six more online TV services have entered the market.

These lower-cost services have won back some people who quit cable, providing hope for the likes of ESPN or CNN, whose channels are included. But the skinny bundles haven't won back all the departed. They have only about 6 million customers so far. And companies whose channels have been excluded from them have little recourse to make up lost ground.

"Sling TV was a watershed moment," said Moffett, the analyst. "It broke the all-for-one and one-for-all model for the first time."
Again, my math skills aren't the best but, if the industry has lost five million subscribers over the last five years and Sling has picked up six million subscribers, then they alone have done more than "won back all the departed," what with six million being more than five. While ESPN and company doubtless contributed to the desire for cord-cutting by jacking up prices and Netflix helped make it attractive by providing lots of quality content, Sling is able to provide content theretofore available only in a cable or satellite bundle: live access to local and national news, the current season's programming on key networks, and some modicum of live sports.
Smith's last culprit is rather odd:
In hindsight, some TV executives believe the industry would be much healthier now if everyone—programmers and distributors—had agreed to make all episodes of shows available to cable subscribers on any device. That was the dream behind TV Everywhere, an idea hatched in 2009 by Comcast CEO Brian Roberts and Time Warner CEO Jeff Bewkes. But in those crucial early days, TV Everywhere struggled to get off the ground.

Executives couldn't agree on how long to make old episodes available for subscribers. Some gave viewers only a day to catch up on a show they missed because the broadcasters had sold the reruns to another service. Others made past series available to subscribers for a month. Consumers became confused about where to go and how long they had to binge-watch a show. Some TV networks were slow to make their channels available online.

In the end, the cable industry's failure to protect the bundle came down largely to greed, Moffett said. Media executives wanted to charge more for certain rights, like making every old episode available to cable subscribers, or granting the rights to watch a show on an iPad outside the home, instead of giving them away for the good of the industry.
While there were certainly advocates for universal availability back in 2009, it's hindsight bias in the extreme to argue that it was the obvious choice. Programmers and distributors alike had real concerns about their intellectual property rights. They were making serious money selling DVDs of past seasons; of course they weren't going to simply give them away for free. Additionally, figuring out how to make the advertising model that the industry was built on work for on-demand content was naturally going to take time. And, of course, Netflix and other bidders for rights to license older programming naturally wanted exclusive rights.
It's true, though, that the post-bundle world looks to be much worse in some ways. While consumers have won the right to chose which content to pay for, with the ability to pay much less if one only wants a relative handful of content, those who want a wide array of content may well wind up paying more money for less convenience.
That Netflix, Amazon Prime, and others are producing high-quality content exclusively for their customers is great insofar as more high-quality content is valuable. But it means that consumers no longer have all the programming they want available for a set price from a single device. They have to buy it à la carte and remember on which device they need to view it.  Currently, I watch most of my programming via my DirecTV interface and view Netflix, Amazon Prime, and Bluray content via my Sony Bluray device. (I can also view the two streaming services via my smart TV but doing so is actually less convenient than doing so through the Bluray, since I have everything wired through a surround sound audio receiver.) That's not all that complicated but the trends are moving toward it becoming much more so.
Disney, for example, is poised to take back all of its content—including not only Disney and Pixar movies but all of the Star Wars and Marvel Comics Universe content—and show it only on its soon-to-launch streaming service. CBS last year launched a new Star Trek series available only via its streaming service. One presumes other networks will follow suit.
The industry will certainly kill off the bundling system once the bundle ceases having the lion's share of desirable content. By all indications, though, it'll be more expensive and less convenient than the bundle was.
UPDATE: Commenter @inhumans99 indirectly points to another issue I missed in the original post:
If you want to watch Castle Rock you have to have Hulu (or use Sprint to get it free w/limited commercials, like myself), if you enjoy Stranger Things, OITB, or other hot and trending Netflix originals you have to pay for well…Netflix, if you are a Trekkie (thank goodness I am not) you now have to pay for CBS All Access, if you enjoy Star Wars, the Marvel Universe films, and lots of other Disney content including original films soon you will have to pay for Disney's streaming service.
Because of cross-ownership of content production, broadcast, Internet, and cellular companies we may well be headed to a point where some content is only open to those with particular phones (Android vs. iPhone) or cellular providers (Sprint vs. Verizon vs. AT&T). Right now, as @inhumans99 notes, Hulu and Sprint have a partnership. AT&T owns DirecTV and offers free streaming of DirecTV on their network. What happens when DirecTV gets into the content-production business like Netflix and Amazon?