Rupert Murdoch Rebuffed In Initial Bid To Buy Time Warner, But It's Not Over Yet
Big news, and potentially a big merger, in the entertainment industry.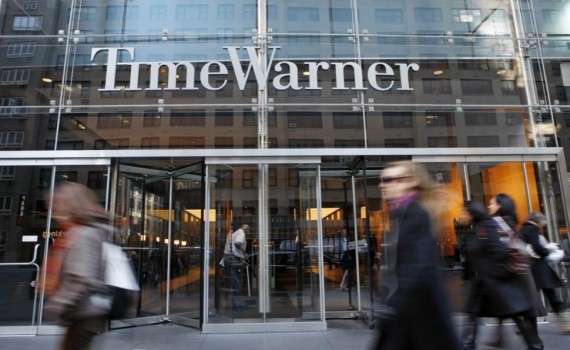 Confirming a rumor that has actually been circulating in the business news world for some time, The New York Times reported this morning that Rupert Murdoch's 21st Century Fox made a bid to acquire Time Warner, a bid that has been rebuffed for now:
The media giant 21st Century Fox, the empire run by Rupert Murdoch, made an $80 billion takeover bid in recent weeks for Time Warner Inc. but was rebuffed.

The bold approach could put Time Warner in play and might again ignite a reshaping of the media industry, prompting a new spate of mega-mergers among the nation's largest entertainment companies.

Mr. Murdoch has built a global media juggernaut over nearly five decades spanning studios, television channels and newspapers, in part, by pursuing bold deals that were often rebuffed at first by the targets of his overtures, only to later acquiesce.

Time Warner on Wednesday confirmed that it had rejected a cash and stock offer from 21st Century Fox, saying that it was not in the company's best interests. The Time Warner statement pointed to its own strategic plan, what it said was "uncertainty" over the value of 21st Century Fox stock and regulatory risks as among the reasons for its rebuff.

Together, 21st Century Fox and Time Warner would become a colossus with an array of television networks and channels like Fox, Fox News, FX, TNT and TBS; the premium subscription channel HBO, movie studios like 20th Century Fox, Warner Bros. and other prominent outlets. It would also combine Fox's growing sports business with the broadcast rights that Time Warner owns for professional and college basketball and Major League Baseball, among other sports.

The combined company would have total revenue of $65 billion.

Shares of Time Warner were up about 20 percent in premarket trading on Wednesday morning.

As part of the proposal to buy Time Warner, people briefed on the proposal said, 21st Century Fox indicated that it would sell CNN to head off potential antitrust concerns since Fox News competes directly with CNN. Putting CNN on the auction block would likely stir up a bidding war for the news channel; both CBS and ABC, a unit of the Walt Disney Company, have long been viewed as interested suitors.

The company first approached Time Warner in early June, these people said. Chase Carey, the president of 21st Century Fox and a longtime top lieutenant to Mr. Murdoch, met privately with Time Warner's chief executive, Jeff Bewkes, these people said. 21st Century Fox said it would raise $24 billion to help pay for the deal and stressed that its bid was not dependent on financing.

The company estimated that a combination would create $1 billion in cost savings and possibly more, primarily by cutting sales staff and back-office functions, these people said. In its letter, 21st Century Fox insisted that it planned to keep Time Warner's most successful managers and creative executives as well as its various channels and studios.

Time Warner's board discussed the proposal at length, the people briefed said, and early this month it sent a terse letter rejecting the offer, saying the company was better off remaining independent.
As I stated, there had been rumors about a Murdoch led bid for Time Warner stirring for awhile, but it was unclear whether it was just a rumor or something that would actually manifest itself into a real offer to Time Warner's Board of Directors. On paper, though, it's certainly understandable why Fox might pursue the deal. Even leaving CNN out of the equation, Time Warner has access to a vast array of valuable entertainment properties ranging from the movie, television, and movie libraries at Warner Brothers, to Turner Broadcasting, which owns cable channels such as TBS, TNT, and TCM, to HBO which is arguably the crown jewel of the portfolio at this point. Combined with the media empire that 20th Century Fox has become since Murdoch began acquiring it and merging other companies into it a combined 20th Century/Time Warner would be a content powerhouse at a time when we are heading into an era when content, rather than access to the the nuts and bolts of broadcasting and cable operations, are likely to be the real revenue generators of the entertainment industry. In some sense, then the acquisition would make sense both for Fox and Time Warner in the long run.
Notwithstanding that fact, though, Time Warner's rejection of this offer isn't surprising. As Ed Morrissey notes, Fox and Time Warner are structured very differently and that difference could make a deal difficult to pull off. While Time Warner is a publicly traded company whose voting shares are widely disbursed among individual and institutional shareholders. Fox and and its parent News Corporation, on the other hand, have the vast majority of their voting stock under the control of Murdoch and his family while most of the publicly traded shares consists of non-voting stock. Since the deal that Fox was proposing would have largely consisted of swapping Time Warner stock with voting rights with Fox/News Corp. stock without voting rights, the Board of Time Warner obviously rejected the deal as not being in the interests of their shareholders. If he wants to pursue this further, Murdoch will have to sweeten the deal either by offering more cash instead of stock, or by being willing to give up some control over the voting shares of 21st Century Fox. If the Board continues to resist efforts to sell, then we'd be entering the area of a potential hostile takeover. The other possibility, of course, is that Murdoch's potential bid will induce others to start stepping into the fray. Already, today's news has caused Time Warner's shares to jump, a bidding war for the company would push the share price up even further.
If this deal did somehow get completed, it's inevitable that CNN would be sold off, of course, because regulators would not allow Fox to hold controlling interest in two of the three major cable news networks in any case. As the linked article goes on to note, the two companies that seem the most likely buyers in such a scenario are the two major broadcast networks that presently don't have a cable news network, CBS and ABC. Either one of them would likely want the property if it were up for sale, so it would garner top dollars in such a situation.
These things usually don't end after the first and rejected offer, of course, so I expect we'll be hearing more about Murdoch's efforts to acquire Time Warner in the future. For example, it took some five months for the deal that resulted in the acquisition of The Wall Street Journal to be completed, and that included a three months period between Murdoch's first offer and the completion of a deal. This is far from over.