Police Warned About Nashville Bomber 16 Months Ago
In hindsight, there were more than a few clues.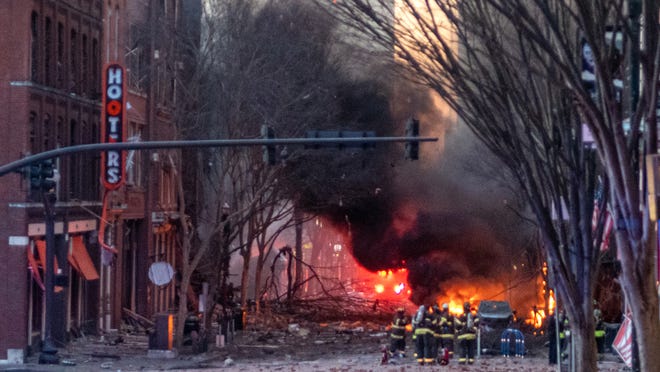 Two stories out overnight demonstrate that the perpetrator of the Christmas morning suicide bombing in the home of country music demonstrated plenty of signs of being less than a model citizen.
Daily Beast ("Nashville Suicide Bomber Anthony Quinn Warner's Cop-Hating 'Hippie' Past"):
Tom Lundborg was a teenager in the late 1970s when he worked under accused Nashville bomber Anthony Quinn Warner, who was a technician for an alarm company.

[…]

Lundborg said Warner disliked authority, loved smoking weed, and claimed he'd just gotten out of the Navy. (It's unclear whether Warner was ever in the U.S. Armed Forces, but records show he was arrested for marijuana possession in 1978.)

They drove around listening to 103 KDF, previously Nashville's main rock station, and if Warner spotted a police officer, he'd break his silence to lecture the teenage Lundborg.

"I hate cops. They're all corrupt," Warner would say. "Never trust a cop."
The pool of Americans who dislike authority, enjoy marijuana, and think police are corrupt is rather large, I'd wager.
The Nashville Tennessean ("Girlfriend warned Nashville police Anthony Warner was building bomb a year ago, report shows"):
Sixteen months before Anthony Quinn Warner's RV exploded in downtown Nashville on Christmas morning, officers visited his home in Antioch after his girlfriend reported that he was making bombs in the vehicle, according to documents obtained by The Tennessean.

On Friday, 63-year-old Warner blew up a city block, police say, about 6:30 a.m. on Second Avenue outside an AT&T switch facility. The bomb caused massive destruction to 41 downtown buildings and crippled telecommunication systems throughout the Southeast over the weekend.

In the aftermath, The Tennessee Bureau of Investigation said Warner was "not on our radar" prior to the bombing. But a Metro Nashville Police Department report from August 2019 shows that local and federal authorities were aware of alleged threats he had made.

No actions appear to have been taken to stop Warner, a slender 5-foot-8, 135-pound man who died in the explosion, which injured three others.

On Aug. 21, 2019, the girlfriend told Nashville police that Warner "was building bombs in the RV trailer at his residence," the MNPD report states. Nashville police then forwarded the information to the FBI.

Officers were called to the home of Warner's girlfriend, roughly a mile and a half from Warner, who lived at 115 Bakertown Road.

Police were called by the woman's attorney, Raymond Throckmorton III, who was concerned about comments she had made. When they arrived, they found her sitting on the porch with two unloaded guns nearby.

"She related that the guns belonged to a 'Tony Warner' and that she did not want them in the house any longer," MNPD spokesman Don Aaron said in a statement to The Tennessean.

While at the house, the woman told police about the bomb comments Warner had made.

Throckmorton, who served as the woman's attorney, told officers Warner "frequently talks about the military and bomb making," the document said.

Warner "knows what he is doing and is capable of making a bomb," the attorney said to the officers, according to the report.

In an interview Tuesday night, Throckmorton told The Tennessean he urged police at the time to look into the woman's claim. He said she feared for her safety, believing Warner may harm her.

According to the police report and Throckmorton, the woman was experiencing a mental health crisis at the time. Officers called their mobile crisis division, and after talking with the woman, she agreed to be transported by ambulance for a psychological evaluation, Aaron said.

Police then went to Warner's home, but he didn't answer the door after they knocked several times.

Officers saw his RV behind the house, but the vehicle was fenced off and police were unable to see inside of it, the report said. While there, police noted that there were "several security cameras and wires attached to a alarm sign on the front door."

The officers notified supervisors and detectives about the incident.

"They saw no evidence of a crime and had no authority to enter his home or fenced property," Aaron said of officers' unsuccessful attempt to make contact with Warner or look inside the RV.

The department's hazardous devices unit was given a copy of the report.

The next day, Nashville police sent the report and identifying information about Warner to the FBI to check their databases, Aaron said in a statement to The Tennessean.

Later that day, Aaron said, "the FBI reported back that they checked their holdings and found no records on Warner at all."

Darrell DeBusk, a spokesperson for the FBI, told The Tennessean Tuesday night the inquiry was a standard agency-to-agency record check.

Then on Aug. 28, 2019, the Department of Defense reported back that "checks on Warner were all negative," Aaron said.

During the week of August 26, 2019, police called Throckmorton, who declined to allow police to interview Warner or go on Warner's property, the FBI told The Tennessean.

In a statement Tuesday night from Aaron, he said officers recalled Throckmorton saying Warner "did not care for the police," and that Throckmorton would not allow Warner to give consent to officers to conduct a visual inspection of the RV.

Throckmorton told The Tennessean while he represented Warner in a civil matter several years ago, Warner was no longer a client of his in August 2019. He disputes that he told police they couldn't search the RV.

"I have no memory of that whatsoever," Throckmorton said of MNPD's claim that said they could not inspect the RV. "I didn't represent him anymore. He wasn't an active client. I'm not a criminal defense attorney."

He believes law enforcement could have done more to prevent the bombing.

"Somebody, somewhere dropped the ball," Throckmorton said.

Aaron said police at the time had no proof of wrongdoing by Warner.

"At no time was there any evidence of a crime detected and no additional action was taken," he said. "No additional information about Warner came to the department's or the FBI's attention after August 2019."
So . . . an individual "experiencing a mental health crisis" calls the police, told them that Warner talked about bombs and knew how to make a bomb. Police went to investigate and Warner, who doesn't like police, denied them permission to search his premises without a warrant. Lacking any evidence aside from a crazy woman's vague testimony about something that's not criminal, they declined to pursue a warrant that they would have been denied.
Further, they checked with federal authorities and were told that his record was clean. Which, until Christmas morning, it was, save for a marijuana possession arrest 42 years ago.
It's not at all obvious that a ball was dropped here. In hindsight, knowing that Warner set off a bomb, we would like police to have done more with a tip that he might, you know, set off a bomb. But, based on what they knew at the time of the tip—that a crazy woman said he talked about bombs a lot—it's not at all obvious what more they should have done.