Nashville Christmas Bombing
An exploding RV did substantial property damage but caused only minor injuries to bystanders.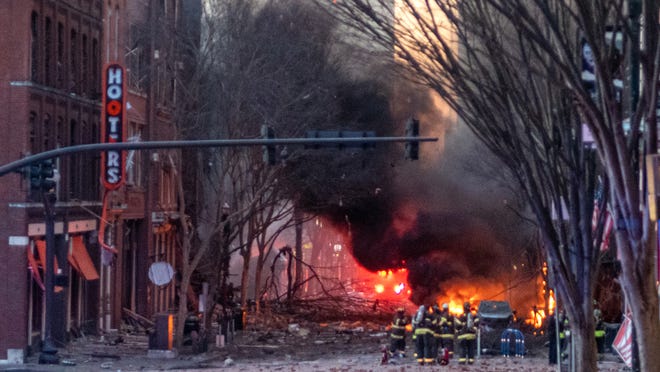 News of an early-morning explosion in downtown Nashville began spreading nationally around 10 Eastern when police announced that it was "intentional." The signs thus far don't point to terrorism but the motive remains unclear.
AP ("Downtown Nashville explosion knocks communications offline"):
A recreational vehicle parked in the deserted streets of downtown Nashville exploded early Christmas morning, causing widespread communications outages that took down police emergency systems and grounded holiday travel at the city's airport.

Police were responding to a report of shots fired Friday when they encountered the RV blaring a recorded warning that a bomb would detonate in 15 minutes, Metro Nashville Police Chief John Drake said. Police evacuated nearby buildings and called in the bomb squad. The RV exploded shortly afterward, Drake said.

"This morning's attack on our community was intended to create chaos and fear in this season of peace and hope. But Nashvillians have proven time and time again that the spirit of our city cannot be broken," Mayor John Cooper said at a news conference after issuing a curfew for the area.
Unless he knows a lot more than authorities are making public, we have no idea what the intention was.
Police believe the blast was intentional but don't yet know a motive or target, and Drake noted that officials had not received any threats before the explosion.

The chief said investigators at the scene "have found tissue that we believe could be remains, but we'll have that examined and let you know at that time." Police could not say whether it potentially came from someone inside the RV.
Here's where it gets truly interesting:
Surveillance video published on a Twitter account Friday that appeared to be across the street from the blast captured the warning issuing from the RV, "… if you can hear this message, evacuate now," seconds before the explosion.

The blast sent black smoke and flames billowing from the heart of downtown Nashville's tourist scene, an area packed with honky-tonks, restaurants and shops. Buildings shook and windows shattered streets away from the explosion near a building owned by AT&T that lies one block from the company's office tower, a landmark in downtown.

"We do not know if that was a coincidence, or if that was the intention," police spokesman Don Aaron said. He said earlier that some people were taken to the department's central precinct for questioning but declined to give details.

AT&T said the affected building is the central office of a telephone exchange, with network equipment in it. The blast interrupted service, but the company declined to say how widespread outages were.

The AT&T outages site showed service issues in middle Tennessee and Kentucky. Several police agencies reported that their 911 systems were down because of the outage, including Knox County, home to Knoxville about 180 miles (290 kilometers) east of Nashville.
The Nashville Tennessean ("Nashville explosion: What we know about downtown explosion on Christmas morning") adds:
Nashville police and fire crews responded to reports of a suspicious RV parked outside an AT&T building near Second Avenue and Commerce Street just before 6 a.m. Friday.

Upon arrival, police said an officer "had reason" to alert the department's hazardous devices unit, which was en route, when a "significant explosion" happened.

[…]

Officers and witnesses heard a broadcast coming from the RV giving a dire warning: "Evacuate now. There is a bomb. A bomb is in this vehicle and will explode."
Another report in the paper ("Exclusive: Nashville explosion witness remembers chilling warning from the RV: 'A bomb is in this vehicle'") notes that the recorded voice was a woman's. Additonally, we have this account:
Betsy Williams, who owns the Melting Pot building on Second Avenue, lived in a loft apartment on the third floor of the building near the center of the blast. […] Williams said she awoke at about 4:30 a.m. Christmas morning after hearing what sounded like multiple rounds of loud, rapid-fire gunshots. Later, after more gunshots, Williams said she called 911.

Then, she said, she heard a repeated warning from the RV. "Evacuate now. There is a bomb. A bomb is in this vehicle and will explode," she remembers the recorded warning saying.
All three reports have anecdotal accounts from those who witnessed the explosion or were awakened by it.
So, the bomb went off very early Christmas morning in a business district, albeit one that has numerous loft apartments on upper floors. Not only was that a time where the minimum toll on human life would be expected, but there was a loud recording warning people of an impending explosion and counting down the time to detonation. Rather clearly, killing people wasn't the goal here. Therefore, "terrorism," at least in the way we've gotten accustomed to thinking about it, doesn't seem to fit.
But we also have multiple reports of gunfire well ahead of the recorded warnings.
Was the blast an elaborate scheme to cover up a murder? If so, it was reckless in the extreme. At least one of the people interviewed for the above stories notes that all of his street-facing windows were blown out by the blast; who knows who might have gotten killed?
The added wrinkle here is the proximity to the AT&T hub. The explosion took out communications to police stations and to AT&T customers for miles and, indeed, in at least parts of two states (Huntsville, Alabama isn't that far away and had outages) for hours. Was that a coincidence or somehow intentional? I'm leaning toward the former because the blast doesn't seem to have been followed up by taking advantage of the outage in some way.
I have friends in Nashville and have been there more times than I can count. I've almost certainly walked the blast area. It's across the river from Nissan Stadium and a few blocks from the Country Music Hall of Fame, both of which I've been to.