Michael K. Williams, 1966-2021
The actor known for his roles on "The Wire" and "Boardwalk Empire" is gone at 54.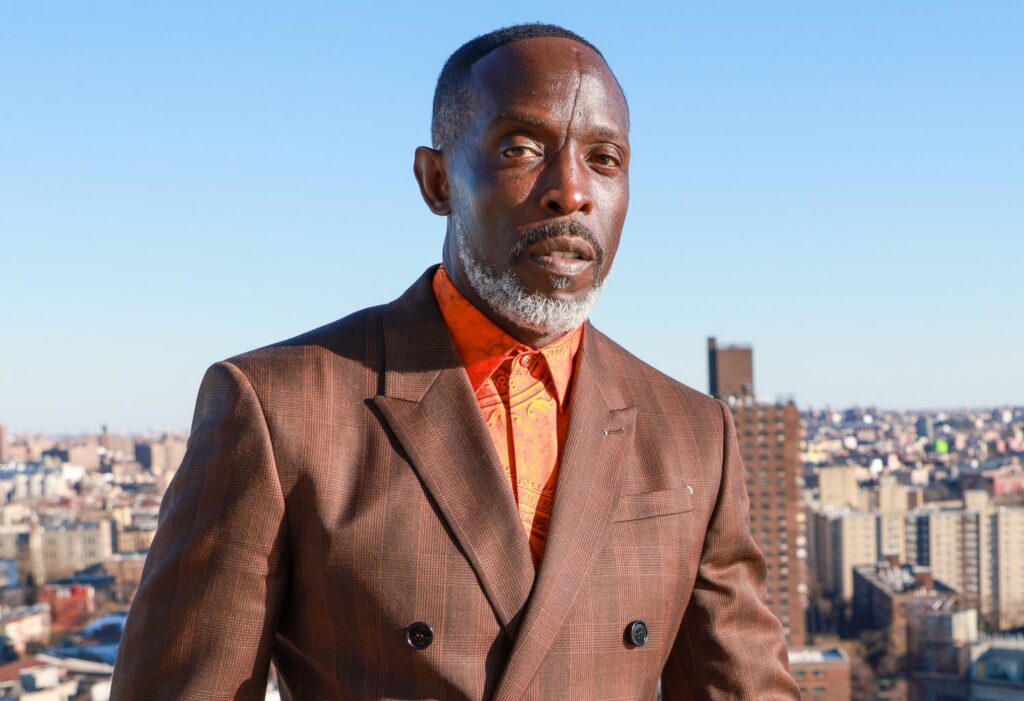 WaPo ("Michael K. Williams, Emmy-nominated actor who brought charming menace to 'The Wire,' dies at 54"):
Michael K. Williams, an ­Emmy-nominated actor who brought charming menace to HBO's crime series "The Wire" as Omar Little, a stickup man who robs drug dealers, and who also appeared in shows including "Boardwalk Empire" and "Lovecraft Country," was found dead Sept. 6 in his Brooklyn apartment. He was 54.

A New York police spokesperson confirmed his death but did not provide additional details.

Mr. Williams was celebrated for delivering nuanced performances as swaggering street toughs, charming family men and smooth-talking gangsters. He played bootlegger Chalky White on the Prohibition-era HBO series "Boardwalk Empire" and earned four Emmy nominations as a supporting actor, most recently for playing an abusive, alcoholic father in HBO's "Lovecraft Country."

But he remained best known for his starmaking, morally ambiguous role in "The Wire," a gritty portrait of Baltimore crime and corruption that aired on HBO for five seasons beginning in 2002. The shotgun-wielding Omar was supposed to appear in only a few episodes of the show's first season but became one of the show's defining characters, known for his strict code of ethics.

"He was more than somebody who went around killing people. He had morals, he had character, he was honest," Mr. Williams told Canada's National Post newspaper. "Omar said what he did, and he did what he said. That's a rarity in human society."

Mr. Williams was working at his mother's day-care center, his acting career floundering, when he was cast as Omar. He had seen echoes of his upbringing in the character, although when a prop person handed him a shotgun during his first day on the set, Mr. Williams "didn't know which end was which," showrunner and "Wire" creator David Simon told the New York Times in 2017. "Mike is a beautiful man, but a gangster he is not."

A few days later, Mr. Williams went home to the East Flatbush section of Brooklyn, where he found a drug dealer who taught him the intricacies of firearms while shooting pellets into a steel door on the roof of the Vanderveer Estates, the housing complex where he had grown up. "Best acting lesson I ever had," he said.

As played by Mr. Williams, Omar was a study in contrasts: a coldblooded killer ("If you come at the king, you best not miss") who also nuzzles his boyfriend, goes to church and peppers his speech with words like "constabulating."

Mr. Williams said the lines between him and his character "got blurred" as the show progressed. Acquaintances in his neighborhood started calling him Omar, and while grappling with his own identity he turned to cocaine. He lived out of a suitcase and sometimes came to work high.

"When I wear these characters to the extent that I wear them to, that [energy's] gotta go somewhere," he told NPR in 2016. The energy of Omar, he said, "was a little too close to home." He found help at a Baptist church in Newark — and, by his account, from a meeting with then-Sen. Barack Obama, who declared that Omar was his favorite character on his favorite show.
The news was broken by the New York Post ("'The Wire' actor Michael K. Williams found dead in NYC apartment") which goes into grim details confirming what many suspected:
Michael K. Williams — who portrayed notorious stick-up man Omar Little on "The Wire" — was found dead of a suspected heroin overdose in his Brooklyn penthouse Monday afternoon, law-enforcement sources told The Post.

Williams, 54, was discovered face-down and unresponsive in the dining room of his luxury Williamsburg pad with what appeared to be heroin on the kitchen table, sources said.

A relative of the Emmy-winning actor talked to him Friday, and Williams was supposed to show up to an event Saturday but never made it, sources said. 

The relative then went to Williams' home Monday, and someone called cops to the address at 440 Kent Ave. just before 2 p.m., saying there was a man there who was "unresponsive" and "feels cold," sources said.
Most of the reporting celebrates Williams' achievements.
Vanity Fair ("Michael K. Williams, Star of The Wire, Is Dead at 54") adds:
Like many of his best-known roles, Omar was informed by Williams' own rough past, as the actor told Vanity Fair's Julie Miller in 2017. Williams grew up in the public housing projects of East Flatbush, Brooklyn; as a teenager, he fought addiction. He found solace in performing—first as a dancer for the likes of Madonna, Missy Elliott, Crystal Waters, and Ginuwine, then as an actor. As he told Miller: "The arts gave me something that no amount of money, no statue could—a life, a voice, a purpose."
Or focused on how awesome he was as Omar.
WaPo's Travis Williams ("The ballad of Omar Little, Michael K. Williams's enduring role"):
"Omar comin'."

Nearly every character in the Baltimore imagined by HBO's "The Wire" knew what those words meant — and shuddered, or ran, when they heard them. Omar Little, the infamous stickup artist, would soon be arriving, long duster flapping, beloved sawed-off shotgun in tow. Hide the stash. Hide the cash. Baltimore's Robin Hood is here to rob the dealers.

Omar was portrayed by the prolific Michael K. Williams, who was found dead in his apartment on Monday. As tributes to the 54-year-old actor poured out on Twitter, one thing was clear: It wasn't only the characters in "The Wire" who knew Omar simply by his first name. Nearly everyone in the real world did, too.

"I'll never forget Omar," tweeted author William Gibson. "Omar might be the best character of all time," tweeted Rep. Jamaal Bowman (D-N.Y.).

"Omar Little is a Top 10 all-time TV character — menacing one moment, cleverly hilarious the next and, at the same time, he's a completely unique form of queer, Black masculinity, driven as much by desire as capitalism," tweeted Hollywood Reporter TV critic Daniel Fienberg. "David Simon created Omar, but Michael K. Williams MADE him."

Few television characters truly become embedded in the cultural consciousness — particularly in the modern era of a niche show for every niche interest. Fewer still can be summed up with a single name. Tony Soprano, Walter White and Don Draper couldn't pull that off.

Omar did.

And Michael K. Williams is the reason.
Back in 2017 Noah Remnick reminded us that "Michael K. Williams Is More Than Omar From 'The Wire'."
Mr. Williams, as Omar, will forever be remembered for his scowl, his scar, his mordant wit and the sawed-off shotgun he held at the ready, but he has always wanted more. Even today, when a film like "Moonlight" wins the Oscar for best picture, typecasting is still woefully commonplace, and black actors are still forced into one-dimensional roles. Mr. Williams has made a mission of depicting his community in all of its nuance and variety.

Emmy nominations will be announced within a couple of weeks, but after years of snubs he is no longer counting on industry approval. Capitalizing on the continued relevance of "The Wire" and the rest of his catalog, Mr. Williams is now delving into film and television production, and deepening his activist role with the American Civil Liberties Union.

"Vanderveer is 59 buildings, six floors high, with seven apartments on each level," Mr. Williams said. "There are so many people here — beautiful and beautifully flawed people — and I want all of their stories to be told."

[…]

But even as he has worked to champion his community, Mr. Williams has often ended up falling victim to the perils he tried to elude there. Many of his roles have unearthed agonizing memories and plunged him into a serious drug addiction that he grapples with to this day. Indeed, the work that has vaulted him to fame has also nearly been his undoing.

"The characters that mean the most to me are the ones that damn near kill me," he said, leaning back into a sidewalk bench on Foster Avenue. "It's a sacrifice I've chosen to make."

The Vanderveer of Mr. Williams's childhood was often a landscape of drugs and violence. As he rode down the avenue, nearly every corner conjured a grisly memory. "That's where I saw my first shooting," he said, passing New York Avenue. Two blocks later: "That's where I first got robbed."
I watched "The Wire" from start to finish shortly after it went off the air and, certainly, Williams' performance was among the most powerful. And his acting on "Boardwalk Empire," which I watched in real time, was equally superb. I must confess, however, that I wouldn't have known his real name.
It's truly a shame that his success and his addiction went hand in hand.