Debunking The Poll Denialists
The arguments of the people claiming that every single poll showing Mitt Romney is unfairly biased do not stand up to scrutiny.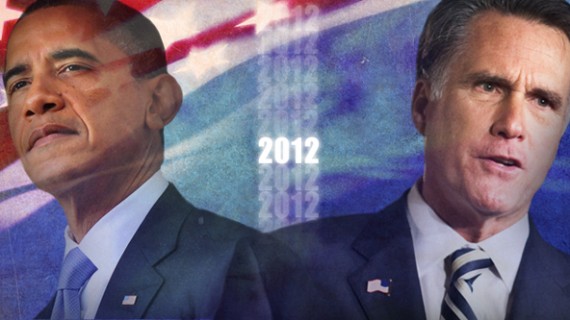 Nate Cohn pushes back on the idea that the polls showing President Obama leading on both a national and state level are, either intentionally or unintentionally, oversampling Democrats:
Consider the "media" polls that have received scrutiny over the last few weeks. With the exception of Fox News surveys that appear to push independent voters, there are fewer Democrats than there were four years ago. So how are Democrats retaining a large advantage in party-ID? Because fewer voters are describing themselves as Republican, as well. Instead, voters are flocking into the "independent" column.

Could this be true? Sure. After all, the Republican Party hasn't really made a positive case for itself over the past four years, and the Republican nominee hasn't even really made a case for himself, let alone the party. Put it this way: the Republican Party is not popular, the Republican Congress is not popular, and the Republican nominee is not popular; so how could anyone be especially surprised if a couple points worth of Republican leaners have now decided to characterize themselves as "independents."

Remember: party-ID can fluctuate without any changes in the political views of voters. After all, voter ideology has remained remarkably stable for decades, despite big swings in party-ID. And it's not hard to envision why: plenty of voters sit on the fence between a party or independent, and they sway back and forth depending on whether the news, prevailing issues, or major candidates make them feel comfortable about aligning with a political party. I suspect that nearly everyone knows someone who falls into this category (I do). I wouldn't be surprised if several of my Republican-leaning friends are calling themselves independents right now.

An influx of Republicans into the "independent" column would also explain why Romney remains close among independents despite trailing nationally. It's also easy to envision how a few independents who lean-Democrat might have switched to the Democratic column following the DNC, which would prevent Obama from gaining among the remaining independent voters who would lean slightly more toward the GOP. If true, Romney's strength with independent voters and the Democratic advantage in party-ID might not be contradictory, but inextricably and coherently linked.
In other words, what we're looking at here isn't necessarily the result of pollsters who are intentionally oversampling their polls in a manner designed to produce favorable results for the President, it could be capturing something that is actually happening in the minds of the American electorate. Keep in mind, for example, that when the Tea Party movement first started out many of its members steadfastly identified themselves as "Independent" rather than "Republican," largely I suspect as a way of signaling that they wanted to set themselves apart from a Republican Party that they believe had become corrupted and strayed from the Constitution. Now, obviously, they were Republican-leaning Independents, but that doesn't negate the fact that, if asked in a poll whether they consider themselves to be "Republican," "Democrat," or "Independent," it's likely that hey answered "Independent" and many may continue to do so. For different reasons, there are a host of "Independents," mainly working class whites in states like Ohio, who identify more with the Democrats but are also alienated from the political system in one way or another.
This brings up another point that I think is rather important with regard to this Party Identification issue in polling. As anyone who as taken the time to read through an actual polling report knows, different pollsters ask their questions in different manners. Some ask the demographic questions — age, gender, income level, education, Party ID, etc — at the beginning of the poll, some leave those questions for the end of the poll script. Some pollsters ask a respondent whether they "consider" themselves a "Republican," "Democrat," or "Independent," some ask whether the respondent is "registered" as a member of a specific party, a question that is actually meaningless to people such as me who live in a state where there is no official registration by party.  As Scott Rasmussen himself noted in an interview earlier this week, how that Party ID question is asked, and when, can have a huge impact on how it's answered, so it strikes me that conservatives may be putting far more emphasis on this data point than it deserves.
One of the arguments that what some people are calling the "Poll Denialists" are making is that pollsters are intentionally weighting the polls they produce based on Party ID to produce results that favor the President. However, as Cohn points out in a separate post, most pollsters don't weight by Party ID at all:
Most pollsters don't weight their polls to match a preconceived electorate. Instead, they take a demographically representative sample based on actual figures from the US census and then let respondents speak for themselves about whether they're voting for Obama or Romney. For illustrative purposes, consider the Bloomberg/Selzer poll. They started by taking a sample of all American adults, weighted to match the demographics of all adults in the US census, like, race, education, and marital status. To produce a likely voter sample, they then would have excluded adults who weren't registered to vote and then asked a series of questions to help determine who was likely to vote.

Ultimately, Selzer's sample found Obama leading by 6 points, by 49-43. Whatever you think of the outcome, it 2wasn't the result of Selzer imposing her assumptions upon the sample; she let her sample speak for itself. Did she take a good sample? We'll find out on Election Day. But if she's wrong, it won't be because she used the "2008 turnout model."
Rasmussen, and some other pollsters, use a different approach. Regardless of what they actual results the polling they do in a specific case might be, they take those results and apply a proprietary algorithm to it so that it complies with what they think the 2012 turnout model will be. This isn't necessarily an invalid practice, but it requires one to have some faith that the pollster is right about what they think the 2012 electorate is going to end up looking like. This is because the pollster is substituting his or her judgment for the raw numbers that are actually in front of them. Now, it could be possible that a particular polling run could have ended up with what clearly looked like a non-representative sample. The response at that point would be to either rerun the poll, or substitute your judgment for the facts in front of your face. In other words, if anyone is skewing the polls, it's the pollsters like Rasmussen who apply "weighting" to their poll results based on assumptions that may or may not be correct.Additionally, Rasmussen bases his Party ID assumptions on polling he has done, and his polling does not call cell phone numbers, which clearly causes support for President Obama to be understated to statistically significant number. Finally, it's worth noting that the R +2 isn't the only Party ID model out there, Pew Research has been polling Party Identification for years and their current numbers have Democratic identification leading in the high single digits. Why should we accept Rasmussen's numbers when Pew's show us something entirely different?
Another point that calls what Rasmussen and those pollsters who weight by Party ID into question. If the data that pollsters are gathering is showing that certain percentages of people are identifying themselves as Democrats, Independents, or Republicans, why should that information be "weighted" in order to comply with what essentially a guess on the part of the pollster about what voter turnout is going to be on Election Day. Isn't the actual data that they are getting from actual Americans a better indication of the Party ID breakdown in that regard?
Even if the major pollsters were weighting their polls, though, you'd have to believe some truly incredible things in order to believe that they are intentionally skewing their polls to make it appear that President Obama is pulling away in the Presidential race. None of these polling companies major the majority of their money with these public polls that make the evening news. The largest amount of their work is done in private, in polls that are never released to the public. They conduct polls for corporations, trade groups, charitable organizations, and a wide variety of other organization. To believe the Poll Denialists, you'd have to believe that these polling companies are knowingly trashing their reputations, upon which their private business is based, for some obscure political reason that they wouldn't even profit off of. It makes no sense whatsoever.
As I said in my first post on this topic, I do not discount the possibility that individual polls may be outliers for one reason or another. Most recently, I thought that the CBS/NYT/Quinnipiac poll showing the President up by nine points in Florida to be questionable simply because it was so out of line with all of the other polls that had been taken in the state recently which showed a much closer race. That's why giving undue attention to a single poll is a bad idea. However, you cannot deny the trends. President Obama is ahead in the national polls, he is ahead in the Electoral College projections, and he is leading, albeit mostly within the margin of error, in all of the battleground states.
Pushing back against polling is a long political tradition, especially among supporters of a candidate who is clearly on the wrong side of the poll results. In that sense, I'm not at all surprised to see Republicans engaging in an effort to discount the current polling results. On some level, it makes sense from the point of view of the campaign because consistently bad news tends to demoralize supporters and make it less likely that the candidate will be able to overcome the poll deficit. I've seen it happen in countless campaigns at every level. This time around, though, it seems to be different, it seems to almost be an effort to deny reality:
[N]ow, the mere fact of poll-taking is "a subtle means of Republican voter suppression," as Simon Maloy put it over at Media Matters. And the latest whine—this cupboard somehow never runs bare—is that conservatives don't like taking polls. So said Scott Walker to Fox on Wednesday. Yes, of course! Because conservatives are people of action, busy people, who have neither the time (like the indolent 47 percenters) nor the inclination to accept phone calls from lamestream media pollsters. Honestly. Scott Walker can't really believe this.

And finally, the last refuge of these scoundrels, bashing the librul media. Did you catch Rush Limbaugh's pathetic rant on Tuesday after the famous blown interception call? Packer fans should just shake it off, he said, because the true aggrieved party is conservatives: "We're lied about every day. The media gets it wrong on purpose against us every day. Now, I think it's a good analogy."

It's a ridiculous analogy, and it's not lies with which Limbaugh and Morris and their ilk are now coming face-to-face. It's the truth. Americans like Barack Obama. They don't like Mitt Romney. They really don't like Paul Ryan. And they don't want any part of the ideology of callousness and make-believe facts and pigheaded warmongering—and economic crisis and big deficits and all of that—that the Republicans are peddling. Of course these people will never come to terms with all that. But right now, boys, you're running out of targets, and excuses.
That comes from Michael Tomasky, who obviously has a bias here, but I think he makes a good point. The truth of the poll results we're seeing is that the public has become turned off by Republicans in general and Mitt Romney in particular and the polls are reflecting it. Indeed, Stan Greenberg, who is admittedly a Democratic pollster, noted recently that the GOP lost five points in Party Identification over the past month. That's not pollster bias, that's reality.
Perhaps everyone else will be proven wrong. Perhaps Scott Rasmussen's projections about Party ID turnout in 2012 will be proven correct. We won't know that until we examine the results and the exit polls after November 6th. However, it strikes me that when pretty much every other pollster is producing results that indicate not only that more people are identifying themselves as Democrats than Republicans, that the number of self-identified Independents has increased largely due to a drop of in self-identified Republicans, and that the President continues to lead Mitt Romney in all respects, then it's probably time to question the assumptions and consider the possibility that reality may be more accurate than an algorithm.
Update: Gallup's Editor In Chief, Frank Newport, addresses the Party Identification issue in a new post:
Party identification is basically an attitudinal variable, not a stable population parameter. It is designed to vary. This is distinct from demographic variables such as age, gender, race/ethnicity, and education, which are, generally speaking, stable indicators measured by the U.S. Census Bureau. The only issues relating to demographic variables are measurement concerns — e.g., how the census, which creates the targets, measures ethnicity versus how individual pollsters measure it. But, generally speaking, these are fairly stable targets.

Party identification is not measured by the U.S. Census Bureau, nor are there any other official state or national standards for what party identification "should be" in terms of the percent per party as it relates to the general population.

Many people use the exit polls as a standard. But exit polls use a distinct question wording, a different methodology (in person interviews at the polling place as opposed to telephone interviews), a different environment (people are asked their party identification just after having voted, which could affect how they answer), and different sampling techniques to develop who it is that is asked the question. So party identification figures as measured by a specific poll aren't easily compared to party identification as measured by an exit poll because of these and other potential issues.

Party identification changes as political tides change. General shifts in the political environment can affect party identification just as they can affect presidential job approval and results of the "Who are you going to vote for?" question.
There's more at the link about how Gallup handles the Party ID issue and what it really means at the link.