Pessimism On Team Romney
There are signs that some Romney supporters have already decided their candidate is going to lose.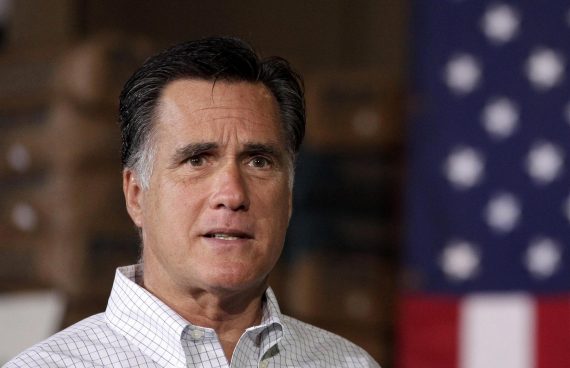 Walter Shaprio surveys the political landscape of the Buckeye State and finds several Ohio Republicans resigned to the fact that Mitt Romney is likely to lose the state in November:
There are only two plausible explanations for what is going on this week in this swing state central to virtually allMitt Romney's victory strategies.

Either many top Ohio Republicans are in the grips of the worst panic attack since an Orson Welles 1938 radio drama convinced thousands that the earth was under attack by Martians. Or more likely, judging from the comments of these GOP insiders, Romney's hopes of carrying Ohio are fast dwindling to something like the odds of winning the Powerball jackpot.

Presidential candidates have rebounded from downbeat polls before, especially when we are still five weeks from Election Day. So Romney's problem is not just the recent Ohio surveys that show him losing to Barack Obama by as many as 10 percentage points. Instead, what is striking is the funereal interpretation that downcastOhio Republicans derive from these numbers. Maybe Romney isn't down by 10 points, they argue, but the GOP presidential nominee seems destined to lose by a solid 5 points – and in closely divided Ohio that represents a loss of nearly landslide proportions. (That would mean that Obama would slightly improve his 2008 victory margin against John McCain.)

Many of the well-known Ohio Republicans I interviewed offered their blunt assessments only after they were guaranteed complete anonymity. That is often the Faustian bargain of political journalism in 2012: robotic talking points on the record or something resembling honesty with no names attached. The reason, though, that I am emphasizing the don't-quote-me part of the equation is that I was stunned by the vehemence of the thumbs-down-on-Mitt verdict. All but conceding the state to Obama, these Republicans were offering what may be the biggest rejection of Ohio since Philip Roth wrote "Goodbye Columbus."
Romney's big problem in Ohio seems to be the fact that the Obama campaign and the SuperPACs that support it have been fairly effective in painting a negative picture of the Republican nominee that is proving especially difficult for him to overcome. It started with over the summer with the Bain attack ads, which rain in all the swing states but nowhere as frequently as in Ohio. Because the Romney campaign did not respond to these ads and made no effort to define the candidate until the Republican Convention in late August, this essentially left the field wide open for the Obama campaign. The impact of these ads was seen in Romney's poll numbers, which trailed behind the President for most of the summer, and most especially his likability numbers, which have been negative for some time now. For the last two weeks, Ohioans have been blanketed with a series of very effective Obama campaign ads playing off of Romney's "47 percent" remarks, and in those two weeks we have seen President Obama's poll numbers in the state increase, as this chart showing the RCP Poll Average over the past month demonstrates: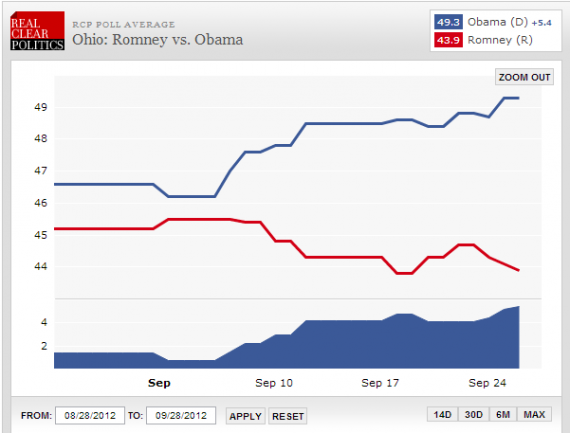 The other problem for Romney, as Shapiro points out, is the fact that Ohio's economy has actually been doing better than the national economy as a whole lately:
While Ohio's unemployment rate was over 10 percent during the run-up to Strickland's reelection, it is now 7.2 percent, nearly a percentage point below the national average. Working for Obama, as well, are results of the auto bailout in a state where more than 800,000 jobs are tied to the car industry. In a recent Washington Post poll, 64 percent of Ohio voters said that the federal loans to General Motors and Chrysler were mostly a good thing for state's economy.
While 7.2 unemployment is hardly acceptable, it is a vast improvement from where Ohio was at the depths of the recession. What this means is that Romney's message that the President has failed to turn around the economy doesn't necessarily play as well there as it might in other states. It also means that the public opinion of the President is likely to be heavily influenced by the fact that the economy has turned around. Indeed, even the Republican Governor of the state cites this fact frequently because, quite obviously, he wants some of the credit for the improved economy. Add to that the fact of the auto bailout, and it's not entirely suprising that Romney is running into headwinds in the Buckeye State.
What is surprising, though, is the extent to which Republican insiders in the state are willing to speak, albeit anonymously, about their frank assessment of the Romney campaign's chances in the state. However, it seems to mirror an overall pessimism among the Romney Team in general:
I have this from the lips of Sam Coates, the deputy political editor of the London Times, who was on BBC Radio 4-s Broadcasting House last Sunday participating in one of those panels of pundits-looking-at-the-press. Everyone agreed that, according to the polls, the U.S. election was finally over and that Obama would be back for four more years. All the newspapers all said so. "It feels," said Coates, "that the incumbent is pulling away."

Coates said the assumption of a Romney defeat fit his own view of the Republicans surrounding Mitt, a pessimism he saw back when Romney was in London eating his foot while talking about the Olympics. "His aides were there," he said, "and they were telling some of our political advisers that, really, they weren't that optimistic about their guy's chances. They're pretty resigned to it not going well, and it's interesting to see that people are already moving away from his campaign."
This kind of attitude among campaign aides is obviously not a good thing, because if people think they're going to lose they usually find a way to do just that.  However, I can't say that I find it all that surprising. Given the poll numbers, the fact that Romney continues to lag in polls nationally and at the state level, that he's behind in the Electoral College projections with a very narrow path to victory, and that his last hope to turn this campaign around lies in a debate performance that the President is unlikely to flub, that's certainly how things seem right now. There are still 38 days left in this race, and it's certainly possible that things can turn around for Romney, but if his own people are starting to lose hope then it's going to be even more difficult than it already is.