Florida Pastor Presides Over Koran Burning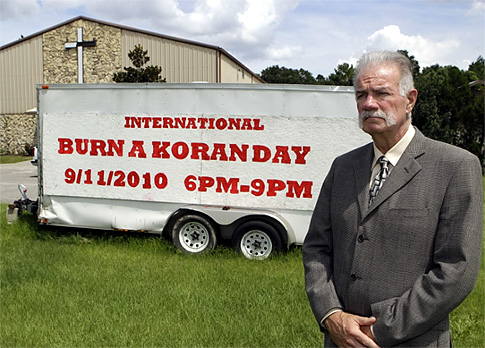 When we last met Florida Pastor Terry Jones he had placed himself at the center of a week-long media frenzy after first threatening to burn a Koran on September 11th, 2010, and then withdrawing that threat under what can only be described as very odd circumstances. This past weekend, with far less media attention, Jones and his Florida church burned a Koran after placing the book on "trial":
The controversial Florida pastor who halted plans to burn a Quran on the 9/11 anniversary last year oversaw the burning of the Islamic holy book on Sunday after it was found "guilty" during a "trial" at his church.

"We had a court process," said Pastor Terry Jones, who acted as judge, in a phone interview. "We tried to set it up as fair as possible, which you can imagine, of course, is very difficult."

(…)

Jones considered the "International Judge the Quran Day" to be a fairer way of addressing the Islamic holy book, and denied breaking earlier promises not to burn a Quran.

If the jury had reached a different conclusion, Jones said he would have issued an apology for his accusations that the Quran promotes violence.

"We still don't feel that we broke our word — that was in relationship to International Burn a Quran Day," he said, referring to his previous plan to burn a pile of Qurans on the 9/11 anniversary to protest plans for an Islamic community center near Ground Zero. "We would not establish another International Burn a Quran Day."
The President of Pakistan, where there were widespread protests last year during the run-up to Jones's aborted Koran burning, has already condemned the act:
(Reuters) – Pakistani President Asif Ali Zardari on Tuesday denounced the burning of Islam's holy book by a pastor, saying it was serious setback to efforts to promote harmony in the world.

The Christian preacher Terry Jones, who after international condemnation last year canceled a plan to burn copies of the Koran to mark the anniversary of the September 11, 2001 attacks on the United States, supervised the burning of the book in front of a crowd of about 50 people at an obscure church in Florida on Sunday, according to his website.

"I, at the outset strongly condemn, on behalf of the people of Pakistan and on my own behalf, the deliberate desecration of the Holy Koran by a fanatic in Florida," Zardari said at the beginning of his annual address to the parliament.

"It is a serious setback to efforts at promoting harmony among civilized community through out the world," he said urging the United Nations to address the matter for the sake of harmony and peace in the world.
I'll be interested in knowing what Jones thinks he accomplished with his act of bigotry and destruction.