Florida Pastor Cancels Koran Burning, Amid Bizarre Claims About "Ground Zero Mosque"
Over the course of a little more than two hours, the "Burn A Koran Day" story merged with the "Ground Zero Mosque" story in a bizarre media circus that seems to have accomplished little other than give press attention to a bigoted Pastor in Florida.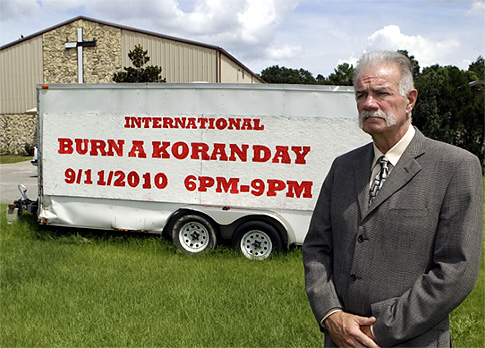 The bizarre and unfortunate saga of the Florida Pastor who wanted to market the 9th anniversary of the September 11th attacks took yet another odd turn this afternoon when the Pastor himself said he was canceling the event and had obtained a deal to move the so-called "Ground Zero Mosque":
GAINESVILLE, Fla. – The pastor planning a burning of the Koran on the anniversary of the Sept. 11 attacks said Thursday he would not go forward with the event, adding he plans to meet with the imam planning to build an Islamic center near ground zero.

Terry Jones, the pastor from Gainesville, Fla., said at a press conference, "We have agreed to cancel the event."

The pastor's announcement came after a growing chorus of demands, from President Obama to religious leaders, American generals and others, that he cancel the event planned for Saturday because of the potential imact on Christian-Muslim relations and the effect a Koran burning would have on American troops fighting in Afghanistan and Iraq.

But details of the pastor's planned meeting with the Imam Feisal Abdul Rauf remained elusive. Mr. Jones did say he got a promise to move the New York mosque, but the Imam, in a statement issued shortly afterward, said he had not spoken to the pastor.

"I am glad that Pastor Jones has decided not to burn any Qurans. However, I have not spoken to Pastor Jones," the statement said. "I am surprised by their announcement. We are not going to toy with our religion or any other. Nor are we going to barter. We are here to extend our hands to build peace and harmony."
For a time this afternoon, the media was unquestionably reporting Jones's claim that he had obtained a deal to move the mosque even though it was fairly obvious that he was not a credible person.
What's even more apparent, though, is that this entire story has been little more than a publicity stunt by a bigoted Pastor who may or may not have actually intended to ever go forward with his Koran burning, obtained the attention of various high level military and political officials, and, perhaps most outrageously, received a personal telephone call from the Secretary of Defense:
WASHINGTON — The Pentagon has confirmed that Defense Secretary Robert Gates called a Florida pastor and urged him not to burn copies of the Quran.

Press secretary Geoff Morrell said Thursday's call to Pastor Terry Jones was very brief. He says Gates expressed "his grave concern" that the burning of the Muslim holy book would put the lives of U.S. troops at risk, especially in Iraq and Afghanistan.
As I said, I'm honestly not even sure that Pastor Jones ever really intended to burn Korans on Saturday. By claiming that he would be, though, he has received weeks worth of media attention, gotten entreaties from the Commanding General of American forces in Afghanistan and comments from politicians ranging from Sarah Palin to Barack Obama, and made media headlines all over the world.
All in all, it's been a good few weeks for Terry Jones. America, you just got played.
By the way, this wasn't the only news of the day regarding the so-called "Ground Zero Mosque." Earlier in the afternoon, Donald Trump said he had offered to purchase the property on which the community center would be located. Late in the day, that offer was declined.
I am sure it's possible for this story to get more bizarre, I'm just not sure what it would take at this point.