Koran Burning Day Overreaction
Everyone from David Petraeus to Sarah Palin is speaking out against a nutbag pastor's Koran burning event. While they're right, they're emphasizing the wrong message.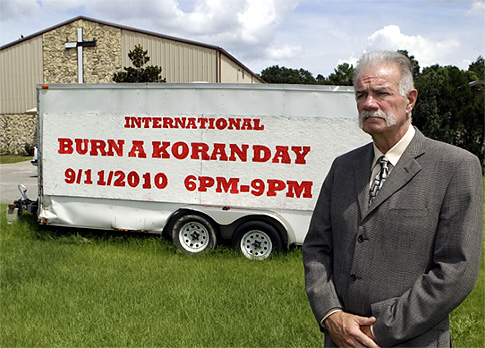 The plan of some nutbag pastor to observe International Burn A Koran Day continues to draw national attention.    David Petraeus called it a threat to U.S. troops earlier in the week.   Now the FBI has issued a bulletin warning of grave consequences:
"While the FBI has no information to indicate a specific attack has been planned against the United States or U.S. assets in response to the 'International Burn a Koran Day' event, the FBI assesses with high confidence that, as with past incidents perceived as acts of desecration against Islam, extremist actors will continue to threaten or attempt to harm the leaders, organizers, or attendees the event," an FBI intelligence bulletin notes.

The FBI is concerned not only about the potential for an attack at the event — but also about retaliation going forward. The Aug. 19, 2010 intelligence bulletin out of the Bureau's Jacksonville field office is entitled, "Extremists Likely to Retaliate Against Florida Group's Planned 'International Burn a Koran Day.'"

The intelligence bulletin states that Jones' advertising of the event drew an immediate response from a known terrorist website frequented by radicals. Postings on the Al-Faloja website included a forum member writing, "I wish to detonate myself in this church now. … I want to become a martyr and detonate myself in this filthiest filth."

[…]

FBI officials told ABC News that FBI agents from Jacksonville have met with Jones to inform him of the intelligence and potential threat. FBI agents from the Jacksonville field office are planning to have assets at the ready in case of an attack at the church.

The FBI bulletin further observes that INSPIRE, a new online terrorist propaganda magazine, specifically instructs "home-grown extremists to conduct small scale attacks" and "attacks on persons who disrespect symbols of Islam."
Attorney General Eric Holder says the Koran burning even is "idiotic and dangerous."   And Secretary of State Hillary Clinton announced, ""I am heartened by the clear, unequivocal condemnation of this disrespectful, disgraceful act that has come from American religious leaders of all faiths."
Sarah Palin, a leader respected by Christian conservatives, has issued a statement on her Facebook page titled "Koran Burning Is Insensitive, Unnecessary; Pastor Jones, Please Stand Down."
Book burning is antithetical to American ideals. People have a constitutional right to burn a Koran if they want to, but doing so is insensitive and an unnecessary provocation – much like building a mosque at Ground Zero.

I would hope that Pastor Terry Jones and his supporters will consider the ramifications of their planned book-burning event. It will feed the fire of caustic rhetoric and appear as nothing more than mean-spirited religious intolerance. Don't feed that fire. If your ultimate point is to prove that the Christian teachings of mercy, justice, freedom, and equality provide the foundation on which our country stands, then your tactic to prove this point is totally counter-productive.

Our nation was founded in part by those fleeing religious persecution. Freedom of religion is integral to our charters of liberty. We don't need to agree with each other on theological matters, but tolerating each other without unnecessarily provoking strife is how we ensure a civil society. In this as in all things, we should remember the Golden Rule. Isn't that what the Ground Zero mosque debate has been about?
Well, actually, it's been about whether all Muslims are implicitly tied to al Qaeda.  But otherwise, I agree:  The event is mean-spirited, intolerant, and rather obviously in violation of core Christian teachings.  Then again, so what?
Moreover, is it really appropriate for our attorney general and most prominent military officer to be speaking out against Americans exercising their free speech rights?   Much less those doing so in a religious context?
I happen to think that the nutbag pastor in question is at best a fool.   And Petraeus and the FBI are doubtless right:  This could well spark violent reaction among radicalized Muslims.  These are, after all, the same people who riot and kill over innocuous cartoons of Muhammed.
Still, while such deliberate provocation is worthy of contempt, it's well within the bounds of legitimate speech. Instead of condemning it as "idiotic and dangerous" — words our nation's chief law enforcement official should not be using against citizens exercising their 1st Amendment rights — our political leaders should be condemning religious intolerance but, at the same time, emphasizing that tolerance works both ways.
No, I'm not making the idiotic "but they don't allow religious freedom in Saudi Arabia, so we shouldn't have to, either" argument.   Rather, I'm saying that mature human beings are required to deal with distant protests that offend them through means other than violence.   We're not talking about "fighting words" or some clear and present danger or direct incitement here.   This is a three hour ceremony conducted in some remote church parking lot.
Get. Over. It.
If met by head shaking and open discussion rather than violence, the protest will shame reasonable Americans who harbor anti-Muslim sentiments, much as the fire hoses and police dogs attacking peaceful demonstrators did for those who harbored racial prejudice.  Most people want to be on the other side of the issues championed by despicable people.
Meeting a peaceful if disgusting protest with violence, though, will play into these idiots' hands.   That, not that fact that the book burners are idiots, is the message our leaders should emphasize.
Correction:  The original posting confused this nutbag pastor with a scumbag pastor who runs a church with the same name.