More Signs of Anti-Muslim Sentiment
A number of disturbing incidents point towards increased anti-Islam hostility in the United States.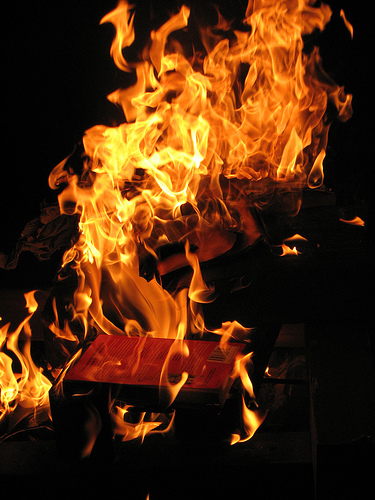 In addition to the disgusting, bigoted spectacle of the opposition to the "Ground Zero" Mosque (which is not at Ground Zero, is not a mosque, and is being built, in fact, with the goal of helping Muslims integrate into American culture), there are two other instances of anti-Muslim bigotry that are worthy of note:
First, there's the Dove World Church sponsoring "International Burn a Koran Day":
On Sept. 11, Terry Jones' Dove World Outreach Center will hold the first "International Burn a Koran Day" ceremony on the steps of his church in Gainesville, Fla. According to the church's website, the event was organized "in remembrance of the fallen victims of 9/11 and to stand against the evil of Islam. Islam is of the devil!"
Thankfully, this one doesn't seem to be picking up steam, and the National Association of Evangelicals has issued a statement condemning the event. Still a disturbing sight nonetheless.
Equally disturbing are the calls against Six Flags because they're hosting an "Islamic Family Day." Notably, the blog on the Tea Party Patriots website. The post features cheerly language such as this:
Be aware that the Qur'an teaches 'believers' (muslims) to lie to 'infidels' (you) about their inner thoughts when they are outnumbered….which they are, in the US. So any 'peace loving' friends who were 'just as appalled' as you at 9/11 events…..are either bad Muslims or lying to you. Because in the Qur'an, if the believer lies to the unbeliever, but the believer's heart does not believe the lie, then they have not sinned. It is only if they lie to you (say they are appalled) and believe that (actually are appalled) that they are sinning. So Islam tells people it is OK to be two-faced liars. How believable are 'moderate' Muslims now?
And this:
STOP placating them – in addition, there is no such thing as a moderate muslim, regardless of what you've heard – from the mouth of the son of a well known Imam. Islam is as Islam does. And Regardless of what you might think, there is no such thing of a 'mild' muslim, even the 'quiet' ones who live on the street corner, drive the BMW and work in the dr's office…they go to mosque, satisfy the pillars, pray, etc…and the money they are giving, that is funding terror.
I am hoping that this type of anti-Muslim sentiment stays confined to the fringe, but the prominent people lining up against the Cordoba Institute in New York gives me a great deal of pause. In tough economic times, it's pretty common for cultural and ethnic scapegoating to occur on a pretty big scale, and I think we all have an obligation to head this kind of nonsense off at the pass.
I defer to the wisdom of the Founding Fathers on this one:
"But it does me no injury for my neighbor to say there are twenty gods or no God. It neither picks my pocket nor breaks my leg."
-Thomas Jefferson
"The Citizens of the United States of America have a right to applaud themselves for having given to mankind examples of an enlarged and liberal policy: a policy worthy of imitation. All possess alike liberty of conscience and immunities of citizenship It is now no more that toleration is spoken of, as if it was by the indulgence of one class of people, that another enjoyed the exercise of their inherent natural rights. For happily the Government of the United States, which gives to bigotry no sanction, to persecution no assistance requires only that they who live under its protection should demean themselves as good citizens, in giving it on all occasions their effectual support."
– George Washington
Image Credit: pcorreia's photostream