Former Michigan Congressman Thad McCotter Kept In Office By Serial Fraud
The weird tale of Thad McCotter's nominating petitions just got a heck of a lot weirder.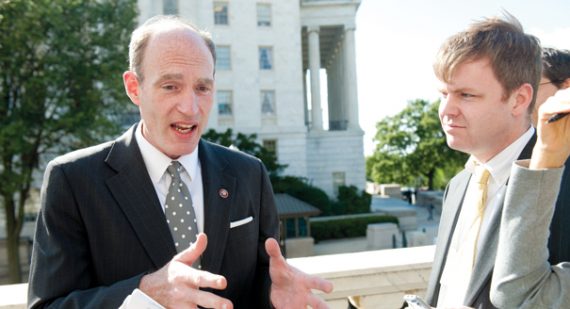 By now, we're all familiar with the story that led to the eventual resignation of Michigan Congressman Thaddeus McCotter, perhaps most famously known for an entirely forgettable Presidential campaign. The nominating petitions submitted by his campaign to get on the Republican primary ballot for 2012 were rejected after it was discovered that they contained numerous fraudulent and photocopied signatures. Initially, McCotter had said that he would attempt to stage a write-in campaign, but later abandoned that effort and eventually announced that he was not only retiring at the end of the current Congress, but retiring immediately. Just a week ago, several of his former aides were indicted by Michigan authorities on multiple counts of election fraud. Today, the Detroit Free Press reports that an examination of McCotter nominating petitions going back several elections cycles shows evidence of fraud similar to that which kept him off the ballot in 2012:
The staff of former U.S. Rep. Thaddeus McCotter evidently had some practice dummying up petitions in order to get their boss on the ballot.

A review of the nominating petitions turned in for McCotter's elections from 2002 through 2012 shows he did not have enough signatures to qualify to run in at least the 2008, 2010 and 2012 elections. The skullduggery wasn't detected until this year, when a part-time staffer for the Secretary of State found that of the more than 1,800 signatures turned in by the McCotter campaign for 2012, only 244 were valid.

McCotter's spokesman, Randall Thompson, did not return calls seeking comment on the latest revelations in the scandal that led to McCotter's resignation from Congress in July.

The petitions from McCotter's previous campaigns surfaced this week from Mark Grebner, president of Practical Political Consulting, one of the premier developers of voting lists for political candidates. As part of compiling such lists, the East Lansing company uses voting records and nominating petitions and had McCotter's going back to his first run for Congress, in 2002.

"I started with 2010 and immediately thought, 'This is unbelievable,' " said Jim Daggy, data archivist for the consulting firm. "It was like a giant 100-foot sore thumb sticking out. My God, what were these people thinking?"

The 2002 and 2004 petitions were relatively clean with few duplicates, but in 2008, at least 67 of the 177 petition pages submitted were either copies or had been doctored by cutting and pasting dates from other documents onto the petitions.

The 2006 petitions were apparently the source for cut-and-paste jobs in 2008 and 2010. Some of the 2006 petitions, however, also were duplicates.

"It seems like at every election cycle, they expanded on what they had done and used some new tricks," Daggy said. "They just got more and more emboldened."

In 2010, at least 73 of the 167 pages turned in were duplicates, which would have invalided more than 1,000 of the signatures. In 2012, both the cut-and-paste and duplicate tricks were used.

Daggy said the doctoring is stunning.

"You see little rinky-dink stuff that you can pass off, but this is just — you have to wonder what was going on in their heads, that they didn't think they were going to get caught," he said.

"It's a real punch in the gut, and I hope that voters out there are really watching and listening," said Natalie Mosher, a Canton Democrat who lost to McCotter in 2010. "I'm angry, because I think the voters of the district got taken for a ride by this guy."
The Free Press's Editorial Board added on a blistering editorial that takes McCotter to task for, well, basically for faking his way through at least three election cycles:
If Thad McCotter were an athlete who cheated, his statistics from at least the past four years would be erased from the record books. That kind of thing doesn't happen with fraudulent congressmen, unfortunately, but maybe it should.

That's because examination of nominating petitions suggests McCotter's staff routinely copied signatures to meet the filing threshold for his re-election campaigns. The technique finally caught the eye of a secretary of state contract worker this year, and McCotter was disqualified from the 2012 ballot.

Attorney General Bill Schuette noted in bringing charges against four members of the McCotter staff that evidence suggested the same thing may have happened in 2008. The Michigan Information & Research Service, which covers the state capital in detail, checked copies of 2010 petitions this week and found only 496 signatures out of 2,000 that were not part of duplicated forms.

(…)

McCotter has already resigned and vanished from the public eye, leaving a lot of soured constituents behind in a district that was tailored for his re-election. There's no way to fix the harm done here, but his name should always carry an asterisk:
Thaddeus McCotter, Michigan congressman, 2003-2012*

* At least two terms probably served under false pretenses
National Review's John Fund and Hot Air's Erika Johnson are both using this incident as reason to bash Democrats over their denial of the existence of voter fraud, but that strikes me as a complete non sequiter. The incidents described here have absolutely nothing to do with the kind of voter fraud that proponents of Voter ID like to concentrate. This is out and out election fraud, cheating, and forgery, and the fact that it occurred not just once, but at least three times that are noticeable, and perhaps more than that on a much smaller scale (practice makes perfect after all) makes it much harder to believe that this all happened without McCotter having any idea what was going on. McCotter's excuse for the 2012 fraud was that he wasn't paying attention to the nominating petition drive because he was busy with Congressional business. Well, what about 2010 and 2008, sir? What about the apparent possibility that there may be forged signatures going all the way back to your first run for Congress in 2002?
I've always had an odd feeling about this entire story. Something about it just didn't smell right, especially the idea that a bunch of staffers for a Congressman who's been in office for ten years would just come up with this idea on their own out of the blue. Since there was only one year's worth of petitions that had been forged, though, there didn't seem to be any evidence to support my suspicions. Now, with at least two election cycles of petitions where, by all rights, McCotter should not have been permitted to be on the ballot at all, I've got to think that there just might be more to this story than a few staffers who went crazy at with the copy machine one night. With the evidence that has been uncovered, I would hope that someone is investigating all of the former Congressman's runs for office, and just how involved he was in the petition drives. Because if he had even the slightest knowledge of what was going on and did nothing to stop it, he participated in a criminal conspiracy.
To borrow a phrase from the Watergate era, what did the Congressman know, and when did he know it?