Thad McCotter Pulls Plug On Write-In Campaign, Will Retire From Congress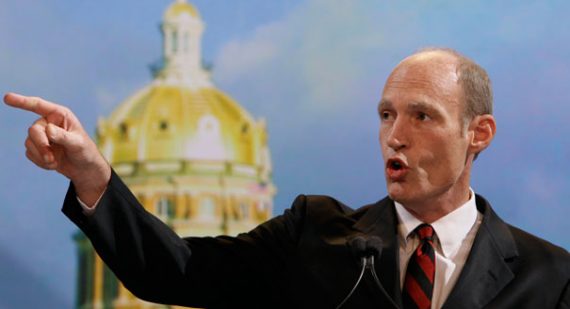 We won't have Thad McCotter to kick around anymore:
Former Republican presidential candidate Thad McCotter has ended a write-in bid for his Michigan congressional seat, abruptly ending his career on Capitol Hill and offering a newfound opening for Democrats to take the seat.

A five-term lawmaker, McCotter failed to get on the Aug. 7 primary ballot after it was revealed last week that his campaign did not turn in the necessary 1,000 signatures to become eligible.

The congressman had initially pledged to wage a write-in primary campaign — an expensive venture that even he acknowledged would have been an uphill struggle. But over the past several days, as more details emerged about his petition filing and potential Republican challengers began to circle, any possible reelection bid became shrouded in doubt.

Michigan election workers tasked with reviewing the 2,000 McCotter petitions said they found signs of widespread fraud, with more than 80 percent of the submitted signatures ruled ineligible. In many cases, officials said, signatures appeared to be duplicated. And Michigan Attorney General Bill Schuette, a Republican, plans to investigate the signature-gathering effort.

In another blow to McCotter, Loren Bennett, a former Republican state senator, announced he would enter the primary as a write-in candidate — an effort that threatened to undercut the congressman's bid.

In a four-paragraph statement posted on his campaign website Saturday evening announcing his decision not to seek reelection, McCotter wrote: "I have ended my write-in campaign in Michigan's 11th Congressional District."

"To those who [are] unhappy at this news, I'm sorry; to those happy at this news, you're welcome," he said.

McCotter has said he was not personally involved with the signature gathering effort, but he has also taken personal responsibility for its failure. In his statement, the congressman pledged to assist the investigation, writing: "One can't clean up a mess multitasking. Honoring my promise to the sovereign people of our community only allows me to finish the official duties of my present congressional term and aid the state attorney general criminal investigation that I requested into identifying the person or persons who concocted the fraudulent petitions that have cost me so dearly."

McCotter's announcement brought a swift and unexpected end to a political career that stretched back to 1989, when he first won a seat to local office. On Capitol Hill, McCotter became known as a close ally of House Speaker John Boehner (R-Ohio) and eventually secured a position at the House GOP leadership table.

But he also developed a reputation as an eccentric and distant figure. An avid Twitter user known for his guitar playing and love of rock music, McCotter rarely contributed to the campaigns of his colleague
Perhaps he can become some new social media denizen after he leaves Congress.