Gary Cooper, Woody Allen, and Trump (Oh My!)
Wherein Noonan writes an odd column that reaches the right conclusion.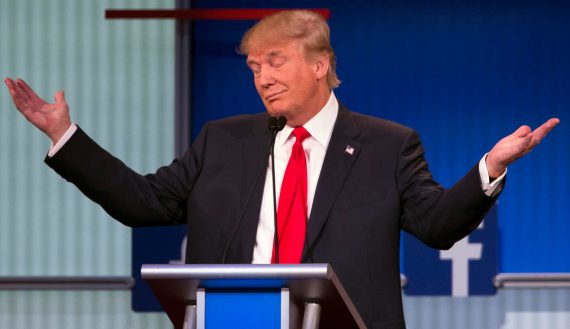 Peggy Noonan channels the 1970s to critique the President (Trump Is Woody Allen Without the Humor):
The way American men used to like seeing themselves, the template they most admired, was the strong silent type celebrated in classic mid-20th century films—Gary Cooper, John Wayne, Henry Fonda. In time the style shifted, and we wound up with the nervous and chattery. More than a decade ago the producer and writer David Chase had his Tony Soprano mourn the disappearance of the old style: "What they didn't know is once they got Gary Cooper in touch with his feelings they wouldn't be able to shut him up!" The new style was more like that of Woody Allen. His characters couldn't stop talking about their emotions, their resentments and needs. They were self-justifying as they acted out their cowardice and anger.

But he was a comic. It was funny. He wasn't putting it out as a new template for maleness. Donald Trump now is like an unfunny Woody Allen.
Ok, yes:  Trump whines and complains a lot–no argument there.  But the rest of this is rather bizarre.  It really did remind me of the kind of weird slams I would hear in a my youth about real men (John Wayne!) and not-so-real men (Woody Allen!).  I am surprised there was no mention of Allan Alda (a reference of a certain age, to go along with this column).
I find it problematic to identify competent leadership with being a man and whining and complaining in public with being a woman.
The president's primary problem as a leader is not that he is impetuous, brash or naive. It's not that he is inexperienced, crude, an outsider. It is that he is weak and sniveling. It is that he undermines himself almost daily by ignoring traditional norms and forms of American masculinity.

He's not strong and self-controlled, not cool and tough, not low-key and determined; he's whiny, weepy and self-pitying. He throws himself, sobbing, on the body politic. He's a drama queen. It was once said, sarcastically, of George H.W. Bush that he reminded everyone of her first husband. Trump must remind people of their first wife.
Trump is both a terrible role model and example of leadership regardless of his gender.  I suppose Noonan's retro-approach here is all the more striking given that Trump's opponent in the election was female and regardless of what else one might want to say about Hillary Clinton, one has to admit that had she been elected the White House would not be in chaos and she would not be on Twitter constantly complaining about things.  For that matter, while she has made a few remarks about her loss that some has criticized as blame-shifting, the reality is she has not spent the last six months whining and complaining.  That description belongs to the dude who was elected.
The issue here is not one of shifting versions of maleness, it is about competence to hold the office to which one aspires.
Trump's lack of Gary Cooper-ness is not the problem.  Even if Trump were "the strong silent type" he still wouldn't know what he was doing–it just wouldn't be confirmed via daily Tweets and weird speeches.
Incompetence is incompetence, whether it is boisterous or silent.
I will agree with Noonan's conclusion:
Meanwhile the whole world is watching, a world that contains predators. How could they not be seeing this weakness, confusion and chaos and thinking it's a good time to cause some trouble?
However, what that has to do with a specific view of masculinity is another matter entirely.