Hillary Misrepresents Citizen's United, Says She'll Demand Promises To Overturn From Nominees
Hillary Clinton told supporters she'd require Supreme Court nominees to pledge to overturn Citizens United, a decision she completely misrepresented.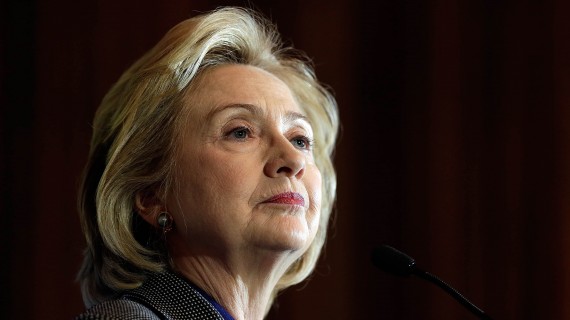 Hillary Clinton has told a group of supporters that she would require any person she appointed to the Supreme Court to pledge to overturn the Supreme Court's 2010 decision in Citizens United v. FEC:
Hillary Clinton told a group of her top fundraisers Thursday that if she is elected president, her nominees to the Supreme Court will have to share her belief that the court's 2010 Citizens United decision must be overturned, according to people who heard her remarks.

Clinton's emphatic opposition to the ruling, which allowed corporations and unions to spend unlimited sums on independent political activity, garnered the strongest applause of the afternoon from the more than 200 party financiers gathered in Brooklyn for a closed-door briefing from the Democratic candidate and her senior aides, according to some of those present.

"She got major applause when she said would not name anybody to the Supreme Court unless she has assurances that they would overturn" the decision, said one attendee, who, like others, requested anonymity to describe the private session.

If the make-up of the court does not change by 2017, four of the justices will be 78 years of age or older by the time the next president is inaugurated.

Clinton's pledge to use opposition to Citizens United as a litmus test for Supreme Court nominees echoes the stance taken by Sen. Bernie Sanders of Vermont, who is challenging her for the Democratic nomination.

"If elected president, I will have a litmus test in terms of my nominee to be a Supreme Court justice," Sanders said on CBS' "Face the Nation" on Sunday. "And that nominee will say that we are all going to overturn this disastrous Supreme Court decision on Citizens United because that decision is undermining American democracy. I do not believe that billionaires should be able to buy politicians."

On Thursday, Clinton also reiterated her support for a constitutional amendment that would overturn Citizens United, a long-shot effort that is nonetheless popular among Democratic activists.

"She said she is going to do everything she can," the attendee said. "She was very firm about this – that this Supreme Court decision is just a disaster."
Clinton's statements are disturbing on several levels.
First and least surprising of all, there is the fact that Clinton, like most of her fellow Democrats either does not understand the Supreme Court's decision in Citizen United  at all, or continues to deliberately misrepresent it, and its impact on politics, in order to pander to the base of the Democratic Party. The common critique one hears from these corners, of course, is that the majority in Citizens United gave rights to corporations that they didn't previously have and that they have somehow upset the "balance" between individuals and corporations. The reality, though, is far different. As law Professor Ilya Shapiro pointed out shortly after the decision was handed down, this criticism ignores a fundamental truth about the nature of corporations, especially when corporate entities engage in activities protected by the First Amendment:
[The argument that corporations lack Constitutional rights] demonstrates a fundamental misunderstanding of both the nature of corporations and the freedoms protected by the Constitution, which is exemplified by the facile charge that "corporations aren't human beings."

Well of course they aren't — but that's constitutionally irrelevant:  Corporations aren't "real people" in the sense that the Constitution's protection of sexual privacy or prohibition on slavery make no sense in this context, but that doesn't mean that corporate entities also lack, say, Fourth Amendment rights.  Or would the "no rights for corporations" crowd be okay with the police storming their employers' offices and carting off their (employer-owned) computers for no particular reason? — or to chill criticism of some government policy.

Or how about Fifth Amendment rights?  Can the mayor of New York exercise eminent domain over Rockefeller Center by fiat and without compensation if he decides he'd like to move his office there?

So corporations have to have some constitutional rights or nobody would form them in the first place.  The reason they have these rights isn't because they're "legal" persons, however — though much of the doctrine builds on that technical point — but instead because corporations are merely one of the ways in which rights-bearing individuals associate to better engage in a whole host of constitutionally protected activity.

That is, the Constitution protects these groups of rights-bearing individuals. The proposition that only human beings, standing alone, with no group affiliation whatsoever, are entitled to First Amendment protection — that "real people" lose some of their rights when they join together in groups of two or ten or fifty or 100,000 — is legally baseless and has no grounding in the Constitution. George Mason law professor Ilya Somin, also a Cato adjunct scholar, discusses this point here.
In other words, corporations like Citizen's United, or the AFL-CIO, or Planned Parenthood, have rights not because they are corporations but because they are made up of, and supported by, individuals who have come together to advance a particular political agenda. You may agree or disagree with that agenda, but that is really of no consequence. Those individuals have the right to work together to make their case. Additionally, the argument that "corporations don't have First Amendment rights," which you often hear from Citizens United critics is fundamentally absurd and contrary to how these issues have been viewed under American law for a very long time. Accepting that argument, for example, would mean that The New York Times doesn't really have First Amendment rights because it is owned by a corporation. Extending it beyond the First Amendment, it would mean that the police could show up at a local business and demand to search the premises without a warrant because "corporations don't have Fourth Amendment rights." And, most importantly, it would ignore the numerous ways in which individuals organized as corporate entities engage in what any reasonable person would consider activity protected by the Bill Of Rights.
Perhaps the best defense of the Court's ruling in Citizens United  was in a recent  speech by Floyd Abrams, perhaps the most preeminent First Amendment attorney in the nation, on the issue of the First Amendment rights of corporations:
So let me personalize this is a bit. It is true that when I think of clients that I or my Firm have represented in First Amendment cases, I think immediately of some individuals – Judith Miller for one, and more recently,New York Times journalist James Risen, who my Firm represented on a pro bono basis.

But I also think of corporations. Not just enormous media corporations but ones like Barnes & Noble, that I represented some years ago with respect to a subpoena issued by the Office of Special Prosecutor Kenneth Starr in an effort to learn what book Monica Lewinsky had purchased as a gift for President Clinton. And of the Brooklyn Museum, which then New York City Mayor Rudolph Giuliani fought to close down because he disapproved of some of its art. And of a motion picture company that sought advice from us as to whether a scene in a much honored film it had made which contained a scene, filmed abroad,  showing the 17 year old star of the film sexually entangled with an older female star could be said to have violated American child pornography laws. And of a number of liberal arts colleges around the country that weighed in in the Supreme Court, in briefs we wrote for them, on the First Amendment impact on educational institutions if affirmative action was ruled unconstitutional. And of a tobacco company I represented in a challenge to the Food and Drug Administration seeking to require them to place on 50% of each of their packs grotesque pictures of dead or dying people who had smoked. And I think of the fact that until last month, when a case I had been actively involved in settled, I devoted a great deal of my time representing a credit rating agency and arguing that when the Department of Justice commenced a civil action against it and only it  arising out of ratings all but identical with those of other rating agencies and my client was the only one that had downgraded the debt of the United States, that the Government had violated the First Amendment because it is not permitted under the First Amendment to retaliate against its critics by using the law in a selective fashion.

You may agree or disagree with the positions we took or the clients for whom we took them. But one thing is common to all of the examples I have just cited to you. No one in any of these matters — not any opponent, not any judge, no one — said anything to the effect that since our client was a corporation that it had no First Amendment rights and should not be heard to say that those rights had been violated. I do not exaggerate when I say that if anyone had said that in court, he or she would have been laughed out of it.

Yet much of the debate about the Citizens United case sounds as if it was shocking for the Supreme Court to have held that corporations receive First Amendment protection at all. The opinion for the Court, written by Justice Anthony Kennedy, cited 25 cases, including ones involving for-profit non-media corporations, in which First Amendment protection had been afforded to corporations. Even Justice John Paul Stevens' dissenting opinion said that "[w]e have long since held that corporations are covered by the First Amendment." Yet listen to a different part of Justice Stevens' opinion in which he states that "corporations have no consciences, no beliefs, no feelings, no thoughts, no desires" – as if that wiped out all those First Amendment cases.  Or to Senator Elizabeth Warren, instructing us that "corporations are not people. People have hearts, they have kids, they get jobs, they get sick, they cry, they dance. They live, they love and they die." All true and yet all unresponsive to why the First Amendment, as it has so often been held to do, should not be held to protect the speech of corporations as well as "real" people. Or of New York University Law Professor Burt Neuborne writing that unlike corporations, human beings "die, do not enjoy economic advantages like limited liability, and, most important, have a conscience that sometimes transcends crude economic self-interest." These differences, Professor Neuborne argued, "raise a threshold question . . . about whether corporations are even in the First Amendment ballpark."
Finally, it's worth noting that there's simply no evidence that the independent expenditures that Citizens United authorizes have had any negative impact on the political system.
In addition to the misrepresentations about what Citizens United means and the impact it has had on our political system, though, the other disturbing thing about Clinton's statement is the fact she she is essentially saying that she would only appoint someone to the Supreme Court if they promised to rule in the way she wanted them to on a case that may come before them. In reality, of course, there is no way for her or any other President to enforce such a promise, which goes back to the fact that this is largely mostly about pandering, since Supreme Court Justices serve for life and could not be removed from office merely because they ruled differently than the President who appointed them to desired. More broadly, though, Clinton's position is troubling because of the quid pro quo that it effectively inserts into the judicial confirmation process and the way that it evidences her intention to be a President who enforces her will by any means necessary. As a matter of judicial ethics, it would be entirely inappropriate for any Judge or Justice to make any promises about how they might rule in a future case, or even to discuss how they might view a particular issue that could come before them. This is why judicial confirmation hearings often end up being a game of weave and dodge in which Senators try to get nominees to answer questions about specific cases, and nominees who do their best to respond in generalities. Clinton's suggestion that she would impose a litmus test essentially means that she would ask her potential Supreme Court nominees to violate judicial ethics in order get an appointment from her. If a Republican said that he or she would require every nominee to promise to overturn Roe v. Wade, Democrats would justifiably be outraged. They should react exactly the same way to Clinton's statements here,.
Finally, the most ironic thing about Clinton's statements about Citizens United is the fact that the case itself essentially involved a public policy organization's efforts to air a movie about Mrs. Clinton, primarily on DriectTV and some cable outlets, during the 2008 Presidential campaign. The case ended up in court because of the provisions of the McCain-Feingold law that prohibited advertisements by any group not affiliated with a campaign that mentioned a candidate within 60 days of a general election or 30 days of a primary, and prohibited such expenditures by corporations and unions. So, essentially, Clinton is arguing that the Federal Government should have prevented someone from being able to air material that was critical of her. Even a Clinton has to recognize the amount of chutzpah it takes to make that argument.