The Voice Of Mr. Burns And Ned Flanders Is Leaving The Simpsons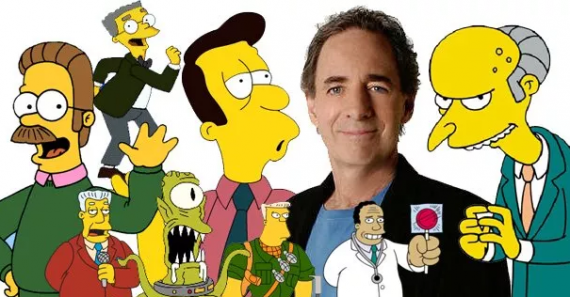 The Simpsons has apparently suffered one of its most significant creative losses in the more than two decades its been on the air with the news that Harry Shearer, who voices some of the shows most iconic characters, is leaving the show:
It is not looking like an okely-dokely day in the town of Springfield: Harry Shearer, an Emmy Award-winning cast member of "The Simpsons," who provides the voices of characters like the irritatingly upbeat neighbor Ned Flanders, the billionaire tyrant Mr. Burns and his faithful manservant, Smithers, has indicated that he is parting ways with this long-running Fox animated series.

Mr. Shearer, who has been a part of the "Simpsons" cast since it made its debut in 1989, wrote in a series of Twitter posts published overnight that his involvement with the show was coming to an end. He wrote that he had been told by a lawyer for James L. Brooks, a "Simpsons" executive producer, that the "show will go on, Harry will not be part of it, wish him the best."

Mr. Shearer wrote that this occurred "because I wanted what we've always had: the freedom to do other work." He added, "Of course, I wish him the very best."

In another tweet, Mr. Shearer said, "Thanks, Simpsons fans, for your support."

Al Jean, the "Simpsons" showrunner, said in an email, "Harry Shearer was offered the same deal the rest of the cast accepted, and passed. The show will go on and we wish him well. Maggie took it hard."

Press representatives for Fox and "The Simpsons" did not immediately respond to requests for comment on Thursday morning.

Fox announced earlier this month that it had picked up "The Simpsons" for two more years – the show's 27th and 28th seasons, which would bring it to more than 600 episodes.
While Shearer did not provide the voice for any of the show's core characters, his departure would seem to leave a significant hole in the show that would be difficult to fill unless producers decided to find someone else to voice those characters. It's possible, of course, that the break between Shearer and the producers isn't as bad as it appears and that they'll be able to fix this, but that's certainly not what one gathers from the press reports. In any case, because the show has become such a cultural icon this departure is getting quite a great deal of media attention. In all honesty though, I pretty much agree with those who say that the show peaked years ago and has basically been going through the motions ever since then. I'm a fan from way back, but at this point whether or not I catch an episode on Sundays isn't really much of a priority anymore. The show still gets pretty decent ratings, though, and it makes a ton of money in syndication, so it's understandable why Fox would want to keep it on the air as long as possible. With Shearer, and more importantly the characters he played gone, though, one wonders what the point is now.