The Limits of Comedy
Controversies involving Jimmy Kimmel and "The Simpsons" highlight a perennial question.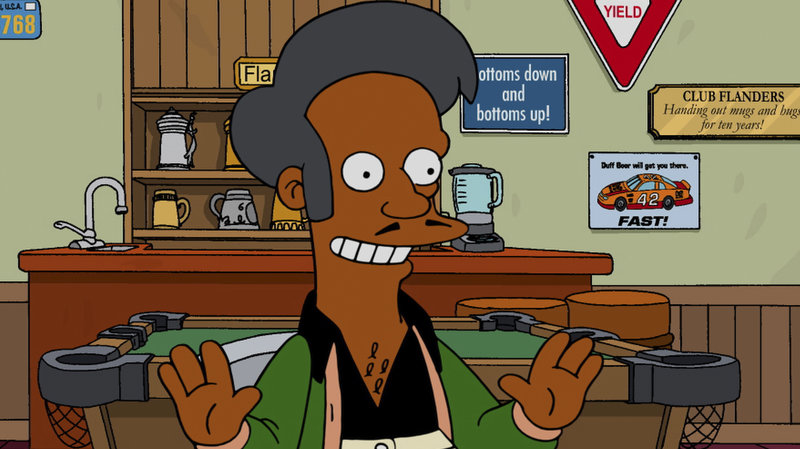 Controversies involving Jimmy Kimmel and "The Simpsons" highlight a perennial question.
Earlier in the week, Ira Madison III called out Kimmel and others in a Daily Beast column titled, "Jimmy Kimmel's Homophobic Attacks on Sean Hannity Expose a Liberal Blind Spot."
The ongoing feud between Sean Hannity and Jimmy Kimmel has been mostly exhausting.

Incensed at Kimmel lightly mocking first lady Melania Trump, Hannity has accused the late-night host of being "Harvey Weinstein Jr.," pointing to sketches from Kimmel's previous TV series The Man Show as evidence. Ignoring how Hannity's repeated jabs make light of Weinstein's actual crimes (comparing dozens of sexual assault allegations to scripted comedy sketches), his allegations are laughable given his passionate defense of former colleague/credibly accused sexual predator Bill O'Reilly, and the whole charade reeks of a desperate ratings stunt in light of rival Rachel Maddow's March domination, nothing in this feud was particularly memorable until Kimmel hit Hannity with a jab of his own.

On Friday, Kimmel tweeted at the Fox News host, "Don't worry—just keep tweeting—you'll get back on top! (or does Trump prefer you on bottom?) Either way, keep your chin up big fella..XO." In addition, he tweeted, "When your clown makeup rubs off on Trump's ass, does it make his butt look like a Creamsicle?"

Kimmel was lambasted on Twitter for resorting to gay jokes to get in a dig at Hannity. But he's far from the only person—that day even—who lobbed homophobic jokes at the Trump administration. Also on Friday, Chelsea Handler tweeted, "Jeff Sessions is definitely a bottom." When called out on it, she responded, "I'm a bottom and proud of it."

Why do "progressive" comedians so readily jump to homophobic jokes when it comes to mocking conservatives? Either insinuating that they like receiving anal sex via bottoming—or any other homosexual sex act—is the surefire way to knock someone down a peg. Because insisting that they're gay must be the ultimate insult, right? Because the insinuation that a man might want to have sex with another man is somehow funny. The act itself is comical.

They're not the first liberal comedians to resort to such cheap jokes. Just think of last year, when Stephen Colbert used homophobic jokes of his own to attack President Trump on The Late Show. "The only thing your mouth is good for is being Vladimir Putin's cock holster," Colbert said to Trump during a 2017 monologue. Once again, the idea of a man engaging in a sexual act with another man is seen as funny. It's the worst way to insult a straight man: implying that he might be gay.

Most people don't find these terms homophobic—like Alec Baldwin when he was called out by Anderson Cooper in 2014 for using anti-gay slurs. After referring to a tabloid reporter as a "toxic little queen" and "cocksucking [whatever]," CNN's Cooper called him out for using anti-gay epithets on The Howard Stern Show. "When he called the person a cocksucker and then said he didn't know 'cocksucker' was an anti-gay—the worst thing you can possibly think of to say, which is what this situation was, to talk about a sexual act between two guys as being the worst thing you can possibly think of. That seems to indicate [anti-gay rhetoric]—but I never said he was homophobic. I have no idea what's in his head," Cooper said.
Meanwhile, a longstanding charge that the Indian convenience store owner Apu on the long-running animated series "The Simpsons" is racist escalated.
The NYT culture critic Sopan Deb ("'The Simpsons' Responds to Criticism About Apu With a Dismissal"):
At the end of 2017, Hank Azaria, the voice behind Apu Nahasapeemapetilon, a convenience-store owner on "The Simpsons" with a thick Indian accent, responded to a recent groundswell of criticism that the character was racist. It came to the forefront thanks to Hari Kondabolu, a comedian of South Asian descent, who made a documentary, "The Problem With Apu," which debuted last fall.

"I think the documentary made some really interesting points and gave us a lot of things to think about and we really are thinking about it," Mr. Azaria told TMZ. He said he found the situation "upsetting."

On Sunday night, "The Simpsons," a cultural staple and television's longest-running sitcom, now in its 29th season, finally responded: with a dismissive nod that earned the show more criticism, especially from Mr. Kondabolu himself. The episode, titled "No Good Read Goes Unpunished," featured a scene with Marge Simpson sitting in bed with her daughter Lisa, reading a book called "The Princess in the Garden," and attempting to make it inoffensive for 2018.

At one point, Lisa turns to directly address the TV audience and says, "Something that started decades ago and was applauded and inoffensive is now politically incorrect. What can you do?" The shot then pans to a framed picture of Apu at the bedside with the line, "Don't have a cow!" inscribed on it.

Marge responds: "Some things will be dealt with at a later date."

Followed by Lisa saying, "If at all."

The writers of the episode — one of whom was Matt Groening, the show's creator — received immediate backlash. Some viewers found the response tone deaf, and criticized the choice of Lisa, often the show's moral center, to voice it. (And not to mention: "Don't have a cow!" could be interpreted as a jab at Apu's Hinduism.)
NPR's Linda Holmes ("'The Simpsons' To 'The Problem With Apu': Drop Dead") was even more harsh:
So Lisa, the show's unshakable crusader for justice, including in matters of popular culture, has been reduced to a mouthpiece for the lazy idea that asking for better representation is an unfair burden on creators; an unreasonable demand that things be "politically correct." That is regrettable, to say the least.
Taking these in reverse order, I tend to side with Reason's Robby Soave ("The Simpsons Admitted Apu Is Problematic, Just Not the Way People Wanted"):
The clip was clearly introspective. After lamenting that erasing all offense can make for uninteresting comedy, Lisa tacitly references the show's history of depicting Apu as a stereotype. Marge say that "some things will be dealt with at a later date, if at all." Many seem to be interpreting this as the writers letting themselves off the hook (The New York Times called it "a dismissal"), but I'm not so sure. It sounds like The Simpsons is making fun of itself for not handling this whole thing better, while also mocking the humorlessness of political-correctness-run-amok. The expressions on their faces say a great deal: Lisa and Marge look uncomfortable, even regretful, rather than defensive.

This falls well short of a full apology, and thus it isn't surprising that Kondabolu and company aren't satisfied with it. But The Simpsons didn't dodge The Problem with Apu. The writers evidently think the problem is more complicated.
Rather clearly, the Apu character wouldn't be in the show if it were being created today. As it is, though, he's a staple of the series that's something of an embarrassing anachronism. It's a play to cultural stereotypes that we commonly joked about once upon a time (Joe Biden was roundly lambasted for falling into this particular one a few years back). But Kondabolu himself acknowledges that he loves the show and was once grateful that it even had a character that looked like him in the regular cast.
Still, as Holmes rightly observes, they've had 30 years to figure this out.
Apu is not the central character of The Simpsons, and it's absurd to suggest that the fabric of the show will be unwound if he doesn't continue to be the same caricature he is. His existence at the periphery — his very flatness, and his definition as a bag of signifiers meant to scream "INDIAN!" is integral to what it means to write a racist stereotype. It's galling that writers will force a character to exist as funny scenery and then complain that they cannot change him without upsetting the emotional arc of the series.

Furthermore, Apu is not appearing in a 50-year-old book by a now-dead author. Apu is a going concern. Someone draws him, over and over again. Azaria makes money to keep imitating Peter Sellers imitating an Indian man. Scripts are still being written. What if Marge were confronted not with reading Lisa an old book, but with reading a new book in the same series that continued to embrace the same racist portrayals it did 50 years ago? Is Marge really supposed to relax and read Lisa a new racist book because she loved an old racist book?

The idea of processing art in its own context while still recognizing its flaws is a delicate act. Consider Molly Ringwald's recent essay about the early John Hughes movies in which she appeared. She has affection for them, and for Hughes, but she knows what realities they reflect. Movies exist; they are fixed pieces, and you can approach them from a lot of angles. But there's no grandfathering in of a character or a franchise, as The Simpsons seems to suggest, such that you can't complain about new material written for a stereotyped character because he's been a stereotyped character for almost 30 years.
Furthermore, she notes,
But what really reveals the blind spot at issue here is the idea that Apu was once "applauded and inoffensive." The writers equate what they have heard with what has been said, and they equate what has been said with what has been felt. The fact that they have managed to ignore the criticism of Apu until recently doesn't mean that Apu was inoffensive and is now offensive — or, as they prefer to say, "politically incorrect." It means that they were doing exactly what they've been accused of doing: They were stereotyping people who had very little access to opportunities to loudly object.

What is entirely missing from this response is any recognition of the effects on the people who find themselves not represented, or represented poorly — and they were at the center of Kondabolu's documentary.
As to the controversy surrounding Kimmel, Handler, Colbert, and others, one presumes that these comics get away with it precisely because they're liberal—and usually attacking conservative targets. Were the situation reversed, it would be seen as clearly homophobic and mean-spirited. But because it's coming from progressive, likable comedians who are friendly to gays—and their targets are not—the joke is on Hannity and Trump, not on the gays.
This speaks to a larger issue, though. Some of the best comedy is great precisely because it pushes the envelope on social taboos and makes people uncomfortable. Lenny Bruce was slightly before my time but was literally arrested on multiple occasions for violating public decency laws; he's now considered among the greatest comics of all time. George Carlin and Richard Pryor, the great stand-ups of my early youth, were incredibly profane for their time and shocked audiences with both their language and their frank discussion of religion and race. The most important comics of recent years, Ricky Gervais, Chris Rock, Dave Chappelle, and Louis C.K.,* likewise push taboos.
It's certainly possible to do be a great comic and stay within the zone of comfort. Bob Hope, Johnny Carson, Bill Cosby,* Jerry Seinfeld, Jay Leno, Jeff Foxworthy, and Jim Gaffigan come to mind. And, in some ways, it's harder to be great while staying within the bounds acceptable for "family" acts. But, almost by definition, they're not expanding the bounds of their medium.
Chappelle and Gervais, in particular, have been rather outspoken pushing the notion that there are no topics immune from jokes. Chapelle opened a recent Netflix special with the observation,
"Sometimes, the funniest thing to say is mean," Chappelle says at the very top of his newest hour. It's a trigger warning of sorts for those in the audience. "You guys gotta remember, I'm not saying it to be mean. I'm saying it because it's funny. And everything's funny until it happens to you."
Gervais, on the eve of an Oscar hosting stint several years back, observed,
"A comedian's job isn't just to make people laugh, it's to make them think. If there's a meaning to it, and a substance and a bit of a depth, then you're doing something. Now, here's the rub: offence, is never given, its taken. If you're not offended by something, then there was no offence, it's as simple as that. If you are offended by something, walk away. I'm offended by things all the time but I haven't got the right not to be offended, and remember this: just because someone is offended it doesn't mean they're right.

"Some people are offended by equality, some people are offended by mixed marriage, some people are offended by everything. You can't worry about that. And you can't legislate against stupidity. I'm not one of those comedians who thinks my comedy is my conscience taking the day off, my conscience doesn't take a day off. I can justify everything I do. You have got to be able to look someone in the eye and tell them why you made that joke. And if I'm doing stand-up and I go suddenly go, oh God, I hope so-and-so isn't in tonight, then I shouldn't be doing that joke."
He's come under increasing fire, as has Chappelle, for jokes that are offensive to the transgender community. Brilliant, funny jokes, in my opinion. But, then, I'm cisgender.
Similarly, the sheer twistedness of Chapelle's controversial take on Bill Cosby strikes me as genius:
The '70s were a wild era and while all this was going on, Bill Cosby raped 54 people. Holy shit, that's a lot of rapes, man. This guy's putting up real numbers. He's like the Steph Curry of rape. Man, that's a lot of rapes! Fifty-four! If he had raped 30 less people, that's still two dozen rapes! Don't forget, each one of these rapes has eight hours of sleep in it. Ladies and gentlemen, that's over 400 hours of rape. It only takes 65 hours to get a pilot's license. If rapes were aircrafts, this nigga is Top Gun for sure.

Yeah, that's a tough one. And I was onstage not too long ago. I was in Syracuse, New York… the show didn't go so good, all because I was talking about Bill Cosby a little bit. Not a little bit. I'll be honest. I talked about him for like maybe 25 minutes. And a woman stood up in the back of the room and she screamed out, "You are a fucking asshole for saying these things!"

"I know."

Instantly I felt bad. Not bad about what I was saying. I just felt bad like, "Oh, that's too bad she doesn't like the show." I didn't realize it at first but not only did she say that, she was rushing the stage. By the time I saw her, I just saw this shadowy figure fucking charging up the aisle towards me in full fight mode. I was horrified. I said, "Oh my god! I'mma kick this bitch in the face." Lucky for me, I didn't have to. Security tackled her. But it was a really fucking horrifying scene. A scuffle ensued. And then, finally, she screamed out to me, "Women suffer." I said, "I know."

And ladies, I need you to know that I know. I need you to know. Seriously, there's a lot of men in this room that identify themselves as feminists. I would include myself in that. Don't ever forget, we all have mothers and daughters and sisters and wives, and we want to see all these women do well and not be held back by their gender. There's a lot of men like that in this room. There's a lot of men like that in the world. Or as we are known on the streets, bitch-ass niggas.

But as this woman was wrestling and screaming at me, I started to take offense. And I'll be honest, race was involved. She was a young white woman. Well-intentioned but just not thinking it all the way through. "Bitch, how the fuck are you going to yell at a black man about discrimination?" She didn't get it. She just kept going.

"Women suffer!"

"I know."

"Women suffer!"

"Same team."

"Women suffer!"

"I know."

And this is when she went too far: "We suffer just like you."

"Slow your roll, bitch. You suffer, yes, but not like me. Not like us."

She goes, "Suffering is suffering. What's the difference?"

I said, "Come on, white woman, you know what it is. You was in on the heist. You just don't like your cut."

You suffer, I suffer. You suffer, I suffer. That's how it works. Can't do comparative suffering. If you're hungry and your friend said, "You know, people are starving in Africa," "So what, nigga? I still want lunch." Black people know about comparative suffering, and you know that it's a fucking dead-end game. Blacks and Jews do that shit to each other all the time. You ever played Who Suffered More with a Jewish person? It's a tough game. Whenever you think you've got the Jewish guy on the ropes, that motherfucker will be like, "Well don't forget about Egypt." "Egypt? Goddamn, nigga, I didn't know we was going all the way back to Egypt."

What the fuck is wrong with her? What does she think? Does she think that I don't know that rape is wrong? Does she think that maybe I don't have empathy for Bill Cosby's alleged victims? And I would be remiss if I didn't remind you that technically these are all still allegations. Although, I admit it looks very bad. Perhaps if she looked at it correctly, she would have empathy for me, the man she was attacking, a 42-year-old black comedian.
Later in the set, in the sort of callback Chapelle is famous for, he returns:
Obviously, Bill Cosby was a hero to me. And she doesn't know what it feels like to think that your hero might've done something so heinous, my God, you can't imagine. It'd be as if you heard that chocolate ice cream itself had raped 54 people. You'd say to yourself, "Oh man, but I like chocolate ice cream. I don't want it to rape."

Didn't want to believe it. At first, I didn't believe it. I was like, "Man, these people are obviously trying to destroy Dr. Cosby's rich legacy." Even 34 allegations into it, I was still like, "Man…he probably only raped 10 or 11 of those people."

I know, I know. But it's really tough. You guys are young. Imagine if you found out 40 years from now that Kevin Hart raped 54 people. You'd be like, "Oh my God." The only one that would believe that would be Katt Williams. He'd be like, "I knew that motherfucker was up to something! I knew Kevin raped those people!"
The sheer volume of taboos he breaks—and insights he offers—in that bit is staggering.
He pushes the envelope further in a bit about the #MeT00 movement. His commentary on the Louis C.K. incident and one of his alleged victims is particularly tough:
To those who come up to him and ask if he knew about C.K.'s behavior, Chappelle says, "No, bitch, I did not know. What the fuck do you think we talk about at the comedy club?" Acknowledging that he "shouldn't say this," Chappelle says the allegations against C.K. were "the only ones that made me laugh." He cracks up uncontrollably as he imagines all of C.K.'s comedian friends reading the details of his actions in the paper and saying, "Word…?"

"It's terrible, I know it's terrible," Chappelle says. "Ladies, you are right. But at the same time, Jesus Christ, they took everything from Louis. I think it might be disproportionate. I can't tell. This is where it's hard to be man."

To the female comedian who has said that Louis C.K. masturbating in front of her ruined her comedy dreams, Chappelle replies, cigarette in hand "Well then I dare say, madam, you may have never had a dream. C'mon man, that's a brittle spirit."

"You think if Louis C.K. jerked off in front of Martin Luther King, he'd be like, 'I can't continue this movement?'" he asks. "How the hell are you going to survive in show business if this is an actual obstacle to your dreams?"

As a "black dude," Chappelle says he is just "held to a higher standard than these women."
But he defends this as being in the service of comedy:
"You tell jokes from everything, from race to politics … do you worry about crossing the line or is there a line that you won't cross?" King asked.

"Comedy is weird. The line, the line moves. It changes," Chappelle said, adding, "but I think a lot of, especially in comedy, a lot of it has to do with intent."

"And your intent is?"

"To make people laugh, to reconcile paradox. I'm, like, just openly – sometimes openly venting. I think that when you get to a certain altitude, there's more scrutiny over the things you say, 'cause the platform is so powerful," Chappelle said.
Or, less convincingly,
"Everybody gets mad because I say these jokes. But you have to understand this is the best time to say them. Now more than ever, I know there's some comedians in the back — motherfuckers, you have a responsibility to speak recklessly, otherwise my kids might not know what reckless talk sounds like. The joys of being wrong. I didn't come here to be right, I just came here to fuck around."
Returning to the controversies of the day, it seems obvious that the Apu character has to go away or transform. It would be perfectly acceptable for, say, "South Park" to feature an Indian store clerk character to skewer our stereotypes. But Apu doesn't seem to serve that purpose. Rather clearly, neither the showrunners nor Azaria have malign intent. But the humor is unintentionally punching down.
The Kimmel and Colbert jokes are different, in that they're punching at equals, if not up. But I suspect we're getting to the same point with sexual orientation-related humor as we are with race-based humor; it's just incredibly difficult to pull it off for those in the out-group. Like it or not, gays making fun of straights simply lacks the same sting as the reverse.
Louis C.K., for example, managed to pull off jokes using "faggot" and "nigger" to widespread praise, mostly from the left. Again, though, that was because he was doing them through a progressive lens and using them to skewer homophobes and racists. But even he was getting some pushback from other comics and culture critics. One suspects white, straight comics won't be doing these sort of jokes a decade from now.
Years ago, the legendary Mel Brooks offered brilliant insights into the limits of humor in an interview with Der Spiegel.
SPIEGEL: Your new comedy "The Producers" is set at the end of the 1950s on Broadway and concerns a Nazi musical that breaks box office records. It shows a dancing and singing Hitler. Isn't that a bit tasteless?

Brooks: Of course. But it's also funny, isn't it? The film revolves around a Broadway producer who, for financial and technical reasons, wants to produce a flop. After he turns down the chance to adapt Kafka's "The Metamorphosis," he comes up with the idea of creating a musical about Hitler, produced by the lousiest director in the city, cast with the worst actors by far in the middle of the Jewish metropolis of New York. He's sure it won't work. Yet because the audience considers the piece to be a brilliant parody, his worst fears are realized, it's a hit. "The Producers" therefore deals with the difficulty of having a flop.

SPIEGEL: Which you of course know well yourself. "The Producers" is based on a musical that you produced that ran successfully on Broadway for five years and also on the film "The Producers" that you shot in 1967. How did the audience react to the film back then?

Brooks: The Jews were horrified. I received resentful letters of protest, saying things like: "How can you make jokes about Hitler? The man murdered 6 million Jews." But "The Producers" doesn't concern a concentration camp or the Holocaust.

SPIEGEL: Can you really separate Hitler from the Holocaust?

Brooks: You have to separate it. For example, Roberto Benigni's comedy "Life Is Beautiful" really annoyed me. A crazy film that even attempted to find comedy in a concentration camp. It showed the barracks in which Jews were kept like cattle, and it made jokes about it. The philosophy of the film is: people can get over anything. No, they can't. They can't get over a concentration camp.

SPIEGEL: But the film has deeply moved a lot of people.

Brooks: I always asked myself: Tell me, Roberto, are you nuts? You didn't lose any relatives in the Holocaust, you're not even Jewish. You really don't understand what it's all about. The Americans were incredibly thrilled to discover from him that it wasn't all that bad in the concentration camps after all. And that's why they immediately pressed an Oscar into his hand.

SPIEGEL: So there are limits to humor?

Brooks: Definitely. In 1974, I produced the western parody "Blazing Saddles," in which the word "nigger" was used constantly. But I would never have thought of the idea of showing how a black was lynched. It's only funny when he escapes getting sent to the gallows. You can laugh at Hitler because you can cut him down to normal size.

SPIEGEL: Can you also get your revenge on him by using comedy?

Brooks: Yes, absolutely. Of course it is impossible to take revenge for 6 million murdered Jews. But by using the medium of comedy, we can try to rob Hitler of his posthumous power and myths. In doing so, we should remember that Hitler did have some talents. He was able to fool an entire population into letting him be their leader. However, this role was basically a few numbers too great for him—but he simply covered over this deficiency.
I'd add that, at least in 1967, only a Mel Brooks—a Jewish man who had in fact lost loved ones in the Holocaust—could have gotten away with "The Producers." Similarly, were Kondabolu writing or voicing Apu, it would be taken differently.
Like it or not, the line between pushing the boundaries of political correctness and insensitivity moves constantly. But one is always safer if the butt of the joke is more powerful than the comedian, not less.
____________
*Obviously, the rape and sexual assault allegations against Cosby and C.K. retrospectively color their work. Still, the scandals involving these men were related to the abuse of the power their stardom gave them, not their comedy.