Chappelle's Last Netflix Special
"The Closer" delivers more of what people love and hate about the GOAT.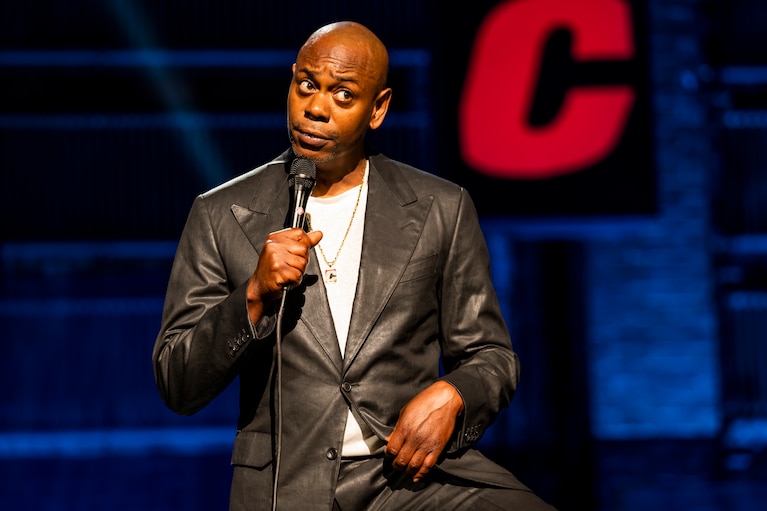 My wife and I watched the latest and possibly the last of Dave Chappelle's Netflix specials, "The Closer," last night. It was, as with most of his recent shows, a masterful blend of stand-up comedy and serious philosophizing about the state of humanity in the United States of America. One presumes intentionally, the line between the two is blurry.
As with most of the Netflix drops, this one has been quite controversial because of the funny-not-funny commentary on social issues, particularly his comparisons between the transgender and Black experiences. The Rotten Tomatoes reviews show something interesting, indeed: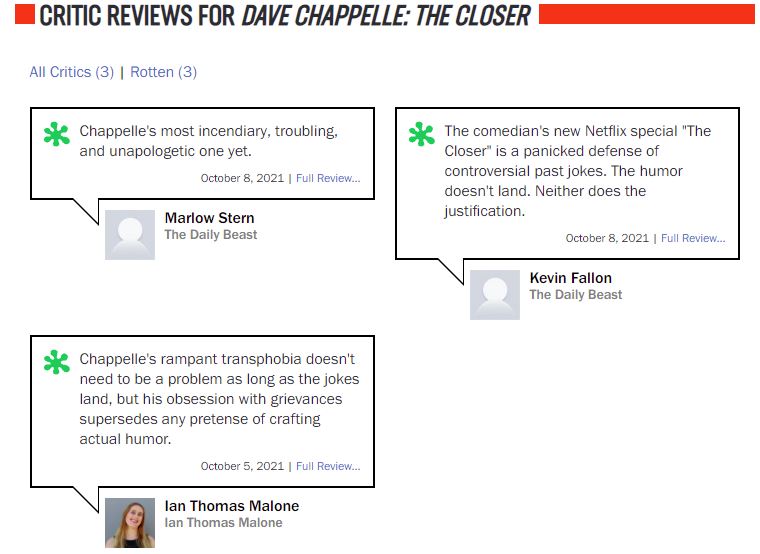 Granting that a comparison of n's of 500+ and 3 is hardly scientific, the show is landing quite differently with fans, who seem to absolutely love it, and critics, who universally pan it.
Reading Stern's piece, in which he disdainfully applies a [sic] to Chappelle's use of "LBGTQ" in a one-hour-plus monologue and appends (his word) to "annoying as fuck" (as though the reader doesn't know what quotation marks mean) it's clear why: he's treating a stand-up comedy special like a scholarly treatise. A representative example:
Chappelle then tries to convince the audience—in the crowd and at home—that he's never made any explicitly anti-transgender jokes, requesting that the audience "go back" and revisit his specials. (He most certainly has, and you can read the great trans writer Samantha Allen on it here.) He defends J.K. Rowling against being "canceled" over her transphobic remarks (which he deeply misrepresents), before saying, "I'm team TERF!"—the term for trans-exclusionary radical feminist, or feminists who are transphobic and do not believe trans women are women.

"Gender is a fact," he reasons. "Every human being in this room, every human being on earth, had to pass through the legs of a woman to be on earth. That is a fact. Now, I am not saying that to say trans women aren't women, I am just saying that those pussies that they got… you know what I mean? I'm not saying it's not pussy, but it's Beyond Pussy or Impossible Pussy. It tastes like pussy, but that's not quite what it is, is it? That's not blood. That's beet juice." (Chappelle's anti-trans jokes have often boiled down to human anatomy, which shows how unnuanced his views are on the subject.)
Does Stern really think Chappelle believes transwomen bleed beet juice? I don't think it's a particularly funny line but it's clearly a joke. As to the anatomical reductionism, that's the setup, not the punchline, of a really long, winding bit.
Chappelle's defense of himself and Rowling is delivered humorously but comes across as sincere: transwomen are human beings worthy of respect and deserving of empathy and yet anatomically different from ciswomen in meaningful ways. And he seems to imply, using the example of his friendship with the late Daphne Dorman as both a shield and exemplar, that transwomen agree with him and that it's progressive whites who are insisting on ideological purity and linguistic conformity.
The other threat that, again, both humorously and not, weaves through the set is the undeniable fact that equality for gay and transgender whites came much faster than for Blacks. His best line about this was, "Ever ask yourself why it was easier for Bruce Jenner to change his gender than it was for Cassius Clay to change his fucking name?"
NPR's Eric Deggans ("For Dave Chappelle, punchlines are dares. His new special, 'The Closer,' goes too far") is also not amused.
That much is obvious, early in the special, where he talks about an idea for a film centered on an ancient civilization that discovered space travel, left the planet and then came back, determined to claim the Earth for their own. His punchline is the title for the film: Space Jews.

Even the adoring audience in Detroit took a breath on that one. "It's gonna get worse than that," Chappelle retorts, laughing. But I'm not sure it did. Because that was pretty awful.

Coming from Chappelle, a joke like that felt like a dare. He knows, in the moment, that such a punchline will briefly break the spell he has on the audience, make them rethink their allegiance to him, at least for a second. And he'll have to work a little to get them back on his team again — which he does.

(He also knows reviewers like me will quote the joke and criticize him for it, which I am. I don't really care what point he's trying to make; a joke that sounds like antisemitism gets a hard pass from me.)
But the point is obvious: a persecuted people settled in their ancestral homeland long after having been driven out, only to become persecutors themselves. It's an ironic commentary on the human condition, not a slur against the Jews.
And the message Chappelle has for those who have criticized him about transphobic, homophobic or any other phobic jokes seems to be: Race trumps all.

This idea surfaces when he talks about rapper DaBaby, who was pilloried publicly for making homophobic comments during a concert in July. Chappelle jokes that DaBaby "punched the LGBTQ community right in the AIDS" before recalling a 2018 incident in which the rapper was involved in a fight inside a North Carolina Walmart where another person was shot and killed.

"In our country, you can shoot and kill a n*****," Chappelle says. "But you better not hurt a gay person's feelings."

What Chappelle doesn't say is that DaBaby claims he was defending himself against two men who tried to rob him and his family in the store. Eventually, he was found guilty of a misdemeanor charge — carrying a concealed weapon — though the family of the 19-year-old who died insists that DaBaby started the fight.
Now, I must confess, I had no idea who DaBaby was before last night and, frankly, don't care. I'm sure Chapelle, who is almost a decade younger and considerably Blacker than me, is aware of the backstory. But he's not testifying in a court of law; he's telling a joke. And one that makes a point that's true even if the example isn't. Which Deggans acknowledges but dismisses:
Too often in The Closer, it just sounds like Chappelle is using white privilege to excuse his own homophobia and transphobia.

Because Chappelle is brilliant, his words about DaBaby make an important point; it is sad that more people know about DaBaby's homophobic comments than his involvement in this deadly encounter. But there is more to the story outside his simplistic framing, which seems designed to excuse some pretty hurtful words.
Whether it's Chappelle, Jon Stewart, or the late Rush Limbaugh, the role of comic commentator is problematic. To varying degrees, they're simultaneously entertainers and trying to persuade their audience to their point of view. And, yes, "it was just a joke" can be a cheap cop-out. But, because the line is blurry, we have to judge their work as a body, not line by line.
Having followed Chappelle's work since his days as a teenager on Def Comedy Jam, I believe him to be constantly evolving, seeking to better understand the human experience. I find him genuinely empathetic but acknowledge that he's a master at working an audience and that his act is just an act.
Regardless, I find this criticism bizarre:
Chappelle may craft his monologues to make the audience think. But that doesn't mean he necessarily wants much of a dialogue, especially with people who don't like his ideas.
He's Dave Fucking Chappelle. Networks pay him tens of millions of dollars to bring his talents to an audience. He owes us—and delivers—his best performance, not a dialogue. There's a reason they call it a monologue.
Vulture's Craig Jenkins ("Dave Chappelle's Endless Feedback Loop") delivers a more nuanced critique.
Chappelle is a master of pressure-point work, of transgressing toward profundity. He isolates absurdities we take for granted. He shakes us out of the comforts of our conditioning. He asks why we take what we've been taught about the world at face value, and why we don't just come up with a framework that fits us better. Sketch comedy was the perfect setting for Chappelle's ruminations about race and class. Inside the confines of a sketch, Dave was able to reveal our ugliest tendencies, wielding the god-king power of a comedy writer seemingly lacking in fear or reservations while maintaining a safe distance from the actions of his characters. Beneath a flurry of punch lines and quotables, his sketches were dioramas of American disorder. The show ended in part, as Chappelle would explain last year on My Next Guest Needs No Introduction With David Letterman, because the creator started to worry that his intentions were being misconstrued, and his comedy was getting to people who lacked the proper context for it.

It's fascinating, then, that the Netflix specials have devoted so much time pointing out that Chappelle no longer cares if you understand or appreciate his intentions. The latest, The Closer, attempts to resolve conversations that began with 2017's The Age of Spin and Deep in the Heart of Texas — the one-two punch of comeback specials where the legend caught himself up on current events but drew ire for flip remarks about sexual assault and the LGBTQ community — and after this, the plan is supposedly to take time off. At the end of Spin, as Dave guided his audience to a feisty kicker, you could see a man in the front row physically bracing himself for the punch line, a prickly one about balancing Bill Cosby's record of altruism with the dozens of allegations of abuse. This hang time between the thoughtful setup and the questionable payoff typifies the experience of watching Dave post-hiatus. He almost wants you to overreact. You can feel him priming for a strike. You hope it lands smoothly. Occasionally, it does.
That his attitude toward celebrity and cultural influence has changed in the fifteen years since he famously abandoned his eponymous sketch show is interesting but hardly shocking. He spent nearly a decade in the wilderness reflecting. But, as Jenkins notes, it's not like he wasn't pushing buttons on race and other social issues back in the day.
The Closer is very funny early on, and it's refreshing to hear Chappelle own the divisiveness of jokes that rubbed people the wrong way, even if it's often a ruse to set you up for a harsher dig. (Dave works crowds like a boxer. He keeps you off-balance.) Replying "One 'they' or many 'theys'?" to a fan who says, "They're after you!" is the rare pronoun gag delivered by a veteran comic without a smoldering bitterness. When he asks what he's saying "that would make these bitches think I hate women," it suggests a self-aware and self-deprecating heel act is happening here, a method to the comic's combativeness, though he's at his best not while debating points of offense but when he's simply entertaining his devilish imagination. A lazy riff calling Mike Pence gay catches fire on a savage payoff: "Please, Jesus, make these buttholes ugly to me." (When you recall the story in 2017's Equanimity that's written punch-line first, you'll wonder whether this was another one of those.) The impression of Dr. Martin Luther King Jr. directing glory-hole traffic is a riot.
Different folks will find different bits funny. Chappelle's mind simply works differently than any other human being's and your mileage will vary line-by-line. But the interwoven bits form a stunning tapestry; it's comedic genius on display even if the occasional joke lands flat.
How much you enjoy The Closer will depend on whether you're able or willing to believe the comic and the human are separate entities and to buy that the human loves us all, and the comic is only performing spitefulness for his audience. If you feel like people complain about comedy too much, you'll love this special for addressing most of the criticism leveled at Chappelle's recent work, however speciously. If you only wanted to get through one of these without a long, crabby detour on gay people and gender identity, Closer's designed to work your nerves.
This, again, is the dichotomy at work in most great standup comedy.
I very much enjoy family-friendly comics like Mike Birbiglia and Nate Bargatze or, in earlier eras, Bob Newhart, Bill Cosby, and Jerry Seinfeld. It takes a special talent to be funny without going blue. And it has the additional advantage of being relatively timeless.
But most of the greats, from Lenny Bruce to George Carlin to Richard Pryor to Eddie Murphy to Bill Burr, intersperse comedy with an examination of the toughest social issues of the day. And Chappelle is widely considered the best of the best.
The Closer wants you to know that Chappelle does not hate the women and queer folks and other minorities he has poked fun at in six stand-up specials. It also wants you to know that he hates having to say this. What it seems the comic wants is license to be an equal-opportunity offender, to have it known that there's no malice in his jabs. He wants the old thing back — the freedom to be crass without having it reflect negatively on his character. But he's come back to a world where faith in the goodness of famous people is understandably diminished in the wake of a thousand scandals of every type, and the audience has avenues to take their displeasure with a gaffe or off-color remark directly to the source. The party line among comics of this era has been that everyone takes themselves too seriously now, and it's their job to shake us out of it.
So, I think that's right. But it's not the whole thing. Chappelle isn't falling back on the "it was just a joke" trope. He would be insulted by the notion that he's merely a clown performing for our amusement. He's delivering his truth through his art, which is comedy. And his truth is that he's a cisgender straight dude who is working hard to understand the realities of women, gays, and transgender folk and yet finds parts of the experience funny. And his audience seems to find it funny, too.
As a straight, cisgender white man, I'm in a particularly poor position to critique Chappelle's work. I'm not the butt of the most hurtful parts of it. (That a large part of his routine has always been making fun of "the Whites" is immaterial because that, by the rules of our current milieu, is "punching up.")
But, because Chappelle is Black, he has an out: even though he himself is rich and famous, he's part of a historically oppressed group and can use comparisons to his advantage. (So long as we're not going all the way back to Egypt.) And that's where Deggans is coming from when he accuses the comic of hiding behind his white privilege.
He doesn't want to make people feel bad but doesn't accept any grief for it when it happens. If you react poorly, you are proving him right that you can't take a joke. This is, to a wide swath of types of guy, a brilliant trap. Your ability to stomach these specials hinged on whether or not these points struck you as unshakable tenets of comedy or outdated excuses masking a refusal to update a worldview. (Two things can be true.) Intermittently, the collection is genius. There are too many beats, though, where the comic obsesses over negative feedback, all the while insisting that the opinions of his detractors are functionally immaterial to him because social media is "not a real place."
Because, like most of us, there is sometimes a dichotomy between what we think and what we feel. Chappelle is a superstar with more money than he can ever spend and doesn't need to give a shit about what some rando on Twitter—or even critics at NPR, the Daily Beast, or Vulture—think of him. And, yet, of course, he does. He thinks he's a good dude and wants people to like him. Especially when he thinks the animosity results from people reading a couple of setup lines in a long bit as a representation of the whole act and, therefore, of him.
The Australian comic Jim Jefferies has a brilliant bit about a show where a sign language interpreter was translating one of his shows for a group of deaf audience members who not only ruins his act for them because "her comedy timing sucks" but because his edgy lines come across as mean-spirited without the charm of his delivery.