White Actors No Longer Voicing Cartoons of Color
Another bow to the inevitable.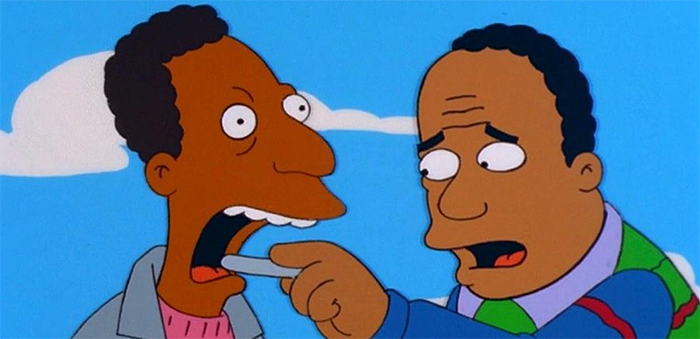 Slash Film ("'The Simpsons' Won't Have Have White Actors Voice Characters of Color Anymore, Mike Henry No Longer Voicing Cleveland Brown on 'Family Guy'"):
Back at the beginning of the year, Hank Azaria decided to vacate the role of convenience store owner Apu on The Simpsons after the character became embroiled in controversy for not just encouraging stereotypes of Indian characters, but for being voiced by an actor who was white. Now The Simpsons will be following suit across the board by no longer having white actors voice any characters of color from here on out.

The Simpsons isn't the only FOX animated series making changes with how they cast characters of color. Family Guy voice actor Mike Henry will be walking away from voicing the role of Cleveland Brown, a character he has played since the beginning of the series back in 1999.

TV Line has word direct from FOX about The Simpsons new policy in casting characters for the show. The network made a brief statement saying simply, "Moving forward, The Simpsons will no longer have white actors voice non-white characters."

This decision will result in several changes on the show. For example, Hank Azaria has also been voicing the Black character Carlton Carlson, and Harry Shearer has lent his voice to Dr. Julius M. Hibbert, another Black character on the show. Tress MacNeille has also voiced Dr. Hibbert's wife Bernice and Apu's wife Manjula, along with the Asian character Cookie Kwan. That will no longer be the case with The Simpsons' new policy on characters of color. It's not clear how soon the show might find replacement actors to voice those characters, especially since they don't appear very often.
This follows a week in which all manner of TV shows, including "30 Rock," "Scrubs," "Community," "The Office," and "Golden Girls," are being pulled from various streaming services for having episodes of scenes in which white actors are wearing blackface.
I haven't watched "The Simpsons" in years and have only seen a handful of episodes of "The Family Guy," so don't have a strong opinion on most of the characters in question.
On the one hand, the characters in question are literally cartoon characters. They have skin color because they're drawn that way. And the norm in the industry from its inception has been to have a handful of actors voice multiple characters.
Still, white guys doing a "black voice" is obviously problematic in ways that every black comedian having a "white voice" simply isn't. I'm surprised it's taken this long for the change to happen.