Impeachment Witnesses Leave Republican Defenses Revealed As Absurdities
The final two witnesses in this week's public hearings before the House Intelligence Committee reduced the Republican talking points in the President's defense looking as absurd as they have always been.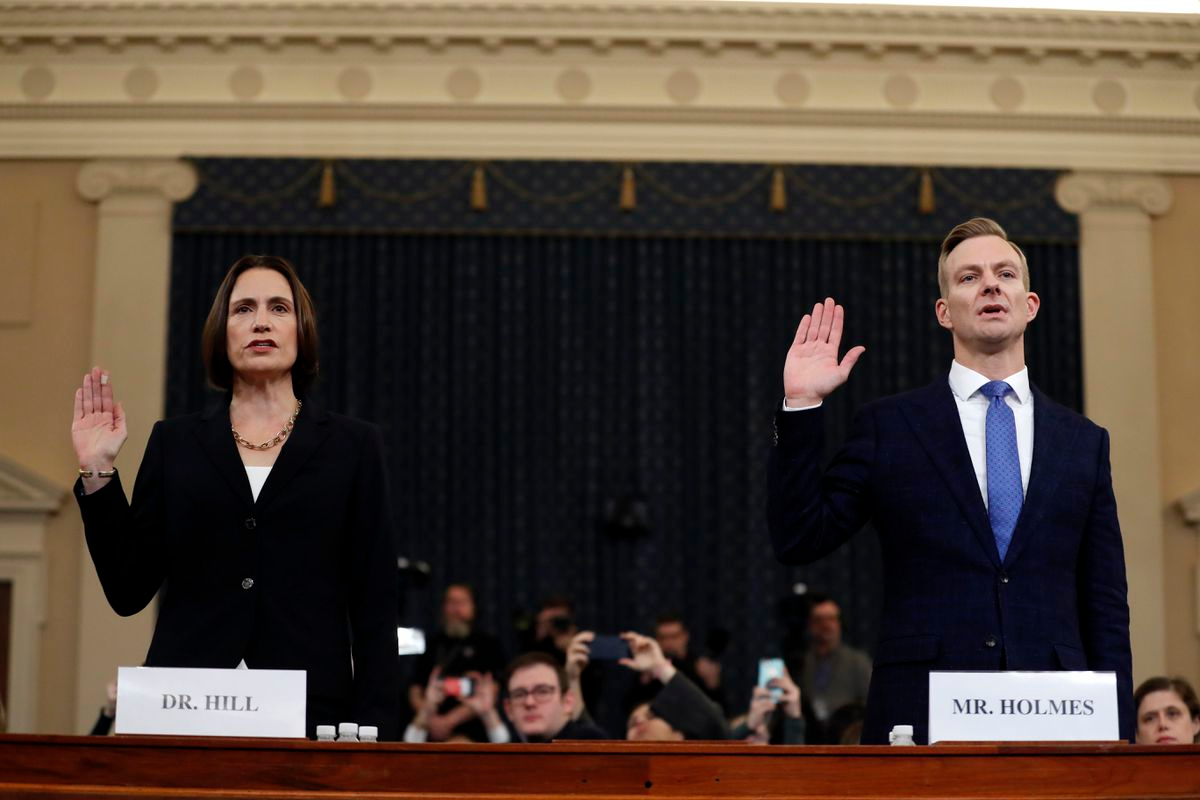 In what was apparently the final day of hearings before the House Intelligence Committee, we heard from two more witnesses who confirmed the facts regarding the extent to which American foreign policy toward Ukraine was linked to the President's domestic political interests. The witnesses, Fiona Hill, a British-born aide at the National Security Council specializing in Ukraine and Russia during John Bolton's tenure, and David Holmes, a top aide to the U.S. Ambassador to Ukraine serving in Kyiv, both testified to first-hand knowledge regarding the linkage between the two subjects that had come to obsess the Trump Administration in the months after Ukrainian President Volodymyr Zelensky was elected in April. Additionally, Ms. Hill used her opening statement and her testimony to push back against the absurd conspiracy theory being advanced by Republicans, by the White House, and by conservative media outlets who continue to slavishly repeat what the White House says that it was the Ukrainians who interfered in the 2016 election, not the Russians.
Indeed, as The Washington Post reports, yesterday's proceedings both reinforced and added to what we know and essentially reduced Republican defenses to the absurdity that they have obviously been from the beginning:
For two months, the impeachment inquiry has focused on President Trump and whether he abused the power of his office for his own political advantage.

On Thursday, the inquiry seemed to broaden into a bracing examination of the insidious forces — including the spread of conspiracy theories — infecting American politics.

The final day of scheduled public testimony in this phase of the impeachment investigation was dominated by the warnings of a former White House adviser that the country's susceptibility to baseless allegations and partisan infighting are more than unfortunate byproducts of this political era.

Instead, Fiona Hill, who served as Trump's top adviser on Russia for much of the past two years, testified that these tendencies pose a growing security threat that Russia, among other adversaries, is exploiting.

As a result, Hill emerged as one of the few witnesses over the past two weeks able to move from providing accounts of events inside the White House to placing the unfolding Ukraine scandal in a broader political context.

She depicted Trump's alleged attempt to pressure Ukraine for political dirt as harmful to both countries' security interests. She voiced dismay about the treatment of diplomats, including the former U.S. ambassador to Ukraine, who were either sidelined or disparaged for their efforts to defend official U.S. policy or testify about the president.

But above all, she spoke with palpable concern about the extent to which partisanship in the United States' political system has weakened the country's ability to agree on objective reality. "Our nation is being torn apart," she said. "Truth is questioned."

A respected Russia scholar who previously served as a top U.S. intelligence official, Hill opened her testimony with a bristling rebuke of Republican lawmakers — and by extension Trump — who have sought to sow doubt about Russia's interference in the 2016 U.S. election.

"Some of you on this committee appear to believe that Russia and its security services did not conduct a campaign against our country — and that perhaps, somehow, for some reason, Ukraine did," Hill said. "This is a fictional narrative that has been perpetrated and propagated by the Russian security services themselves."

Her comments turned the tables on lawmakers, including Rep. Devin Nunes (R-Calif.), who have pressed previous witnesses on perceived holes in their testimony, but found themselves using portions of their allotted time Thursday to dispute Hill's characterizations.

Nunes held up a copy of a House Intelligence Committee report on Russian interference, insisting that he and other members do not question the core case against the Kremlin.

In reality, Nunes has been among Trump's staunchest allies on Capitol Hill in seeking to discredit or impede the FBI and special counsel investigations of Russian interference. He has repeatedly used the impeachment hearings over the past two weeks to argue that Trump's suspicions about Ukraine working against him in 2016 were warranted.

And he spent much of his time Thursday questioning Hill not about what she witnessed about the campaign to pressure Ukraine but her contacts with individuals — including former British intelligence officer Christopher Steele — connected to those now-concluded investigations of Trump and Russia.

The exchange underscored the extent to which the impeachment probe has become an extension of the political battles that began in the aftermath of the 2016 election, as it became clear that Russia had waged an audacious "active measures" operation — involving the hacking of Democratic Party computers and the bombardment of U.S. voters with disinformation on social media platforms — to help elect Trump and defeat Hillary Clinton.

Trump has refused to accept that Russia's interference was real, which officials close to him say he sees as a stain on the legitimacy of his presidency. Trump's alleged attempt to pressure Ukraine appears to have been driven at least in part by his desire to solicit information he hoped would help to cast doubt on the case against the Kremlin.

In addition to asking Ukrainian President Volodymyr Zelensky to pursue investigations into the family of former vice president Joe Biden, Trump also sought to enlist the Ukrainian leader in advancing a conspiracy theory that one of the Democratic Party's computer servers was smuggled to Ukraine to hide evidence that Ukraine, rather than Russia, had hacked its network.
More from The New York Times:
WASHINGTON — A former White House Russia expert on Thursday sharply denounced a "fictional narrative" embraced by President Trump and his Republican allies that Ukraine, not Russia, interfered in the 2016 election, testifying that the claim was a fabrication by Moscow that had harmed the United States.

The expert, Fiona Hill, tied a pressure campaign on Ukraine by Mr. Trump and some of his top aides to an effort by Russia to sow political divisions in the United States and undercut American diplomacy. She warned Republicans that legitimizing an unsubstantiated theory that Kyiv undertook a concerted campaign to interfere in the election — a claim the president pushed repeatedly for Ukraine to investigate — played into Russia's hands.

"In the course of this investigation," Dr. Hill testified before the House Intelligence Committee's impeachment hearings, "I would ask that you please not promote politically driven falsehoods that so clearly advance Russian interests."

Dr. Hill's account was an indirect rebuke of the president, as she outlined how some of Mr. Trump's team carried out a "domestic political errand" in opposition to his foreign policy. She also underscored the national security consequences, noting that "right now" Russia was seeking to interfere in the 2020 election and that "we are running out of time to stop them."

"These fictions are harmful even if they are deployed for purely domestic political purposes," said Dr. Hill, the British-born daughter of a coal miner who became a United States citizen and the White House's top Europe and Russia expert.

She added that Russia readily exploited partisan divisions to undermine the United States from within.

Both Dr. Hill and David Holmes, a top aide in the United States Embassy in Kyiv, detailed what they understood to be a concerted campaign that linked a White House meeting and vital military assistance to an announcement by Ukraine's president that his country would investigate 2016 election interference and former Vice President Joseph R. Biden Jr.

"Investigations for a meeting" is how Dr. Hill described her understanding of the deal laid out by the president's inner circle, including Rudolph W. Giuliani, Mr. Trump's personal lawyer; Gordon D. Sondland, the ambassador to the European Union; and Mick Mulvaney, the acting White House chief of staff.

The testimony came as Democrats sought to clarify the stakes of the impeachment proceedings after two weeks of detail-heavy hearings. Dr. Hill and Mr. Holmes may well have been the final public witnesses called by the committee, which has begun compiling a written report of its findings to present to the House Judiciary Committee as soon as next month.

The House adjourned for Thanksgiving after the session, and it appeared all but certain that lawmakers would vote to impeach a president for only the third time in American history, and most likely along party lines.
It was apparent that Dr. Hill's testimony was going to be powerful from the beginning as she read from her opening statement, which I have embedded below, which is where she began her rebuke of the Russian/Fox News conspiracy theory about Ukraine and the 2016 election. This claim, she pointed out, is one that Vladimir Putin and other Russian officials have been pushing ever since Russia's role in seeking to disrupt the election was revealed by American intelligence agencies and by the investigation conducted by former Special Counsel Robert Mueller. It's a claim that soon found its way into the fever swamps of Reddit, 4Chan, and 8Chan, and from there made its way to Alex Jones, other far-right conspiracy sites, and finally Fox News Channel. From there, it was just a matter of time before it became what amounts to the primary defense to allegations of collusion being advanced by the President, and from there that they became linked to American policy toward Ukraine, with the President demanding an investigation into the allegations as a part of the price for releasing military aid and progress in U.S./Ukrainian relations.
In addition to this, though, Hill's testimony, delivered in a clipped and strict British accent that belied her birth to a family of coal miners in Northeastern England, the same region, she noted, from which George Washington's forebearers came, also detailed the extent to which responsibility for U.S. policy toward Ukraine was taken out of official channels. As others before her have testified, such policy increasingly became the purview of a side group of individuals outside of the control or supervision of either Secretary of State Mike Pompeo or National Security Adviser John Bolton. Hill also testified regarding her own contacts with Bolton who she made clear wanted nothing to do with what he referred to as the "drug deal" being cooked up by U.S. Ambassador to the E.U. Gordon Sondland, Ambassador to Ukraine Bill Taylor and directed by Rudy Giuliani, who she said Bolton described as a hand grenade that was going to "blow everything up." Whether Bolton, who is ironically emerging as one of the unlikely heroes of this whole saga, realized just how prescient his comments were at the time.
While Dr. Hill provided testimony that put the mess that President Trump and Rudy Giuliani had made of U.S. policy toward Ukraine front and center, David Holmes provided new details regarding that policy that made it clear the extent to which the minutest details of that policy got dragged into the narrative. Most notably, Holmes testified about overhearing portions of a phone call between Ambassador Sondland and President Trump during which Trump sought reassurance that the Ukrainians would announce the opening of investigations into the Bidens and the aforementioned debunked 2016 conspiracy theory. Holmes also testified that Sondland told him in response to a question after this phone call that Trump "doesn't give a f**k" about Ukraine, but only cares about the "big stuff," meaning the guarantees of the announced investigations as the price for moving forward on the relationship between Washington and Kyiv.
The testimony of these two witnesses, both of whom withstood Republican efforts to change the subject and diminish the seriousness of the charges made against the President and the evidence that has been laid out over the course of the last two weeks of public hearings. Only a blind partisan can fail to see that it is clear that the President sought to extract information favorable to himself and detrimental to his political adversaries from a foreign nation especially a foreign nation under direct attack from an adversarial power such as Russia. As I have stated before, this would seem to be in clear violation of two provisions of the United States Code dealing with the solicitation of donations or "things of value" to a political campaign from foreign sources as well as bribery, a crime specifically mentioned in the Constitution as one of the specific crimes that could lead to impeachment and removal from office. To claim otherwise at this point is to be willfully blind.
Here are the opening statements of Dr. Hill and Mr. Holmes:
Fiona Hill Opening Statement by Doug Mataconis on Scribd
David Holmes Opening Statement by Doug Mataconis on Scribd