Internal Events In North Korea May Be Making China Nervous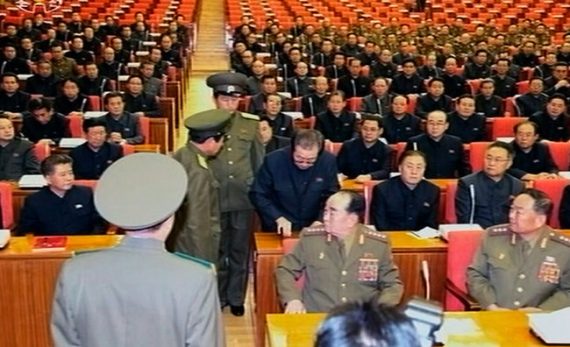 The recent surprising removal of a top North Korean official from office, and the fact that it was done in such a public manner, may be unnerving North Korea's benefactors in China:
BEIJING — North Koreans had long known Jang Song-thaek as the No. 2 figure in their country, the revered uncle and mentor of Kim Jong-un, the paramount leader. Then on Monday state-run television showed two green-uniformed guards clutching a glum-looking Mr. Jang by the armpits and pulling him from a meeting of the ruling party after he was denounced for faction-building, womanizing, gambling and other acts as dozens of former comrades watched.

The spectacle of Mr. Jang's humiliating dismissal and arrest was a highly unusual glimpse of a power struggle unfolding inside the nuclear-armed country. But the major impact may be outside, and nowhere is the downfall more unnerving than in China.

North Korea's longtime protector and economic lifeline, China has considered strategically close relations with North Korea a pillar of foreign policy and a bulwark against the United States military presence in South Korea. Despite Chinese irritation with North Korea's nuclear tests and other bellicose behavior, China had built a good relationship with Mr. Jang as the trusted adult who would monitor Mr. Kim, who is less than half his age.

Any shift by China concerning North Korea has the potential to significantly alter the political equilibrium in Asia, where the divided Korean Peninsula has been a fact of life for more than 60 years. While there is no indication that the Chinese intend to change their view, it seemed clear that even Beijing's top leaders were surprised by Mr. Jang's abrupt downfall on Sunday, and even more on Monday by the North Korean state television broadcast.

"Jang was a very iconic figure in North Korea, particularly with economic reform and innovation," said Zhu Feng, professor of international relations at Peking University, and a specialist in North Korea. "He is the man China counted on to move the economy in North Korea. This is a very ominous signal."

Mr. Jang's dismissal was a shock not only because he had long been considered a core member of the country's ruling elite and a regent and confidant of Mr. Kim, who assumed power only two years ago upon the death of his father, Kim Jong-il. The way that Mr. Jang was dismissed also was considered extraordinary, as the North Korea government has almost always maintained secrecy over its inner workings, power struggles and skulduggery during the more than six decades of rule by the Kim family.

"Kim Jong-un was declaring at home and abroad that he is now the truly one and only leader in the North, that he will not tolerate a No. 2," said Yang Moo-jin, an analyst at the University of North Korean Studies in Seoul, South Korea.

Mr. Jang had visited China on a number of occasions and had been considered the most important advocate of the Chinese style of economic overhaul that the government in Beijing has been urging North Korea to embrace.

At 67, Mr. Jang is of the same generation as China's leaders. Unlike the 30-year-old Mr. Kim — who has not been to China and who remains a mystery despite the lineage to his grandfather Kim Il-sung, North Korea's revolutionary founder — Mr. Jang was seen by Beijing as a steady hand and a trusted conduit into North Korea's top leadership. He was one of China's few high-level North Korean interlocutors.

That the video of Mr. Jang's arrest on Sunday at a Politburo meeting by military officers was released to the North Korean public, replete with tearful underlings shown denouncing him, was particularly unsettling for China.

(…)

China's official media gave prominent attention to the accusations against Mr. Jang, including some of the florid language used in North Korea's own state-run news media that recited the litany of his newly disclosed transgressions at party expense: womanizing, gambling, drug abuse, "wining and dining at back parlors of deluxe restaurants" and, perhaps most important, a politically motivated ambition to challenge Mr. Kim as the "unitary center."

But also among the crimes that Mr. Jang was said to have committed was selling resources cheaply, an accusation that appears to have been aimed directly at China, the biggest buyer of North Korea's iron ore and minerals.

Soon after assuming power, Mr. Kim complained that North Korea's resources, one of its few sources of outside income, were being sold too cheaply. He demanded higher prices for minerals, rare earths and coal, exported by the growing number of joint ventures between China and North Korea.

Mr. Kim's complaints were widely reported in China and angered bargain-conscious Chinese mine operators, several of whom abandoned their North Korean operations.

Now, the climate for Chinese investment in North Korea, which was not particularly good, would be likely to worsen, said Andrei Lankov, author of "The Real North Korea" and professor of history at Kookmin University in Seoul.

China's Foreign Ministry offered restrained comments on Monday regarding Mr. Jang's dismissal, calling it an internal affair of North Korea.

"We will stay committed to promoting the traditional friendly, cooperative relationship" between China and North Korea, said the Foreign Ministry spokesman, Hong Lei.

Mr. Jang's demotion raised the possibility of further instability in North Korea at a time when China is already confronting increased tensions with two of its other North Asian neighbors, Japan and South Korea.

An overriding fear of China's is the collapse of the government in North Korea, an ally dating to the Korean War, which could lead to the reunification of the Korean Peninsula under a government in South Korea allied with the United States.

"China worries about instability which might be provoked by such acts" as Mr. Jang's dismissal, Mr. Lankov said.
By many accounts Jang appears to have been one of the closest links that China had to the North Korean leadership, especially since Kim Jong Un succeeded to the top post on the death of his father. As noted, he has never visited China as far as we know and doesn't appear to have particularly close ties to Chinese leadership. This hardly means, of course, that the North Koreans can be expected to drift away from the Chinese because they simply cannot afford to do so. However, it does make one wonder just how easy it will be in the future for the Chinese to exercise the kind of influence over Pyongyang that they have in the past, influence that has served to ease tension on the Peninsula several times in the recent past. The harder it becomes for China to "control" North Korea, then presumably the more likely it becomes that we'll continue to see occasional repetitions of flare ups like the one we saw earlier this year, most of which seem to be designed more for internal consumption in the DPRK than anything else. Meanwhile, the Korean Peninsula remains on something of a hair trigger and the North Koreans remain as unpredictable as ever. That's not necessarily a good combination.