Is America "Ready" For A Gay President?
Despite poll numbers suggesting otherwise, one political analyst suggests that the United States may not be "ready" for a gay President.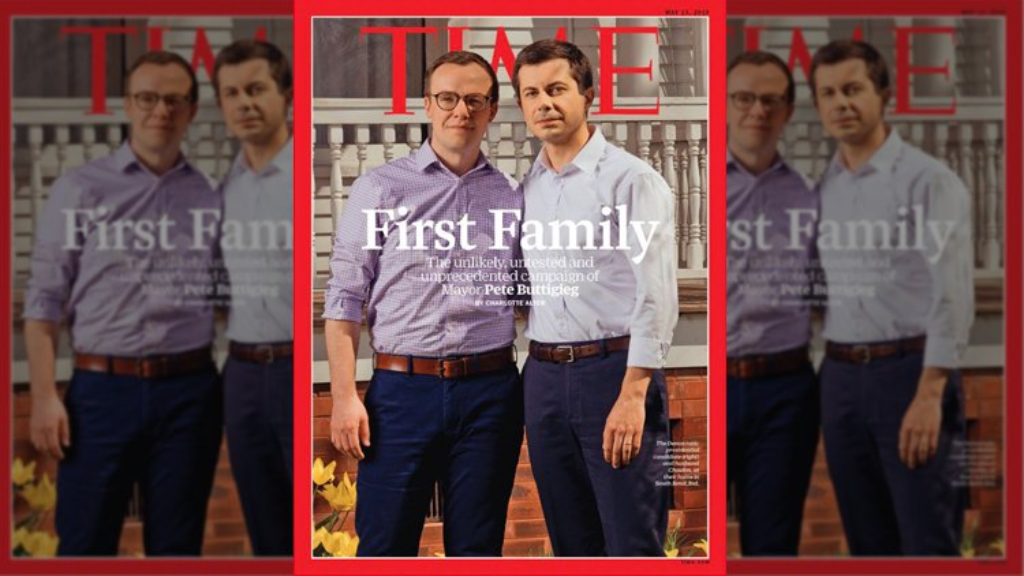 With South Bend, Indiana Mayor Pete Buttigieg continuing to enjoy a bounce in the polls in the race for the Democratic nomination, CNN's Harry Enten notes that polling seems to suggest that the country is not "ready" for an openly gay President:
Poll of the week: A new Quinnipiac University poll finds that 70% of voters (including 86% of Democrats and independents who lean Democratic) say they are open to electing a gay president.The same poll also discovered, however, that only 36% of voters (including 40% of Democrats and independents who lean Democratic) think the United States is ready to elect a gay president.

What's the point: Right now, South Bend, Indiana, Mayor Pete Buttigieg is one of the top 5 contenders vying for the Democratic nomination process. He is a married gay man.

These poll results suggest that most Americans — and Democrats in particular — are open to electing him president, so long as he meets other qualifications.

Yet, it seems like Buttigieg may run into electability concerns for the simple reason that Democrats don't think (perhaps wrongly if you believe this poll) the country is ready. It's also possible that some voters are not willing to admit to homophobia, while signaling it by saying essentially, "I'm ready, but others may not be."Either way, this poll suggests that Buttigieg might hit a wall in a Democratic primary in which voters are placing a high emphasis on the ability to beat President Donald Trump.

I should note that polling on whether the country is ready for a gay president differs significantly from polling on whether Americans thought the country was ready for a black president in 2007 or a woman president in 2015.A Fox News poll taken after then-Sen. Barack Obama declared in February 2007 found that 69% of Democrats and 69% of voters thought the country was ready to elect a black president. In other words, electability was less of a problem for Obama then than Buttigieg now.

Voters were even more sure that the country was ready to elect a woman president after former Secretary of State Hillary Clinton declared a second bid for the presidency in April 2015. A CBS News poll conducted in the spring of that year showed that 89% of Democrats and 78% of all Americans said the country was ready for a woman president.

Interestingly, in all three instances, more voters said they were ready for a black, female or gay president than thought the country was ready for one.

But even if Americans are more tolerant of gay Americans than voters think they are, more are prejudiced against gay Americans than they were against black Americans in 2007 or women in 2014. Today, about a quarter of all voters (including 10% of Democrats) told Quinnipiac that they weren't open to vote for a gay man for president. Back in 2007 and 2015, 5% or less of Americans and Democrats said they weren't willing to vote for a qualified black person and woman to be president, respectively.

Prejudice against gay Americans is evident in other polling as well. About 35% of Americans openly admitted in the 2018 General Social Survey that they thought "homosexual sex relations" were almost always or always wrong. Even more than 25% of Democrats said it was almost always or always wrong.
Objectively speaking, of course, Buttigieg's sexual orientation, and the fact that he is married to a man, is something that ought to be seen as irrelevant to the question of whether or not he would make a good President. More important to this question are issues such as whether his time as Mayor of a city of roughly 100,000 people, a position he has held for just seven years, is sufficient preparation for the far more difficult and complicated task of being President of the United States. Also seemingly far more relevant is the question of where he stands on the important issues of the day, what kinds of policies he would seek to implement if he did become President, whether or not he would be able to handle the difficult task of working with Congress regardless of which party controlled it, and of course how he would approach serious foreign policy issues and how he would perform on the world stage. At the primary level, Democratic voters will also have to take into account the question of how strong an opponent he would be against President Trump in a General Election. Taken together, all of these questions are far more important than his sexual orientation or the gender of his spouse.
It's also somewhat ironic that Enten puts forward the idea that Americans may not be "ready" for a gay President at the same time that he cites the above-referenced Quinnipiac poll showing that 70% of Americans say that they would be fine with it, although a small majority, 52% to 36% say that the country isn't "ready" for a gay President, a number which seems to reflect American's perception of what other Americans would find acceptable. In that same poll, though, 85% of Democrats and 76% of Independents say that they would be open to the idea of a gay President. Among Republicans, the issue is more closely divided with 46% saying they are open to the idea while 45% say they are not. Indeed, among the major demographic groups, including age, gender, ethnicity, and age, the only demographic group that does not have a majority saying they are open to the idea are self-identified Republicans. On the second question of whether or not they believe America as a whole is "ready" for a gay President a majority of all the major demographic groups believes that the country as a whole is not ready.
Obviously, there's something of a disconnect here. A majority of Americans and even a small plurality of Republicans are saying that they personally would be fine with a gay President but that they don't believe a majority of Republicans would be. Perhaps this is a reading by the poll respondents of what they believe the cultural zeitgeist is at this point. Additionally, as Enten notes while homosexuality has become far more culturally acceptable than it was in the past, there are still pockets of the country where this is not the case and it's possible that, in a close election, those people could end up making a difference if they end up opposing Buttigieg, or some future gay or lesbian candidate for President, because of his orientation.
In the end, though, I suspect that the nation is far more open to this idea than the poll numbers that Enten cites seem to suggest. Despite the poll numbers at the time, there were many people who doubted whether American was "ready" for an African-American President in 2008 and yet we elected Barack Obama. Prior to 2016, there were questions about whether or not America was "ready" for a female President, and yet Hillary Clinton managed to win her party's nomination and a majority of the popular vote even though she felt short of actually winning the race for President itself. If Buttigieg wins the Democratic nomination, which still seems like a long-shot, then it will go a long way toward showing that the country is "ready" for a gay President. Moreover, if it doesn't happen in 2020 I am sure that there will be some point in the future when a gay man or woman will end up being elected to the highest office in the land. At that point, there may still be people like Enten wondering if the nation is "ready" for a gay President.