Jeb Bush To Republicans: Stop Being Stupid On Immigration
Jeb Bush continues to speak the truth on the GOP's position on immigration issues. Sadly, his fellow Republicans aren't listening.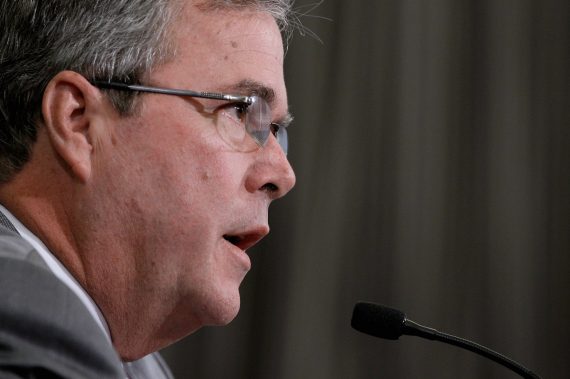 Former Florida Governor Jeb Bush, who is scheduled to speak to convention delegates on Thursday, told a panel at the Republican National Convention today that the GOP needs to change its position on immigration or risk becoming a minority party:
With Mitt Romney trailing Barack Obama badly among Hispanic voters in the polls, Republicans paraded out their top Hispanic political celebrities Tuesday and tapped the financial and influential heft of former Gov. Jeb Bush to help suture the gap.

Speaking at a panel discussion at the Republican National Convention, Bush repeated his frequent warning that the party must change its tone, an admonition he has frequently raised about the party's hardline position on immigration.

"The future of our party is to reach out consistently to have a tone that is open and hospitable to people who share values," he said, adding "the conservative cause would be the governing philosophy as far as the eye could see … and that's doable if we just stop acting stupid."

Bush was joined by two Latino governors in an event organized by the Hispanic Leadership Network, a newly formed advocacy group associated with the American Action Network. The group will finance issue ads and promote what it calls a "center-right" agenda.

Bush's youngest son, Jeb Bush Jr, announced the emergence of SunPac, a Coral Gables-based organization that targets young Hispanics in Florida to support their issues and get involved in politics.

And the prime time television schedule included two of the convention's five Hispanics headliners: Nevada Gov. Brian Sandoval and Texas Senate candidate Ted Cruz. The others, Gov. Luis Fortuño of Puerto Rico and Gov. Susana Martinez of New Mexico, will follow Wednesday. U.S. Sen. Marco Rubio will introduce Mitt Romney on Thursday.

The top draw for Republicans showcasing their Hispanic bonafides: Rubio.

Rubio, echoing the Romney-ticket line, said the campaign wants to reach out to Hispanics in the way it appeals to other groups. But first, he said, they must make progress on immigration.

"While that may not be the No. 1 issue in the Hispanic community, it is a gateway issue," he told the Hispanic Leadership Network on Tuesday.
This is isn't a new theme for Bush, of course, or Rubio. Both men have been critical of Republican immigration policies and rhetoric in recent years, although Bush has been far more outspoken than Rubio since he has the luxury of not being an elected official at the moment. This has also been a theme of Bush's ever since his days a Governor of Florida, though, and there was a time when his message was welcome in the Republican Party. His brother, for example, had a similarly good relationship with Hispanic voters when he was Governor of Texas and,  in 2004, received 44% of the Hispanic vote, a number that has  not been matched by any Republican candidate before or since. The Bush Presidency also saw an effort toward comprehensive immigration reform that actually had bipartisan support, something rare in Washington today for anything other than naming a Post Office, only to see it derailed when conservative activists in the GOP began to rebel over what they called "amnesty."
Today, that rebellion has almost fully taken over the GOP to the point where candidates who disagree with it find it very hard to succeed with the base. When Rick Perry dared to suggest that his state's plan to provide in-state tuition for children of illegal immigrants who otherwise met all the requirements for Texas residency under the law, a plan that passed with overwhelming support in the heavily Republican Texas legislature, he as attacked by his opponents from all sides and saw his poll numbers start to slip. Politicians such as Lindsey Graham who suggest a more humane position on immigration for the part are denounced as RINOs. And, in general, anyone who strays from what has now seemingly become hard line anti-immigration orthodoxy inside the GOP is targeted by activists who actually seem to think that it's possible to deport the 20 million people who are estimated to be in the country illegally. The only exceptions to this rule seem to be Hispanic politicians such as Rubio, Martinez, and Sandoval, all of whom have expressed disagreement with the hard-right position on immigration and support for things such as a modified version of the DREAM Act.
Politically, the price that Republicans are paying for what Jeb Bush correctly called stupidity can be seen in the polls, such as a recent poll showing that the President has a 39 point advantage over Mitt Romney among Hispanic voters. Because of that, the GOP finds it hard to compete in a state like California and, as time goes on, is likely to face similar problems in other states with growing Hispanic populations such as Arizona, Nevada, Colorado, and Virginia. Purely out of a survival instinct, you'd think that Republicans would realize that they cannot sustain this position for long. Changing demographics in the United States will make it impossible for any political party to succeed nationally without at least some significant degree of support from the nation's fastest growing minority group. However, the GOP currently shows no signs of either recognizing these facts or wanting to do anything to deal with him.
No doubt, this is something that Republican insiders, pollsters, and analysts are all well aware of and many of them no doubt agree with Bush on this issue. However, we no longer live in a world where political bosses control political party's like they used to be able to. Increasingly, and especially in the Republican Party in recent years, the direction of the party is influenced by the base and the activists that purport to speak for the base. Among that community, Bush's words will no doubt be ridiculed and rejected rather than listened to. Indeed, one need only look through the comments to the Hot Air post about this story to see what "the base" thinks of the former Governor of Florida these days. It's too bad, really, because he's giving them good advice and they're going to wonder what they heck happened to their party when they wake up in a few election cycles and see states that used to be reliably Republican now being considered up for grabs because of the Hispanic population that they chose to ignore.
Will Bush bring this up in his speech on Thursday night? Since he'll be speaking before Mitt Romney, probably not, but he ought to.