Joe Biden Sure Sounds Like A Guy Running For President
He says he won't announce anything until after the start of 2019, but Joe Biden is sure sounding like a guy who's running for President.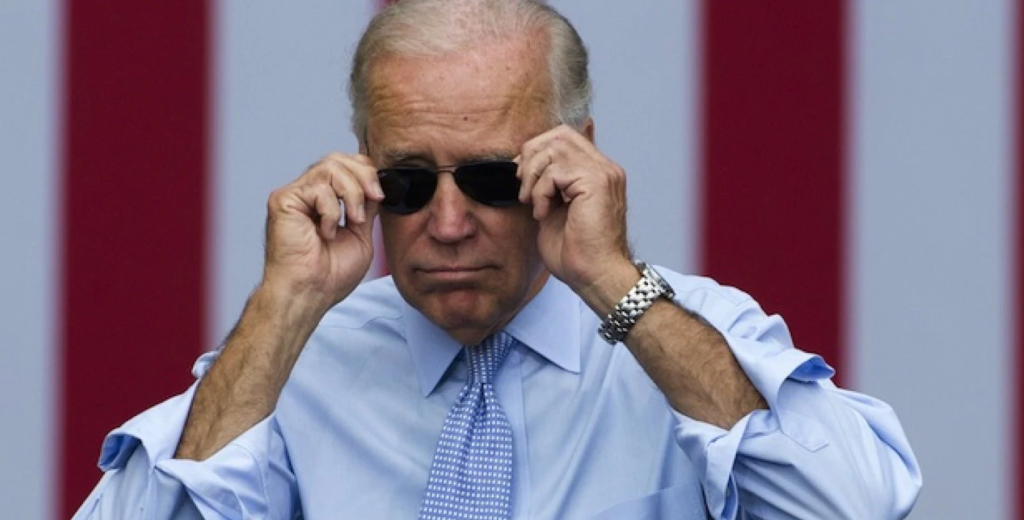 Former Vice-President Joe Biden is certainly sounding like someone who is inclined to run for President in 2020:
During a stop for his book tour in Missoula, Montana, Monday night, former Vice President Joe Biden discussed his 2020 prospects, saying he believes that he is the "most qualified person" to be president, noting a decision is coming in the next two months, and acknowledging he's a "gaffe machine."

"I'll be as straight with you as I can. I think I'm the most qualified person in the country to be president," Biden said to applause at the University of Montana. "The issues that we face as a country today are the issues that have been in my wheelhouse, that I've worked on my whole life."

"No one should run for the job unless they believe that they would be qualified doing the job. I've been doing this my whole adult life, and the issues that are the most consequential relating to the plight of the middle class and our foreign policy are things that I have — even my critics would acknowledge, I may not be right but I know a great deal about it," he added.

Biden said his family must now decide as a "unit" whether or not they're prepared for a run — setting a decision time frame of the next six weeks to two months.

"I have two young grandchildren my son left who love me and adore me and want me around. I want to be there to take care of them, so we've got to figure out whether or not this is something we can all do as a family," he said. "We're going to make that decision in the next six weeks to two months, and that's the basis of the decision."

The moderator, Bruce Feiler, pointed out some of the potential liabilities of a Biden campaign, saying "He's too old. He signed, he cosponsored the crime bill. He was the chairman of the judiciary committee during the Anita Hill hearings, and he's out of touch in the era of Me Too. $1.5 million ain't gonna cut it anymore, you need $100 million. Who wants to wake up at 6 a.m. for the next two years and get insults from the President of the United States?…You're a gaffe machine. I could go on. Which of these scares you the most?"

"None of them," Biden said before moving on to defend some of those potential liabilities.

"I am a gaffe machine, but my God what a wonderful thing compared to a guy who can't tell the truth," he said. "I'm ready to litigate all those things, the question is what kind of nation are we becoming? What are we going to do? Who are we?"
This wouldn't be Biden's first try for the Presidency, of course. In addition to his failed bids for the White House in 1988 and 2008, there was much speculation that the then Vice-President would enter the race for the 2016 race for the Democratic nomination notwithstanding the fact that he had spent most of 2015 outside the race due to his son Beau Biden's illness and death. The 2016 speculation had actually begun several years before the 2016 campaign season began, some of which Biden appeared to be stirring up himself. At the time it seemed more like Biden was keeping mum on the subject mostly because he wanted to maintain some level of influence in the Democratic Party leading up to the race for the nomination but that he didn't necessarily intend to actually run, especially if Hillary Clinton entered the race as most observers expected she would. After Clinton entered the race and the news reports about things such as her use of a private email server while serving as Secretary of State and the links between companies who did business with the State Department and had also made contributions to the Clinton Foundation became more of a headache for the Democrats, that speculation returned. As a result, we spent much of the fall of 2015 waiting to see if Biden would enter the race. Ultimately, of course, the Vice-President declined to enter the race, and the rest, of course, is history. This also isn't the first time there's been speculation about Biden entering the race for the 2020 Democratic nomination. That very thing was being talked about openly as recently as this past May, and even though Biden said on the record at the time that he wasn't running, he has kept up a fairly steady schedule that looks for all the world like someone who is at least considering the idea of entering the Presidential field for what would be a third run at the White House. These latest remarks only seem to make it clear that Biden is at least seriously looking at the idea of running,
As I've said before, a run by Biden in 2020 seems as though it would be unlikely. As noted above, he'd be 77 years old before the race even began, and 78 years old by Inauguration Day in 2020. By the end of a hypothetical first tern, he would be 82 years old and, while one hopes that Biden lives a long and healthy life it's clear that he's got more days behind him than ahead of him. Does he really want to spend those days on a campaign that he well knows will be grueling, exhausting, and emotional for himself and his campaign? It's also unclear whether he'd have the energy for such a campaign, and it's likely that his every move would be watched for signs that he might not be physically or mentally up for the task of running for President, never mind the toll that actually serving as President should he actually win. Is Biden prepared for that? That's something only he can answer, but at the moment at least he seems to be at least thinking about it.
Even taking all that into account, it's fairly easy to see why Democrats might be willing to turn to Biden as the antidote to Trumpism in 2020. As I've noted before, there have been many Democratic insiders and political pundits who have opined that the party's fortunes might have been different had Biden decided to challenge Clinton for the nomination and become the party's nominee instead of her. Clinton lost in no small part because of her failure to connect with white working-class voters in states such as Wisconsin, Michigan, Ohio, and Pennsylvania, many of whom had voted for the Obama/Biden ticket in 2008 and 2012. This is a constituency that Biden has always fared very well with, and it's possible that he could have garnered their support in a way that Clinton failed to do. As I've noted before, Clinton lost the election largely because of what ended up being a very narrow loss in those upper midwest states. In fact, she would have won the election outright but for just 77,741 votes in Michigan, Wisconsin, and Pennsylvania. Biden at the top of the ticket instead of Clinton could have pushed enough of those votes into the Democratic column to give them a narrow Electoral College victory instead of the narrow loss that they suffered.
On a final note, while one can make the argument that many of the potential candidates for the Democratic nomination have rather thin resumes that raise the question of whether or not they would be prepared to be President in January 2021, you cannot make the same claim about Joe Biden. In addition to eight years as a fairly active Vice-President who was closely involved in policy decisions at the domestic and foreign policy levels, Biden has a long resume as Senator that spans more than three decades and includes time as both a member and Chairman of the Senate Judiciary Committee and the Senate Foreign Relations Committee, perhaps two of the most important committees in the Senate. As such, his claim to be "the most qualified person in the country to be president" isn't mere boasting.
None of this means that Biden is actually running, of course, and it certainly doesn't mean that he could win the nomination. He certainly does seem to be entertaining the possibility, though, and the fact that he's fast becoming the most vocal spokesman the party has against Trump and Trumpism seems like a deliberate effort on his part to put himself at the front of the pack of potential challengers. Even if he doesn't ultimately run, he's likely to have a big influence on who does run and on the message that the Democrats formulate in response to Trump between now and 2020. For that reason alone, Joe Biden will be someone worth paying attention to.