Jon Huntsman To Skip Iowa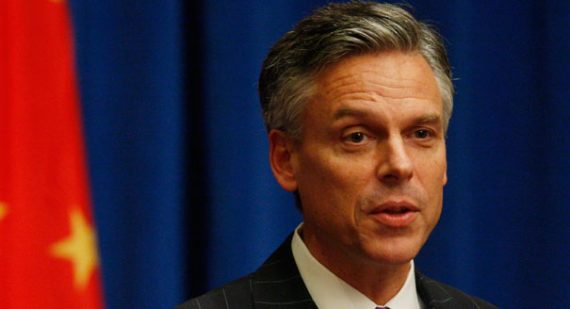 Jon Huntsman, the man who seems to be every politicos favorite Republican candidate for President even though he's at the bottom of every poll, has announced he will not be competing in the Iowa Caucuses:
Jon Huntsman has kicked off his three-day, eleven-stop tour of New Hampshire this weekend to appeal to voters in the state holding the nation's first primary.

Voters in Iowa, on the other hand, will not be awarded the same face time.

"I'm not competing in Iowa for a reason. I don't believe in subsidies that prop up corn, soybeans and ethanol,"Huntsman said, according to multiple news sources at the event.

Huntsman, the former ambassador to China, continued, "I think they destroy the global marketplace…. We probably won't be spending a whole lot of time in Iowa. I guess I understand how the politics work there."
Of course, as I noted just two weeks ago, opposition to ethanol subsidies isn't keeping Tim Pawlenty away from the Hawkeye State so, Huntsman reasoning strikes me as more than a little disingenuous. Huntsman isn't going to win Iowa, that's why he's skipping the state, apparently in the belief that he can do well elsewhere (I honestly don't see it). This is probably the beginning of a long, drawn out process where Huntsman will announce he's running, campaign for a few months, and then drop out when he realizes he has no chance. Perhaps he'll show up on someone's short list for Vice-President, perhaps he'll run in 2016. In either case, the idea that Huntsman is a player in 2012 is silly.
No word on the reaction from Huntsman's Iowa supporter.