Tim Pawlenty Opens Campaign In Iowa With Call To End Ethanol Subsidies
You don't often see a candidate for President tell Iowans that he wants to eliminate ethanol subsidies, but Tim Pawlenty did.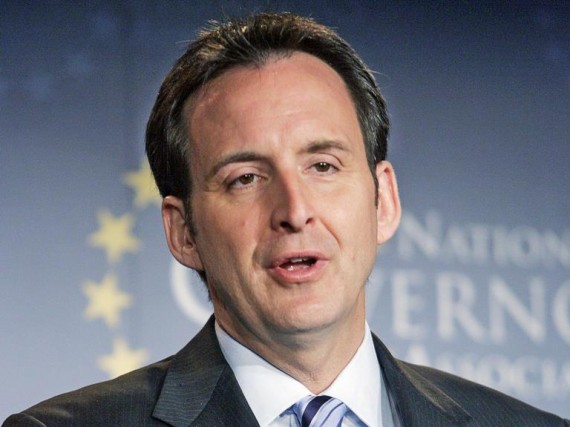 I'm still skeptical about Tim Pawlenty's long-term chances in the race for the GOP nomination, and I have serious reservations about his ties to the evangelical wing of the GOP, but I've got say that his kickoff message in Iowa was bolder than I thought it would be:
DES MOINES, Iowa – Tim Pawlenty formally launched his campaign for president on Monday with a straight talk message explicitly geared to tackle sacred cows in Iowa, Florida, New York and Washington.

"Politicians are often afraid that if they're too honest, they might lose an election," the former Minnesota governor told a town hall here on a terrace of the State Historical Building. "I'm afraid that in 2012, if we're not honest enough, we may lose our country."

Pawlenty's first bit of honesty was for the Iowans: The federal government must phase out ethanol subsidies — key in this corn-heavy state — in order to drive more investment and innovation in the industry.

"We need to get government out," he said. "We also need the government out of the business of handing out favors and special deals. The free market, not freebies from politicians, should decide a company's success. So, as part of a larger reform, we need to phase out subsidies across all sources of energy and all industries, including ethanol. We simply can't afford them anymore."

As governor of Minnesota, Pawlenty said, he had reduced ethanol subsidies, and he vowed that they could be drawn down "gradually" and "fairly."

The next stop on Pawlenty's straight talk tour will be on Tuesday in Florida, where he'll tell young people and seniors that the country must "gradually raise" the Social Security retirement age. He called for means testing Social Security's annual cost-of-living adjustment, instituting pay-for-performance incentives in Medicare and block granting Medicaid to the states.

Pawlenty will go to Washington the next day, where he'll "remind the federal bureaucracy that government exists to serve its citizens, not its employees."

"The truth is, people getting paid by the taxpayers shouldn't get a better deal than the taxpayers themselves," he said. "That means freezing federal salaries, transitioning federal employee benefits, and downsizing the federal workforce as it retires. It means paying public employees for results, not just seniority."

Then he'll be off to Wall Street.

"I'm going to New York City, to tell Wall Street that if I'm elected, the era of bailouts, handouts, and carve outs are over," he said. "No more subsidies, no more special treatment. No more Fannie and Freddie, no more TARP, and no more 'too big to fail.'
The ethanol announcement is an interesting one because it's long been accepted wisdom that anyone running in the Iowa caucuses needs to take "the pledge" and tell the farmers of Iowa that they will  support Federal subsidies for ethanol. Even if they've opposed them in the past. The dilemma this places on candidates was the focus of a sixth season episode of The West Wing called "King Corn" which followed the three main candidates for President through the events leading up to their speech to the Iowa Corn Growers. Two of those candidates, Matt Santos and Arnold Vinick, had opposed ethanol subsidies while in Congress. Santos listened to his campaign manager and took the pledge, Vinick didn't. At the end of the episode, the two candidates met in a snow-bound hotel restaurant and Santos told Vinick he wished he'd had the courage to do what he'd done. Vinick said that he'd just lost Iowa. Pawlenty chose the Vinick route.
Pawlenty's a midwestern Governor whose taken on ethanol subsidies before, so he's remaining consistent with his previous position, but he's also taking a political risk in a state that he will need to perform well in if his campaign is to go much past February 2012. Philip A. Klein doesn't think he's taking as some think:
Most presidential announcements produce no news, but Pawlenty's call for ending ethanol subsidies likely will draw headlines, and not just any headlines, but headlines that coincide with the theme of his campaign — that he'll tell the truth. And he added that, "Tomorrow, I'm going to Florida to tell both young people and seniors the truth that our entitlement programs are on an unsustainable path and that inaction is no longer an option."

And while Pawlenty will draw kudos for coming out against ethanol subsidies, it's unlikely that in this current environment, any of his Republican opponents will attack him on it, because if they do, it will only make Pawlenty look better and them look bad to conservative voters outside of Iowa.

So not only did Pawlenty mke the right call, it's also one that's a net gainer for him politically. But in a larger sense, hopefully, this is an indication of the tide turning against a terrible policy
Klein does have a point in that Pawlenty's position does track well with the "Time For Truth" theme that he uses in the announcement video that was released last night:
Like I said, I've still got a lot of doubts about Pawlenty but I'll give him credit for walking into Iowa and telling the corn growers that he wants to end their subsidies. Most politicians don't have those kind of guts.
Update: David Frum points out that losing Iowa isn't necessary fatal to a campaign:
Bonus skill-testing question: since 1976, how many non-incumbent Republicans have won the Iowa caucuses and proceeded to win the party nomination? Answer: only one, George W. Bush.

So maybe it's smart to blow them off and score integrity points for later.
Perhaps but it's also the case that Pawlenty is going to need an early victory to give his campaign credibility, and Iowa seems to be the best place for that.