Tim Pawlenty's Fiscal Plan: Too Good To Be True
Tim Pawlenty's new fiscal plan isn't very grounded in reality.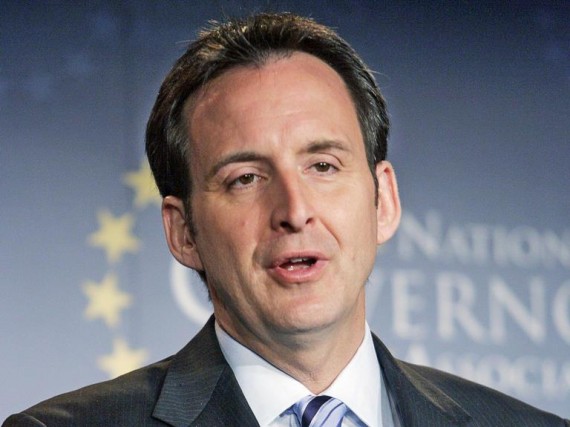 With all the Anthony Weiner coverage in the press, it's unclear how many people know about it but Tim Pawlenty put out a major fiscal package in a speech yesterday:
WASHINGTON — Former Gov. Tim Pawlenty called on Tuesday for more than $2 trillion in tax cuts for individuals and businesses over the next decade and two to three times as much in federal spending reductions and loophole closings, saying that such policies would drive rapid economic growth.

In the first major policy speech of his campaign for the Republican presidential nomination, Mr. Pawlenty intensified his criticism of President Obama's economic policies, accusing the Democratic president of being satisfied with a "second-rate American economy" and ignoring the country's fiscal problems.

But Mr. Pawlenty, of Minnesota, also used the speech to lay down an economic marker for his Republican rivals, essentially daring them to go further in calling for large tax and spending cuts to appeal to conservative voters during next year's primaries.

"The United States is still home to the most dynamic and entrepreneurial people in the world," Mr. Pawlenty said during a speech at the University of Chicago. "They've been discouraged and weighed down by President Obama's big government and heavy-handed regulations. They deserve a better deal. I'll give them one."

Mr. Pawlenty's proposed tax and spending cuts go well beyond anything being sought at this point by the Republican leadership on Capitol Hill, and were dismissed by Democrats and their allies as fiscally unworkable and skewed to the wealthy and big corporations at the expense of working people.

Under his proposal, the corporate income tax rate would be reduced to 15 percent from 35 percent. Individual federal income tax rates, which currently go as high as 35 percent, would be flattened to just two rates: 10 percent for the first $50,000 of income and 25 percent for income above that.

He also called for elimination of all taxes on capital gains, interest income and dividends. And he proposed eliminating the federal estate tax.

Mr. Pawlenty suggested that the government would recapture much of the lost revenue through higher levels of economic growth.

A spokesman for Mr. Pawlenty said after the speech that the former governor opposed any changes to individual tax deductions or credits, suggesting that he would leave intact the mortgage interest deduction and other tax breaks.

Instead, the spokesman, Alex Conant, said Mr. Pawlenty would get rid of business tax breaks. As an example, he pointed to Mr. Pawlenty's recent calls for the elimination of subsidies for energy companies, including ethanol producers.

Mr. Pawlenty said his goal would be an economic growth rate of 5 percent a year, a level well beyond what the United States had been able to sustain for more than brief periods in recent decades.

The American economy is curr

ently growing at a rate of about 1.8 percent.
Not surprisingly, Larry Kudlow and the guys at the Wall Street Journal are very happy with this plan:
Among GOP Presidential contenders, Tim Pawlenty is offering the most ambitious reform agenda so far, and his economic address yesterday continued the trend. While details remain to be filled in, the former Minnesota Governor is rightly focusing on a growth revival that ought to define the 2012 campaign.

Most notable in symbolic political terms, Mr. Pawlenty proposed what he called the "big, positive goal" of growing the U.S. economy by 5% a year over the next decade. His policy mix is centered on building a durable expansion and boosting middle-class incomes, and his speech was notable for its optimism, avoiding the austerity temptation that traps many Republicans.

A Pawlenty spokesman told us the 5% target is realistic and achievable, and it's true that the economy grew 4.9% on average between 1983 and 1987, and nearly 4.7% between 1996 and 1999. Yet such long booms are rare in developed economies and we can't recall one that lasted 10 years.

The goal is still worthy as an aspiration, especially amid the current recovery that should be far stronger after a long and deep recession. The recovery has reached 5% only in the last quarter in 2009, and that was mostly the result of businesses rebuilding inventories that had been cut to the bone. Growth has since slowed to 2% or below, failing to reach cruising speed despite (or in our view because of) the entire liberal playbook of government spending, temporary and targeted tax incentives, new entitlements and regulation, and monetary reflation.

Mr. Pawlenty would extricate the economy from this government cul de sac by enhancing the incentives to work, invest and create jobs. He sketched out yesterday a Reagan-like tax reform of lower rates for individuals and businesses. The first $50,000 in individual income ($100,000 for couples) would be taxed at 10% and after that a top marginal rate of 25%. This would give a big lift to the small and medium-sized businesses that file under the individual tax code and create most new jobs. He'd also zero out taxes on capital gains, dividends and estates.

Mr. Pawlenty says that families earning under $50,000 would pay an effective income tax rate of 0%, because he would maintain tax benefits like those for mortgage interest or the child credit that use the tax code as social policy. Mr. Pawlenty is right not to buy into the liberal objection that tax reform must be revenue neutral according to scoring rules that assume no growth dividend, but minimizing tax credit carve-outs would raise revenue by making the tax code more efficient.

The Minnesotan is on firmer ground with his corporate tax overhaul, which would reduce the rate to 15% from the current 35% in return for cleaning out the warren of loopholes and special favors. Businesses will expand, enlarge their payrolls and repatriate overseas earnings. The added benefit is that most corporate welfare is dispensed through the tax code—so a flatter, simpler system will reduce political mediation of the economy and the resulting misallocation of capital. It is both a pro-growth tax policy and government reform.
The biggest problem with Pawlenty's plan, though, is that all of it, and most especially his projections for how much revenue would come into the government under the new tax rates is dependent upon his assumption of a 5% annual growth rate in GDP every year for ten years. This is ambitious goal, unfortunately for Pawlenty it has absolutely no bearing in reality: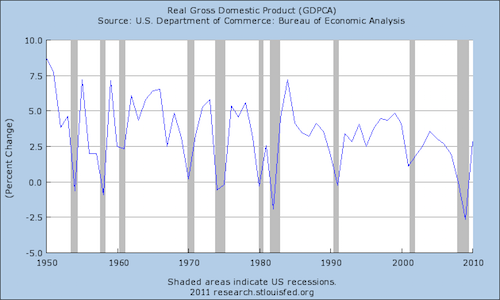 To summarize, there hasn't been a ten year period of 5% GDP growth since the end of World War II, and many of these years were times of substantial economic booms. What makes Pawlenty think that he can do something that hasn't been done in half a century or more? Or, as Andrew Pavelyev puts it:
Pawlenty himself acknowledged that neither the Reagan boom nor the Clinton boom actually produced sustained 5% growth, although both came close. It sounds a bit arrogant when he asserts that he can do better than Reagan. More importantly, it sets him up for serious political problems in the future. Obama is in more trouble than necessary right now precisely because he claimed that his stimulus would allow the unemployment rate to climb to only 8% instead of 10% – which it rose to anyway. Why emulate him?

Furthermore, it's likely Democrats will attack the 5% target as impossible, Pawlenty will be forced to defend it, it will become his signature issue, and then, if he actually wins, he'll spend his reelection campaign in 2016 trying to explain why the economy only grew at 3% (if he's lucky!) rather than the promised 5%

(…)

1) How do we know these tax cuts will in fact trigger a much higher growth rate? The 25% rate was in effect in 1925 – 1931, and the economic record of that period is rather mixed, to put it charitably. Most of the Reagan boom occurred at a time of the 50% top marginal tax rate (in effect 1982 – 1986), while the further reduction to 28% in 1988 was in fact soon followed by an economic slowdown and a shallow recession.

2) How will a huge reduction in tax revenues be offset? Pawlenty didn't offer any new taxes on consumption (say, VAT or carbon tax) to go along with his elimination or reduction of taxes on investment and work. And nobody outside the Tea Party is going to buy the myth that tax cuts pay for themselves (especially given that in the case of complete elimination of investment taxes that argument can't be made with a straight face).
For a guy who says that he's basing his campaign on telling the hard-truths, Pawlenty's plan is profoundly unserious. Come back with realistic economic projections, Governor, then maybe we'll talk.