Tim Pawlenty Running For Minnesota Governor Again
Tim Pawlenty is attempting a comeback in Minnesota. It won't be easy.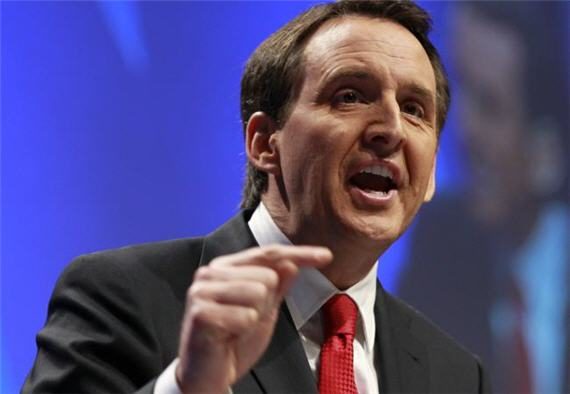 Tim Pawlenty, who served as Governor of Minnesota from 2003 to 2011, and briefly ran for the Republican nomination for President in 2012, is heading back into politics with an announcement that he's seeking to return to the Governor's Mansion:
Former Gov. Tim Pawlenty announced he is running for governor Thursday, attempting a restoration after eight years out of office that saw his DFL successor move the state in a more progressive direction at odds with Pawlenty's tenure.

Pawlenty, a longtime Eagan resident, served two four-year terms beginning in 2003. The South St. Paul native built an image of a hockey-playing "Sam's Club Republican" who could win suburban, middle-class voters in a Democratic-leaning state.

"My campaign for governor will focus on charting a better way forward for Minnesota families who see health care premiums skyrocketing, paychecks not increasing very fast, college costs and student debt rising — all while government spending and taxes climb through the roof," Pawlenty said in a two-minute video released Thursday.

A comeback won't be easy. Pawlenty's long public record and most recent job as a bank lobbyist will give his opponents ammunition. And he must win over a Republican Party now led by President Donald Trump, who is fervently supported by the GOP base but was trashed by Pawlenty before the 2016 election as "unsound, uninformed, unhinged and unfit" for office.

Still, Pawlenty's entry shakes up the open governor's race, scrambling a GOP field thus far marked by a lack of enthusiasm among activists and financial donors. Gov. Mark Dayton is not running after his two terms, and the DFL field to replace him is unsettled.

"Gov. Pawlenty can deliver a winning message that resonates across Minnesota," said Rep. Nick Zerwas, R-Elk River. "He is the GOP candidate that can raise the money and build a statewide campaign infrastructure to compete and win in November."

Pawlenty, 57, has not yet said if he will run for the GOP endorsement at the party's convention in early June. He was scheduled to make his first public appearance as a candidate Friday morning at an Eagan diner.

Pawlenty has not been on a Minnesota ballot since 2006; his last political campaign was his bid for the 2012 Republican presidential nomination, but he withdrew in 2011 after finishing behind Michele Bachmann in an Iowa straw poll. Since then, he served as CEO of the Financial Services Roundtable in Washington, a lucrative lobbying job that he left last month.

Until now, the GOP front-runner in the governor's race has been Hennepin County Commissioner Jeff Johnson, who lost the governor's race to Dayton in 2014. Johnson easily won a caucus straw poll in February, but has struggled to raise money.

"Tim Pawlenty has never gotten over 46 percent of the vote in a statewide election, even after four years of being governor, and that was before a controversial second term, before he made $10 million as a Washington, D.C., lobbyist, and he publicly trashed Donald Trump a month before Election Day," Johnson said this week. "He's the last person Republicans should want at the top of the ticket in 2018."

Pawlenty promises the ability to raise substantial money quickly from an enthusiastic business class, giving Republicans hope that their last candidate to win statewide can give them back the governor's office in what is viewed as one of the most consequential elections in years. A Republican victory in November could mean full GOP control of state government for the first time in half a century.

Both political parties want to control government following the 2020 census, after which the Legislature and governor will negotiate the new legislative and congressional district lines that will drive Minnesota politics for the following decade.

The two parties will attempt to endorse a candidate for governor at conventions the first weekend of June, but officially pick their candidates in the August 14 primary election.
Unlike many states, Minnesota has no term limits for Governor, so there is no limit on how many terms Pawlenty can serve as Governor. Since current Governor Mark Dayton has decided against running for a third term, the seat is an open one. Since Pawlenty managed to win two terms in a state that has been so ostensibly Democratic that no Republican has won there since Richard Nixon's landslide in 1972, he would seem to be well suited to winning again under the proper circumstances. Additionally, while Minnesota government has been controlled by Democrats since Pawlenty left office, it's also worth noting that President Trump came within half a percentage points of winning the state in 2016.
On a final note, while it's true that Pawlenty only won election in 2002 and 2006 with a plurality of the vote, this was due largely to fact that the Independence Party, which appears to be the remnants of the Reform Party movement that propelled Jesse Ventura into the Governor's Mansion in the 1990s still has a large enough following in the state that its nominees manage to garner more than ten percent at the polls. In this respect, it's worth noting that Dayton himself only won with a plurality in his first election in 2010 and barely got a majority of the vote in 2014. Given all that, Pawlenty may be well suited for a return to statewide politics.
All that being said, Pawlenty clearly has his work cut out for him. For one thing, the Republican Party has changed significantly in the eight years that Pawlenty has been out of office. While he's still basically the conservative he's always been, the rise of Donald Trump has pushed people like him to the point where they are now perceived as being out of step with the party base. Additionally, while the former Governor has been mostly quiet about politics in the intervening years, it's fairly clear that he's not a fan of President Trump and not exactly on board with the Trumpidian agenda that seems to be such a large part of what now passes for "mainstream" in the GOP today. Because of that, it's unclear at this point if he can win the nomination. If he does, Pawlenty will then likely face a significant headwind in the form of what is likely to be an energized Democratic base across the country that it's unclear if he'll be able to pull off a win in November. In another year, I'd say that Pawlenty's attempt at a comeback has a good chance of succeeding. In 2018, we're at the point where it's at least going to be difficult if not outright impossible.