Lessons from the Alabama Special Election
Let's not forget how unique the Moore-Jones contest was.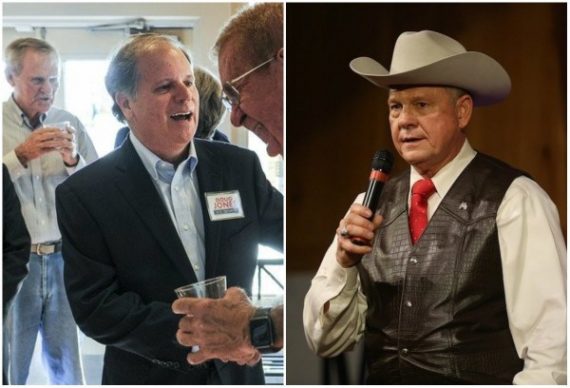 There was a lot of excitement generated for Democrats by the Alabama special election for US Senate given the win by Democrat Doug Jones.  After all, Alabama is deeply Republican, as I noted last weekend.  This excitement has led to some wild (in my opinion) assertions about the ability to extrapolate from the Jones' victory to the 2018 mid-terms.  Most of this overblown and driven by the emotion of the moment.*
I do think there are some lessons here, but none that were unique to this race.  I think they are:
Mobilizing voters matters (but I think that lesson was emphasized already by HRC losses in seemingly safe states).
Nominating quality candidates matters, even in races that on paper seem like losers (but, as I like to note, the parties don't really control this, despite the media narrative–just ask the Alabama Republicans).
President Trump's popularity ratings will be a drag on Republicans in the mid-terms.
But,  let's consider the following predicates of this race:
There would have been no vacancy had Trump not nominated Jeff Session to be Attorney General.
The appointee to replace Sessions would have been a shoe-in for the seat, except that the governor (now ex-governor), Robert Bentley, who named the temporary replacement, Alabama AG Luther Strange, was under investigation for his own sexual improprieties and the Strange appointment was seen as a quid pro quo for Strange to back off the investigation of Bentley.  At a minimum, Strange was tainted by his association with Bentley.
Had Bentley not been removed, there would have been no special election.  This decision was overturned when Lt. Governor Kay Ivey replaced Bentley.
The Republican voters in the state decided to nominate a candidate, Roy Moore, who was controversial from the start and who had a history of under-performing the Republican voting base of the state (again, see my post on this subject).
That nominee was then credibly accused of molesting a 14 year-old and pretty much admitted to dating teenagers when he was in his thirties.
The Democratic voters of Alabama nominated a candidate of sufficient quality that he was able to capitalize of the confluence of factors noted.  I have my doubts that Robert Kennedy, Jr. could have won what ended up to be a narrow contest.
I suspect that the current cultural moment concerning sexual abuse by powerful men had an effect on the electorate that favored Jones.
So, while there are lessons to learn from every election, let's not get carried away with extrapolating from this outcome.  And, to be honest, the odds are such that Jones will be replaced with a Republican in 2020.
—
*Perhaps the most ridiculous example is via Slate:  Maybe Doug Jones Should Run for President.