The Roy Moore Case and the Nature of US Political Parties
The Moore situation illustrates the nonhierarchical nature of US parties. This is nothing new.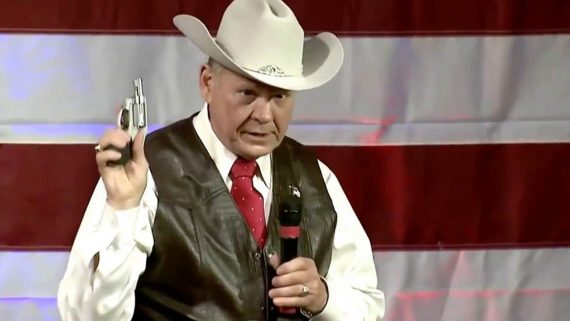 Primaries affect parties internally, by making them nonhierarchical.  What Primaries do is to deprive parties, as organized entities, of their vital role in nominating candidates, and by extension, weaken the disciplining authority of party leaders.–Taylor, Shugart, Lijphart, and Grofman (2014), A Different Democracy:  American Government in a 31-Country Perspective, p. 182.
This is what we are currently seeing in the case of Roy Moore's nomination and the controversy surrounding allegations he engaged in sexual conduct with a 14 year-old when he was 32 (and allegations he dated teenagers on several occasions during that period).  To be dispassionate about these very serious allegations for the moment, it is clear that such information in the current climate regarding sexual harassment and misconduct in the past of powerful men creates a serious political problem for the Republican Party.  This is especially true since Moore was already a controversial political figure.  One would think that the party would like to replace Moore as their candidate.  However, they cannot (even if Moore quits the race).
This is clear illustration of what my co-authors and I were pointing out about American parties in A Different Democracy:  the two major US parties are essentially unique in the degree to which party leadership outsources a key power of parties to  an actor it cannot control:  the power to select candidates.  I have written about this on the blog over the years as well (see here, here, and here, for example).  Additionally, my co-authors and I said the following on the subject in ADD:
Primaries mean that the ability of party leadership to shape a party in a particular direction in terms of philosophy or party choice is quite limited. Rather, the process is one of self-selection by candidates, who choose to adopt a party label and run in the primary, which is then validated or rejected by voters on primary day (316).
This is not new.  While there are some cases in the US, such as in Virginia and Utah, where the state party conventions can assert power over nominations, the basic fact of the matter is that candidates for office almost universally capture control of their party's label by winning a primary election.  Note that they run in the primary contest without any need to appease party leadership.  While there are bureaucratic processes to navigate, the process is essentially an open one.
To turn this back to Moore:  clearly if GOP elites had had a say in the matter, Luther Strange would have been the nominee.  After all,  Moore has a controversial past having been removed from the Alabama Supreme Court twice. A such, I think that following from a Politico piece this week is quite correct:
GOP leaders desperately want Roy Moore off the ballot. But they have neither the legal nor the political leverage to force the defiant ex-judge out of the race.
All of this has been on my mind the last couple of days (although prior to now I only had time to tweet about it).  I was further inspired by the following piece in WaPo:  Roy Moore's refusal to exit Alabama Senate race reflects diminished power of Washington
Roy Moore's refusal to bow out of Alabama's special election for a Senate seat is the latest demonstration of the diminished power of congressional leaders and other, once-powerful institutions in Washington.
To address the headline and the quote first paragraph of the piece:  no, no it doesn't.  As outlined above, US parties have not (at least for some very long time) had the power to directly control nominations.  Indeed, the piece itself does a poor job of arguing its case, as it cites examples of party failure to assert control over party label (e.g, the Democrat's inability to block Roland Burris from being appointed to fill Obama's seat–which isn't even a nomination example, and the GOP's trials and tribulations with Todd Akin).  It does cite a case in which Dick Cheney was able to assert influence over a race in 2002.  Overall, though, the evidence presented actually argues against the alleged thesis of the piece.
Quite frankly, I think the author is revealing that he buys into the myth, that many Americans likewise believe, that party elites have substantial power over the nomination process. They do not (and have not).
Also, this quote is telling:
"It's a distrust of institutions, all institutions," said Josh Holmes, a senior political adviser to McConnell. "There's just no deference at all in politics today."
Deference is not power–it certainly is not a formalized institution (even if sometimes such behavior can be an informal institution or norm).  Sure, sometimes elites could influence outcomes (they still can).  But the power to nominate in firmly in the hands of primary voters.  The parties are decided nonhierarchical and this in formalized in the rules that dictate who gets to have the "Republican Party" or "Democratic Party" appended to their name on ballot.  As such, we are seeing how our institutional have been designed and they are functioning exactly as we should expect.
I will note two words that illustrate this fact:  those words are "Donald" and "Trump."  The nature of the nomination process provided the GOP with Trump as nominee and as POTUS.  I am exceedingly confidence that this would not have been the choice of party leadership in January of 2016.
And, I would further note that once the candidate wins and goes to Washington, the party has essentially no power to reject the now office-holder from using the party's label.  Indeed, since in both the House and especially the Senate these days (given the partisan margins), the party needs the new member to caucus with them so they can retain control of the chamber.  In this way, the power of party leadership can be further undercut.  The party needs numbers to control legislative chambers, and they cannot choose who those members might be (and cannot constrain their behavior in office, since returning to office depends, again, on primary voters, not party elites).*
Regardless, it should be noted that the options for the Republicans are essentially nil at this point, even if party leadership had substantial power within the party.  The laws of the state of Alabama stand in the way of action as we see in  Alabama Code Title 17. Elections § 17-6-21
(b) A nomination for a candidate in a primary or general election shall be finalized by the respective state executive committees not later than 76 days before the primary or general election.
It is too late to make a ballot change.  If Moore was to quit tomorrow, his name would remain on the ballot as the Republican nominee.
It should also be noted that independent candidates have to file to be on the ballot prior to the primary, meaning losers in the primary cannot run an independent campaign (see § 17-9-3, paragraph a.3). So, Senator Luther Strange, the loser in the primary, cannot run as an independent.  A write-in campaign may be possible (but I think this unlikely to happen, and unlikely to be successful if mounted).**
So, while a write-in campaign is possible, the party has no control over its label on the December ballot.  It belongs to Moore because of the way major US parties nominate their candidates and the candidate-centric nature of the laws governing that process.
Why does all of this matter?  In simple terms, it means that the parties cannot actually behave as a coherent representative body of citizen preferences, at least not in the way other parties around the world are able to do.  It also means that voters are driven into binary choices.  For example. if one cannot understand how a social conservative could still vote for Moore, remember that many of them think that abortion is representative of a contemporary holocaust and they know that Doug Jones (the Democratic nominee) is pro-choice, and Moore is decidedly anti-abortion.  If one is a voter who truly believes Moore will prevent the murder of the innocent, and Jones will promote it, then it is not irrational to cast a ballot for Moore (nor it is hard to understand how that voter will seek to rationalize the accusations as "fake news" or somesuch).  Note, too, that a lot of social conservatives have deep opposition to same sex marriage, and Jones favors it, while Moore was willing to lose a seat on the state Supreme Court over the issue.  Please note that this is an explanation of behavior.
I will turn to a tweet from one of aforementioned co-authors:
US now has worst of all worlds: Strong party-centered voting, but no strong party leadership. And no other parties to turn to for those who dislike the main alternative. https://t.co/Pvnt9BWM8E

— Matthew Shugart (@laderafrutal) November 10, 2017
The US electorate is locked into a situation in which we have two polarized parties (and, commensurately, a polarized electorate), but where paper leadership cannot shape who wins seats to pursue the agendas that drive the polarization.  Note, for example, the inability of the GOP to repeal the ACA and their ongoing struggles over tax reform.  A truly unified party under current conditions should be more unified in their actions.
Beyond that, while a lot of voters are disenchanted with the two mainline parties the incentives in our system to third party creation is limited (to put it mildly).  The basic electoral system creates the parameters for two large parties and primaries almost guarantees a rigid two-party system.***   This is illustrated by the rise of the Tea Party/Freedom Caucus (inside the GOP, I would note) and the HRC/Bernie arguments within the Democratic Party (and, I would note, Bernie Sanders is technically an independent, not a Democrat, but he needs a broader party to operate in the Senate, or to mount a run for President–he is not going to form a new party).
Under other institutional conditions, I could easily see a multi-party system in the US consisting of a progressive left party (the Bernie wing of the Democratic Party), a more moderate good governance party (a combo of parts of the HRC wing of the Democrats and NeverTrump Republicans) and a nationalistic trumpista party.  Depending on the rules, probably also a smattering of small, ideological parties such as the Greens and the Libertarians.****
At the moment, we have two choices and deep identity politics linked to those choices.  This means the GOP leadership has no choice, ultimately, than to criticize Moore publicly while hoping that he wins, because a loss in Alabama of all places would be symbolically devastating (and make tax reform even more difficult).   And, really, they have no power to do much else in our system.
—
*Yes, party leaders can withhold money and maybe committee assignments.  But, fundraising is often candidate-centric (and in this case, I would note that in the primary, party leadership spent to help Strange, not Moore).  And punishing legislators in chamber is harder than it seems on paper.
**At the moment, I do not think that the Alabama GOP electorate is going to be predisposed to voting against Moore in large numbers in a Jones/Moore contest.  Even if a Strange could mount a write-in campaign, I think the result would be a Moore-Strange split of the GOP vote and a Jones win. As such, for the caucus reasons noted above, a write-in campaign is a threat to the GOP's control of this seat–moreso than just letting Moore run.
***See ADD on these topic for more elaboration.  This post is already long, and I do not have time at the moment to elaborate.
****Keep in mind, this is Saturday morning blogging level of analysis, and could use some refinement.  I do think what I have described would be close to what the US would have if it adopted the German system (MMP).  I do plan to address this at some point as part of the series I started a couple of weeks ago.