Nomination Mechanisms and GOP Party Evolution?
Time to watch a bit of true American exceptionalism in action.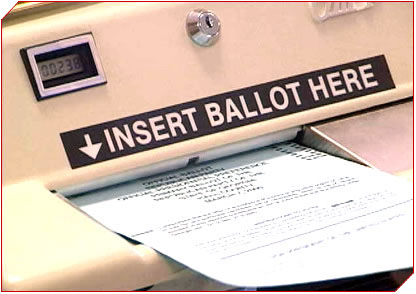 While there are mechanisms called "primaries" in other countries, there is no country in the world that uses party primaries the way we use them in the United States.  Our parties cede nomination authority to the electorate.  This has been true for congressional candidates for a century plus.
On the one hand, this sounds democratic, and it is after a fashion insofar as it takes the nomination powers out of the hands of party elites (i.e., the norm worldwide).  On the other hand it is not as democratic as it sounds insofar as primaries hardly attract significant turnout and really end up skewing participation to a relatively small group of voters who tend to represent more ideological elements of a given party.  As such, the degree to which primaries provide candidates who truly represent the views of partisans in a given districts is questionable.  Further, as has been commented in multiple places, this has specific implications for non-competitive districts.  Specifically, a highly Republican district might end up electing a representative more conservative than the Republicans in that district because of the primary process.  These are issues that get to questions of how representative our representatives actually are.
The argument, by the way, for not using primaries is that it allows a party to present candidates that cleave to a specific program for voters to choose among.  Under the primary process, the parties cannot fully control what program it is that they are presenting to the public (as we know, the parties vary significantly regionally across the US).  It also means that if a group of citizens are unhappy with the dominant parties they have an incentive to start a third party challenge.  Indeed, I would argue that one of the main reasons we do not have serious third parties in the US is that the primary process allows a method by which groups dissatisfied with a mainline party to work from within that party (e.g., the reason that Ron Paul always ran for congress as a Republican, rather than as a Libertarian).  Of course, the main manifestation of this phenomenon at the moment is the Tea Party.  The Tea Party faction of the Republican Party has no incentive to go the third party route, but every incentive to take the primary route.  Players play by the rules of a given game, and they adapt to the options that a given game allows.
This brings us to an interesting natural experiment (via the NY Daily News):  Tea Party candidates launch battle against Republican honchos:
A Tea Party insurgency has escalated into a full-scale battle within the Republican Party that could cost the GOP gains they hope to reap from the sickly start of Obamacare.

Seven of 12 Republican senators up for reelection next year now face serious primary challenges from their right, among them Senate Minority Leader Mitch McConnell (R-Ky.).

Sen. John Cornyn (R-Tex.) became the latest with last week's surprise announcement that firebrand conservative Rep. Steve Stockman (R-Tex.) will run against him.
Now, a clear caveat is that not all challenges are created equal.  Stockman, for example, faces a an uphill battle (to be kind) in Texas, as Doug Mataconis noted:  John Cornyn Leads Steve Stockman By 44 Points In First Texas Senate Poll.  As such, the degree to which Stockman's challenge of Cornyn is "serious" is debatable, to be kind.  The exact quality of all of these challenges will require greater analysis as we approach the actual election season (which in some cases is pretty soon).
Still, recent examples, such as Senate races in Connecticut (2010), Nevada (2010), and Missouri (2012), have demonstrated how primary voters can choose Tea Party candidates who go one to clearly affect outcomes for the GOP due to disjunctions between what the primary electorate finds acceptable and what the general general electorate will accept.
So, the question becomes will this ongoing challenges affect the GOP in such a way that either reshapes the party in a more Tea Party-esque direction or whether the more established elements of the party can reassert itself.  Primaries are the place to watch.
In terms of practical politics this comes to issues such as whether we are going to see things like the government shutdown standoffs of earlier in the year or whether we get people like Paul Ryan saying things like "In divided government, you don't always get what we want."
As folks of my ilk like to point out in these discussions:  institutions matter.