John Cornyn Leads Steve Stockman By 44 Points In First Texas Senate Poll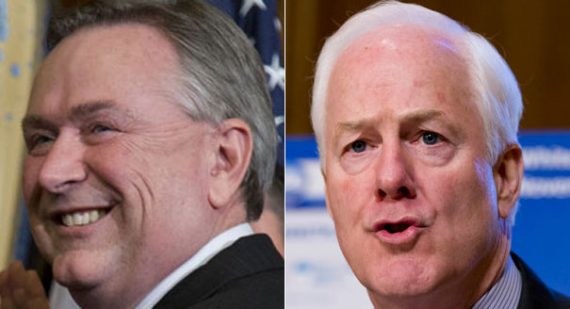 As I noted the other day, Congressman Steve Stockman made a surprise last minute entrance into the Texas Senate race by challenging Senate Minority Whip John Cornyn in the GOP Primary, which will occur on March 4th. If the first poll in the race is any indication, though, he's going to have difficult race ahead of him:
Texas Sen. John Cornyn starts out his 2014 primary fight a whopping 44 points ahead of his most prominent conservative challenger, Rep. Steve Stockman, according to private GOP polling obtained by POLITICO.

In a survey conducted by the Republican firm Wilson Perkins Allen Opinion Research, Cornyn held a wide advantage over Stockman, leading 50 percent to 6 percent. Other candidates took 5 percent of the vote, and 39 percent of those surveyed were undecided.

Pollster Chris Perkins, who works for Texas Sen. Ted Cruz and state Attorney General Greg Abbott, the presumptive GOP gubernatorial nominee, said the poll was not paid for by any client.

"With less than three months until the Republican primary for United States Senate, John Cornyn is in a very strong position," Perkins wrote in a polling memo.

The numbers illustrate the challenge ahead for Stockman, a flamboyantly pugilistic back-bencher who took the Republican Party by surprise this week when he announced his campaign to unseat "liberal John Cornyn."

(…)

n order to have a shot at beating the Republican incumbent, Stockman will have to hope that the senator's support drops below 50 percent and forces the race into a runoff, giving Stockman an opportunity to consolidate anti-Cornyn votes in his camp.

The WPA poll is the first survey of the Texas race since Stockman announced his campaign Monday evening. The live-caller poll tested 762 likely Texas Republican primary voters with a margin of error of plus or minus 3.6 percentage points.

Stockman spokesman Donny Ferguson said in an email that the poll is "bad news for liberal John Cornyn," arguing that it proves "Texans aren't happy with Cornyn's record."
One wonders if Stockman's spokesman was reading the same poll as the rest of us, or doing so from the same universe. What I see is a guy down 44 points with less than three months to go until primary day in a race against a guy with a $7,000,000 war chest that will only get bigger while he himself has only $32,000 cash on hand and a campaign debt of $163,000. Is it possible that Stockman will become more competitive? I suppose, but at the moment it isn't looking very good for him.