Lies, Damned Lies, & Rachel Maddow
Recklessness.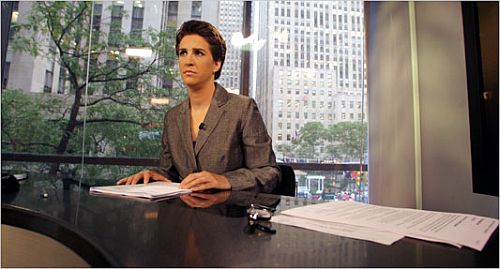 On Monday night, Rachel Maddow apparently made the following rather shocking claim:
MADDOW: Yes, this has happened to a smaller degree before. In 1994, in the first mid-term election after the last Democratic president was elected, we got a slate of candidates that included Helen Chenoweth of Idaho and Steve Stockman of Texas. These two were so close to the militia movement in this country that Mr. Stockman actually received advance notice that the Oklahoma City bombing was going to happen.
As Mr. Coleman amply demonstrates, this pabulum has debunked on the public record for 15 years:
Telephone toll records indicate that the fax was sent about 10:50 a.m. EDT, about 50 minutes after the bombing, a federal official said.
It's pretty reckless to make such a claim on national television when a few minutes with Google would prove it false.
It gets worse. Maddow seems to have known the claim was false when she said it Monday:
March 25, 2010

Maddow: Back in 1995 on the morning of the Oklahoma City bombing, just after the explosion a member of Congress named Steve Stockman (R-TX) was sent a fax touting the bombing. He was sent that fax by somebody in the militia movement. Mr. Stockman later turned that fax over to the FBI. He was never implicated in any way in the bombing itself. But there is a reason that the militia movement trusted a member of Congress enough to go to him with that. [Emphasis added.]
It's pretty hard for a public figure to win a defamation case since, under New York Times v. Sullivan, he must prove actual malice. However, having watched both videos to confirm that these two transcriptions are correct, Ms. Maddow may want to familiarize herself with the phrase "reckless disregard for the truth."*
UPDATE (10/20/2010): Ms. Maddow retracted her and took personal responsibility for her calumny on tonight's show:
I'll leave it as an exercise for the readerviewer to ascertain the sincerity of her apology — and her thanks to all "the conservative bloggers" for pointing out her error and being so anxious to talk about "the Steve Stockman's of the world."
FTR, Ms. Maddow, your protestations aside, it doesn't make this "conservative blogger" "angry" that you corrected yourself. As stated below before it aired: I am only too happy to note your correction. And I don't give a flying fig about Stockman. He is entirely incidental to this topic.
UPDATE (10/22/2010): Armin Rosen at reason awards Ms. Maddow Most Sanctimonious Non-Apology of the Week:
[S]he then made light of her colossally offensive "misstatement" by arguing that her main contention still stands: The important thing, she claimed, isn't that she said something mindbogglingly slanderous, it's that she was justified in doing so.

The real vomit-all-over-your-keyboard moment comes at roughly the 2-minute mark, where Maddow sarcastically frames her apology as a chance to congratulate herself on bringing the specter of militant right-wing politics to the public's attention. "For all the conservative bloggers out there who are extremely angry at me for making that mistake" she said, "thank you. Thank you for signaling such enthusiasm for discussing guys like Steve Stockman, and for getting all the details right. If the country talked a lot more about the Steve Stockmans of the world and anti-government extremism and what the experience of having anti-government extremists in Congress was like for this country the last time we tried it, I think that would be good for us in this country, particularly before this round of elections."

So mistakenly accusing someone of being an accessory to the worst act of domestic terrorism in this country's history isn't really that bad, since it acted as a catalyst for what Maddow sees as a much-needed discussion? That's not exactly a convincing argument, and not only because it's the real-world actualization of liberal blogger Matthew Yglesias's defense of lying in the name of some greater political good.
—
*Note: Maddow also repeats the lie that Congressmen got racial epithets hurled at them and were spat on at the Tea Party in the March video. But perhaps she hadn't heard yet that those assertions were baseless.