No, the US is not on the Verge of a Multi-Party System
We will have a two party system for the foreseeable future.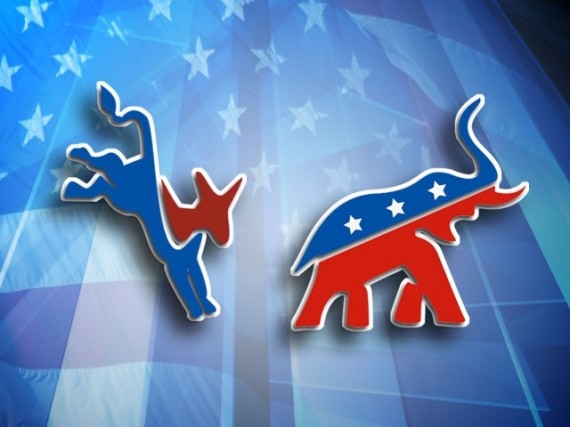 Alex Berezow has a piece at RCP which asks the title question U.S. on Verge of Multi-Party System?
The simple answer is no, it isn't.  And I say this while also thinking that we would likely be well served by a multi-party system (but I will leave that assessment aside for now).  The answer is "no" because not only does Berezow make some simplistic errors about the US party system he utterly ignores the institutional parameters that help generate and maintain that system.
Berezow describes the current party system thusly:
The surging popularity of Ted Cruz and the persistent support for Bernie Sanders illustrate that both the Republican and Democratic parties are facing an existential crisis. Indeed, both parties may be headed for a divorce, ushering in a new era of multi-party politics.

The Republican Party consists of two major factions: businesspeople and social conservatives. Yet, other than a shared dislike of President Obama and lefties in general, there is very little to unite these two major groups.

On the one hand, the business faction is pro-free trade, opposed to regulation, eager to embrace globalization, disinterested in social issues, and religiously agnostic. They find common ground with both moderate Democrats and moderate Republicans because, as one might expect of business people, they are pragmatic and instinctively centrist.
Now it is true that our two major parties are coalitional in nature.  It is also true that with different institutional parameters we would almost certainly have more than two viable parties.  Still, several mistakes are made here.  First is the assumption that there is a neat, simplistic progression from right to left without taking into consideration that there is also a great deal of overlap between the groups mentioned.  To wit:  there are actually a number of social conservatives who are also business conservatives (to use the categories from the column)–these are not neatly self-contained groups.  Further, the notion that voters and politicians are simply motivated by opposition is incorrect–they actually have policy preferences as well as identities that motivate their behavior and actions.
Now yes, under the right conditions the various major impulses within each of the two parties might form the basis of their own party.  However, the notion that they are wildly disparate groups held together only by hatred of specific enemies is so wrong as to be cartoonish.
Beyond that, the fact that there is a challenger in the Democratic primary (or any primary, for that matter) and that that challenger represents a different faction of the overall party is not a shock nor a sign of impending party dissolution.  Such an occurrence is far closer to business as usual than it is to an "existential crisis."   While not every primary contest necessarily unleashes the exact same constellation of factions, it is the opportunity for various factional representatives to assert themselves.  Jerry Brown represented a different faction of the Democratic Party than did Bill Clinton in 1992, likewise John Kerry and Howard Dean in 2004, or George H. W. Bush and Pat Buchanan also in 1992.  (It would take an additional post to fully flesh out this background, but it isn't hard to go back and look at the modern primary system, i.e., since 1972, and find example after example of what I am talking about here).
And really, his overall assessment of the Democratic Party underscores a gross simplicity:
Democrats' prospects are just as bleak. Like Republicans, what unites them more than anything is a shared hatred of their political opponents.

The Democrats constitute an uncomfortable coalition of aggrieved groups. The party's support stems largely from those members of our society who hold grudges against other members of our society. Democratic leaders, from President Obama to Vice President Biden, have energized their base by stoking anger over racial and economic injustice, both real and imagined. Biden's warning in 2012 that Republicans want to put black people back in chains is just one example of the party's divisive and toxic rhetoric toward fellow Americans.

This unhappy union of the perpetually outraged cannot last.
Are some of the ideological and philosophical motivations of portions of the Democratic Party related to views of injustice and grievance? Certainly (but then so are some of the ideological and philosophical motivations of some Republicans–perhaps you have heard of abortion and gay marriage?).   However, to reduce the party to simply "an uncomfortable coalition of aggrieved groups" is more talk radio level commentary than it is serious political analysis.
The fact that the two main parties are fragmented in multiple ways should be no surprise, as we would expect large parties to have numerous internal fissures.  Rather, the question is whether the system encourages large or small parties. And there is no doubt that our system encourages large parties.  Let's consider three institutional factors in the US system:  the method for electing the legislature, the nomination process, and the electoral college.  
First, the method by which a national legislature is elected is a major, if not the major, variable in terms of understanding the basic structure of the party system.  This is a far more complicated issue than I can lay out here (as this is already a long post), but fundamentally some systems allow for a means by which (and these means vary) the percentage of seats a party receives is roughly equal to the percentage of votes that the party receives (i.e., proportional representation).  Hence, a smaller party with 15% support, for example, can win roughly 15% of the seats in the legislature.  In short:  smaller parties have a serious shot at winning seats and therefore have a reason to exist in such a system (and less incentive to join large parties where they will have to compromise their preferences, at least as candidates).  There is a great deal of variation as to how this functions and exactly how proportional a given system is.  Some systems encourage medium sized parties, others a number of small parties.*
The US systems is one of single seat districts with plurality winners (i.e., we elect each member of Congress from one district each where the winner is the person with the most votes).  Being small in terms of vote-winning potential (such as the aforementioned 15%) means being a loser.  The best way to win a seat is to be a large party–so that vote totals can be maximized in competitive districts.**
Second, it is true that most other countries that have a similar electoral system for electing the legislature also have more than two parties.  This is true in varying degrees in the UK, Canada, and India.   There are various reasons why these three have single seat plurality systems and multiparty systems (again in degrees–the UK's system is far less "mutli" than is India's, for example).  A major difference(although not the only one) between these cases and the US is that we use primaries to nominate candidates.  This means that there is an open competition for who gets to use the party's label come the election.  Hence, if I am a factional actor (e.g., the Tea Party or any of the vaguer factions noted by Berezow) then I am far better off competing in the primary to win the nomination than I am forming a third party and doing all the work that that entails.  In short:  to have a chance of winning office one must be on the ballot.  The route to the ballot in the US is to win the primary (and parties do not control who competes in the primary).
My favorite example of this is Ron Paul:  when Ron Paul wanted to actually try and win office he ran as a Republican, not a Libertarian.  Why?  Because in a Congressional race (see the rules noted above) the Republican has a chance to win and the Libertarian doesn't.  Hence, run for the GOP nomination in the primary and then have a real chance in the general election.  For that matter when Paul ran for president in 1988 he ran as a Libertarian and was largely ignored.  When he ran again in 2008 he ran in the GOP primary and garnered a lot more attention.  
In the UK if a faction of a mainline party wants to run candidates it likely has to break away and start running as a new party because it has no other way of guaranteeing its candidates will make it to the ballot.   Hence when the UK Independence Party wanted to form to oppose the EU it did not have a mechanism to use to try and take over part of the Conservative Party, but rather had to forge its own electoral path (and they are more successful in European Parliament elections than in House of Commons elections because the EP is elected via proportional representation–again, rules matter).  The Tea Party faction of the GOP has zero incentive to go third party for two reasons.  First, as per the rules if they split off from the GOP they would split the vote on the right and help Democrats win seats (a contest of GOP v. Tea Party v. Democrat would likely yield a Democratic win).  Second, why go that route when it is easier to simply win the GOP nomination (especially since primaries are low turnout affairs that empower motivated minorities like the Tea Party)?
Third, the electoral college encourages two party competition.  The single most prominent electoral prize in our system is the presidency.  The president is elected via a system that rewards large parties because with the exception of Maine and Nebraska, the electoral votes of each state are awarded to the candidate with the most votes in that state.  Being second, let alone third or fourth, means getting nothing (and the dynamic in Maine and Nebraska is the same, just tiered:  plurality winners get the electoral votes statewide and at the district level–there is nothing proportional about the process in those states).  There is zero incentive for multi-party competition in this system.***  And, indeed, the nomination process provides the mechanism for multiple viewpoints to emerge from within each party and try and make its case (and hence why I said above that the Clinton-Sanders contest is business as usual and not evidence of an existential threat to the Democratic Party).
I could go on, but will summarize as follows:  
Our parties are factional.  This is nothing new.

While the parties do have factions, they are held together by far more than hatred for their enemies.

The rules we use to translate votes into elected office incentivize large parties because nothing about our system rewards smaller parties. (And so we will continue to have large, factional parties).

The nomination process specifically undercuts the formation of smaller parties because it provides a route for factional actors to forward their own political projects while still being able to capitalize on the parameters set by the rules of the game.
So, no, we are not about to experience a multi-party system.  Whatever changes to the party system that are going to take place are going to take place within the existing structures (and we are seeing the parties evolve and change-especially the Republican Party).
I would also underscore that while presidential nomination fights have a way of exposing the fissures in the two major parties, it is a mistake to try and understand the parties through that lens alone.  Again:  the main factors that drive the party system are the rules that elect the legislature and those are substantially locked in and while continue to produce Republican v. Democrat.  The real story of the factionalization of the GOP is going to be the way the party behaves in Congress (especially the House).
To summarize all of this:  politicians run for office to win office.  Small parties in our system are losers.  This basic dynamic alone encourages large parties.  It is reinforced by the fact that challengers to the status quo can bypass party elites and capture control of party labels via primaries, so there is no incentive for insurgent parties to form.  So:  the system is one in which only large parties can win office and the rules make it possible for emerging factions to assert control over party labels.  Hence, until we see a significant reform to either the electoral rules or the the nomination rules, we are not going to have a multi-party system.****
—–
*If anyone is truly interested is the basics of electoral systems and their effects, I will go the self-promotion route and note that  A Different Democracy has some extensive explanations of various systems as well as data on party systems for 31 cases.  Other resources would include Arend Lijphart's Electoral Systems and Party Systems: A Study of Twenty-Seven Democracies, 1945-1990, and Rein Taagepera's Predicting Party Sizes: The Logic of Simple Electoral Systems.  See also work by Pippa Norris, Michael Gallagher, and many others.
**Another very serious issue in our system is the lack of competitive districts.  Far too many are heavily slanted for the Republicans or Democrats, which further solidifies the incentives to remain as large parties.
***If we elected the president via a two-round process, that would encourage multiple candidates.  Also note that if the presidential contest was ever thrown to the House (because no candidate won an absolute majority of electoral votes) then the decision would be made in an environment where being the third party candidate would be dire (since the Ds and Rs dominate the House).  Again:  no incentive for third party formation.
****It worth noting that New Zealand changed from single seat plurality to a mix member proportional system in the 1990s an they did go from a two party system to a multi-party one (also discussed in our book linked above).