The Power of Primaries
As usual, an attempt to explain congressional behavior brings us back to the issue of our basic institutions. The way we elect congress matters.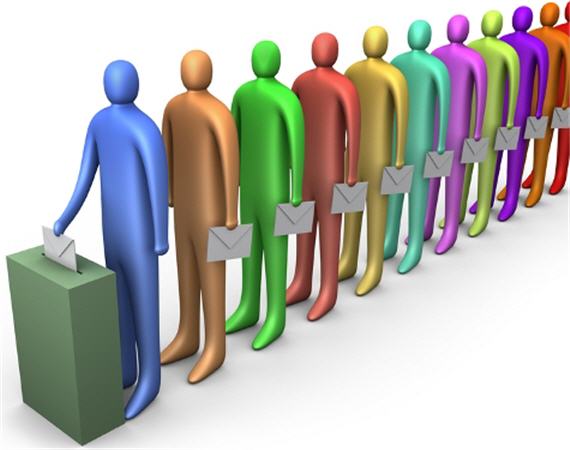 Political Scientist Seth Masket explains The logic of voting for a hated bill.
The question:
House Republicans just did something that looks, at first glance, like political suicide. They passed the American Health Care Act, a remarkably unpopular piece of legislation that would take away benefits that many of their own constituents currently enjoy. Why would they do this?

[…]

So why would Republicans do this? They already face a difficult election next year — midterm elections are often rough on the president's party, even when the president is popular, which Donald Trump is not. Why make things tougher?
The answer:
In a sense, this demonstrates the importance of voters and activists who are involved in Republican primaries and caucuses. Republicans have been running for federal office for four consecutive cycles vowing to repeal and replace Obamacare as their first priority. It's been an enormously popular cause with the conservative base.

What's more, Republicans have seen a number of their colleagues go down to defeat in primaries in recent years for not being conservative enough. Eric Cantor's loss still echoes in the Republican caucus. Trump has threatened to support primary challengers to Republicans who oppose the health bill. As congressional districts have grown safer, members are generally less worried about general election voters than they are about those who will show up in next year's primaries.
Emphasis mine.
There are two themes I frequently return to in  my writings here at OTB.  One is that our electoral system does not do a very good job of representing public preferences and the role primaries play in our system are totally underappreciated, if not totally misunderstood.
A couple of past posts as examples of the two genres in question.
In regards to lack of representativeness/competition:
On the role of primaries:
In regards to the overall system: using single member districts to elect the Congress does not produce outcomes that are broadly reflective of the views of citizens as a general principle.  By definition our system makes it impossible for even very large minorities in a given district to be represented, and smaller groups can forget about it (i.e., if 40% of a district is Republican, their views are not going to be addressed by their member of congress, and certainly if 10% of a district are libertarian they are definitely ignored).  All of this is made all the worse by the fact that geographical sorting of voters further cuts down representativeness when members are elected by geographically delimited single seat districts.  Add in gerrymandering (which is problematic, but not the main culprit) and you have a system that is not as democratic (in the since of being representative) as it appears on the surface.
Take all of the above and throw in primaries as the means of selecting the candidate who run and you have created a system wherein the primary is very frequently far more important than the general elections.  If I am a Republican candidate running in a predominantly Republican district (regardless of whether this is because of geographical sorting, gerrymandering, or happenstance) the bottom line will be that I am far more interested in pleasing the voters in the primary than I am in pleasing the voters in the general election.  To be more specific:  if the partisan split in my district is consistently 65% Republicans, 30% Democrat, and 5% other, then I know that I will win as the Republican nominee, barring some really unusual situation.  Therefore, all I really care about is making sure that I am the Republican nominee.  To do that I have to please the base of my party which turns out in primary elections (which tends to be a very small segment of the electorate).  Keep in mind that turnout in these contests is typically quite low (often in the single digits, making it easier for one group to dominate).  This means that the actual selection of many members of congress is not by the larger (but still anemic, usually) turnout in the general election, but as the result of the actions of a fairly small, and ideologically skewed, slice of the electorate of the dominant party in a given district.
So, if we couple the noncompetitive nature of most congressional elections with the fact that the nominees are selected in a way that often skews how representative they are of even the dominate party in that district (let alone the general electorate) and the basic behavior of congress starts to make a bit more sense.  This is especially true for the Republicans in recent years as there has been an ongoing, organized attempt to use the primaries as a vehicle to elect a new faction of the party.  In short:  without primaries, you likely don't have the Tea Party/Freedom Caucus.
All of this needs broader public discussion, because it undercuts the narrative that we are the "Greatest Democracy in World" because you can't be that if your elections do a poor job of representing the populace.  Further, we tend to think of primaries as a great example of democratizing politics and taking power out of the hands of elites (a view I used to subscribe to), but the irony there is that the "democratization" of nominations actually removes responsibility from the hands of the party and makes it harder, not easier, for voters to hold them accountable.  This makes representative democracy harder, not easier (especially when members of congress do not feel responsible to broad constituencies).  Speakers Boehner and Ryan both, to cite recent examples, could legitimately say that a lot of the troubles they have had governing are not their fault, at least in the sense that the nomination system produces party factions that owe loyalty to the primary voters, not to the party (part of the reasons to have parties is to create a means by which to hold a group of politicians collectively responsible*).  This may sound appealing in some ways, but I would note that the practical result has been that often the tail (the Tea Party/Freedom Caucus) has frequently wagged the dog (the House leadership).   Go back and look at the last government shutdown and the games of chicken over the debt ceiling.
In short:  we (as a country) like to talk as if the process reflects a large competition between two opposing blocs who are making appeals to the broad population and the side that makes the best case wins.  This is not the case.**  Rather, the actual behaviors of politicians are linked to whatever their pathways are to maintain their power.  In the vast preponderance of elections in the US that pathway is the primary election–a process that is low on the priority list of most Americans.  It is hard to get systematic turnout data for these contests, but here are some estimates (along with some on point observations) from a recent Brookings study:
Counting only contested primaries, William A. Galston and I calculated (with assistance from Professor Hahrie Han) that turnout in 2002 contested primaries averaged 5.4 percent of the voting age population, in 2006 it averaged 4.6 percent and in the highly contested primaries of 2010 it averaged only 7.5 percent.26 These exceedingly low numbers reflect the fact that in many congressional primary races the challenger is unknown and underfunded. The poor quality of congressional challengers and the obscurity of most congressional primaries mean that congressional primaries are extraordinarily low turnout events — that is, when they are contested at all. Even in highly polarized election cycles, the vast majority of incumbents have either no challengers or insignificant challengers. Hence, we have a classic vicious circle: low turnout equals low-media interest and low-media interest reinforces low turnout. No wonder that the Republican establishment was so surprised in 2010 when the Tea Party defeated some of its candidates.
We are talking, therefore, about single digits of the voting age population having a profound influence over the behavior of congress.
And that is how we get things like the vote on the AHCA. Regardless of one's views on either the AHCA or the ACA, the bottom line is that it is hard to look at the process that led to the vote this week and feel like it was a well thought out attempt at policy-making.  Any serious analysis of the process has to see it as more about signaling and symbolism than about a serious attempt at health care policy.
—
*A side note:  our system (specifically executive-legislative separation of powers, and a bicameral legislature) already makes holding politicians accountable difficult, but the themes discussed above only makes it even harder.  The more diffusion of power there is in a system, the easier it is to blame someone else for what goes wrong.
**To go beyond legislative power, see also:  the electoral college (but that is, as we know, its own conversation).