More Republicans Moving Away From Norquist Tax Pledge
More signs of cracks in the wall of GOP resistance to tax increases.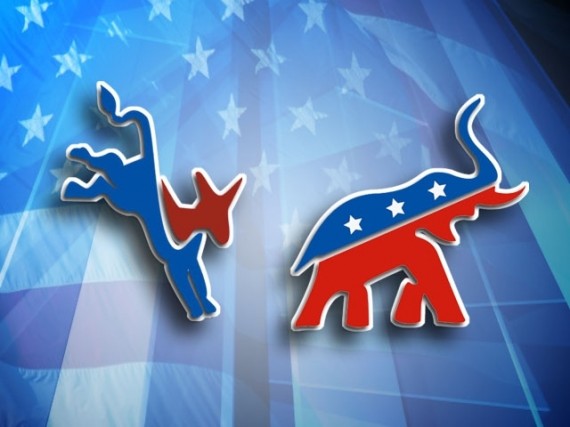 The  GOP's iron wall of resistance to tax increases appears to be cracking:
Nothing riles up the tea party chattering class like a broken pledge against raising taxes. Just askSen. Saxby Chambliss, a veteran Georgia Republican who this week turned his back on the Taxpayer Protection Pledge he signed years ago as a rite of passage in right-wing politics. Immediately labeled "worthless" and "a liar" on the website Tea Party Nation, Chambliss symbolizes the political conundrum facing GOP leaders after President Barack Obama's re-election. After years of opposing higher taxes on anyone, Republicans now are under pressure to work out a comprehensive agreement to reduce the nation's chronic federal deficits and debt. That means a compromise with Obama and Democrats, who insist on more tax revenue being part of a package that includes spending cuts and entitlement reforms. Congress returns to Washington next week after the Thanksgiving break with just over a month to work out the blueprint for a deal that would avoid the so-called fiscal cliff, a combination of steep across-the-board spending cuts and tax increases set to occur at the end of the year. Facing imminent unpopular scenarios such as higher taxes for everyone and further cuts in military spending, the negotiations taking place behind closed doors in Washington have new impetus to produce results. (…) "I care more about my country than I do about a 20-year-old pledge," said Chambliss, who faces re-election for a third Senate term in 2014. Referring to Norquist, who has vowed to oppose candidates who break the pledge, Chambliss said that "if we do it his way, then we'll continue in debt, and I just have a disagreement with him about that." In response to Chambliss, Norquist told CNN that the senator "wrote a commitment to the voters of Georgia." "He got elected and re-elected making that commitment," said Norquist. "He's never promised me anything." Norquist said he believes Chambliss was "caught" on a TV station and that "he said some things perhaps that didn't make sense." If the senator wants to "change his mind and become a tax increaser," Norquist said, "he needs to have that conversation with the people of Georgia." Chambliss acknowledged that Norquist and Americans for Tax Reform will likely work against his re-election because of the issue. "But I don't worry about that because I care too much about my country," Chambliss said, adding that he was "willing to do the right thing and let the political consequences take care of themselves."
The Tea Party crowd appears to engaging in the same political naivete they did during the debt ceiling negotiations a year ago. The difference this time is the Republicans are playing at far more of a disadvantage than they were back then, and it seems incredibly unlikely to me that there can be any deal to resolve the fiscal cliff that doesn't include some form of tax increases. The President is making it clear that he will veto any deal that doesn't include tax increases, and it's unlikely that such a plan could make it through the Senate. Republicans seem to be banking on the idea that the President will fold like he did two years ago, but it strikes me that they're making a bad bet if they gamble on that. The President won re-election at least in part based on his stance that taxes needed to be increased on high income earners in order to help deal with the deficit. Poll after poll shows that the public supports the President on this issue overwhelmingly, just as they did in November and December 2010. The difference between then and now is that the President isn't coming off a massive election defeat, he's coming off a convincing re-election victory, and there's every reason to believe that the political climate in Washington is far different now than they were two years ago. Some Republicans, like Chambilss, seem to be recognizing that fact.
As for what will happen to Republican incumbents over this potential deal, that's entirely unclear. Quite obviously, anyone who votes for a deal that includes tax increases of any kind is likely to be subjected to attacks from the right and will likely face a primary challenge in 2014. However, it strikes me that they've really got no choice here. There only other option would be to let the nation fall over the fiscal cliff, something that they will be blamed for according to recent polling. Then, they'll find themselves in far less desirable bargaining position because the debate will no longer be over whether to extend the Bush Tax cuts but whether to cut anyone's taxes at all. At that point, the President will essentially be able to dictate whatever terms he wants and blame the GOP if middle class taxes failed to return to their pre Fiscal Cliff levels. So, make the deal GOP, because you really don't have a choice now.