New Jersey Democrats Want To Enshrine Gerrymandering In State Constitution
Gerrymandering. It's not just for Republicans.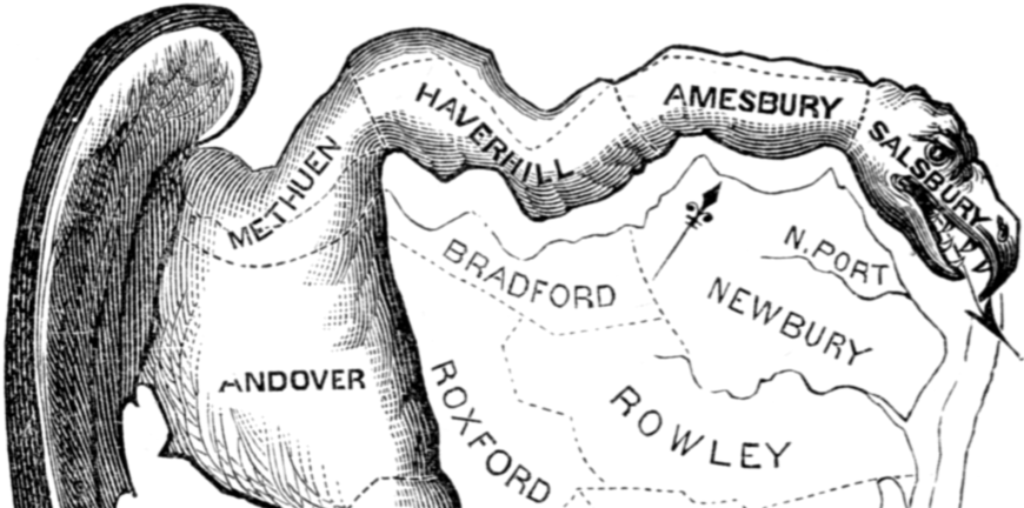 New Jersey Democrats have had quite a good two years, in addition to winning the Governor's mansion back in 2017 and nearly sweeping the state's Congressional Districts while also re-electing the most ethically challenged Senator in the country, they also have a larger margin in the state legislature than they did in the Chris Christie era. Now, they're seeking to use that power to consolidate their power even more:
Legislative power brokers across the country have long designed district lines in back-room deals that entrenched their control for years, if not decades. But now, Democratic lawmakers in New Jersey are carrying out a power grab in an unusually public fashion: They are seeking to make Republicans a permanent minority by essentially writing gerrymandering into the State Constitution.

The New Jersey plan comes amid a national reckoning over the consequences of gerrymandering and has been met by fierce opposition across the political landscape — and not just from Republicans and nonpartisan watchdog groups.

Even some national Democratic leaders have criticized the plan, fearing that it undercuts Democratic efforts to attack what they term Republican strong-arm tactics in states capitals across the country. Republicans in Wisconsin and Michigan are facing an intense backlash after state legislatures there voted to strip power from newly elected Democratic governors.

Republicans have also come under fire for legislative gerrymandering in states like North Carolina.

Eric H. Holder Jr., a former attorney general under President Barack Obama and a potential presidential candidate in 2020, called on the Democratic lawmakers in the New Jersey Legislature, who have significant majorities in both chambers, to rethink their plan.

(…)

The Democratic lawmakers' proposal would amend the New Jersey Constitution, and New Jersey voters would need to approve it through a ballot measure.

It overhauls the makeup of a redistricting committee to give more power to legislative leaders. It also establishes a "fairness test" requiring district maps to reflect how major political parties perform in statewide elections for governor, senator and president.

In New Jersey, which has not elected a Republican senator since 1972 and where registered Democrats outnumber Republicans by nearly 1 million voters, that standard ensures that the redistricting process would begin on an uneven playing field. (New Jersey did elect a Republican governor in 2013, but the state has been trending Democratic.)

"It institutionally strips away the will of the voter," said Tom Kean Jr., the Republican leader in the Senate. "The will of the Republicans and unaffiliated voters in New Jersey would be ignored to the benefit of incumbent majority party legislators forever more."

Proponents of the plan, Stephen M. Sweeney, the senate president, and Nicholas P. Scutari, a co-sponsor of the bill, argue that the redistricting process is too often conducted behind closed doors by unelected officials and where deals are hashed out without any voter input.

By putting their plan before the electorate, supporters argue, New Jersey Democrats are letting voters decide how redistricting should be done.

"There's nothing gerrymandering about it," Mr. Scutari said. "If we have a significant advantage in voters, then you're going to have a significant difference in legislative districts. If you took this matrix of guidelines and put it in Texas, you'd probably get significantly more legislative districts that favored Republicans."

Democrats, who have scheduled a hearing on the proposal on Thursday, are turning to an obscure legislative maneuver just to try to put the proposal on the ballot.

Typically, a proposed constitutional amendment requires a three-fifths majority in the state legislature before it can get on the ballot. But since no Republican supports the redistricting plan, it seems unlikely that it would ever succeed in either chamber in Trenton.

Instead, Democratic leaders are digging deep into the state's laws and using a provision allowing an amendment that passes the state legislature with a simple majority in two consecutive calendar years to be placed on the ballot.

Democrats have scheduled a vote on the redistricting plan for Monday, the final day the legislature is to meet this year. Then they are likely to bring it up again in early January, satisfying the two-year requirement in less than a month. Should the measure pass in both instances, the proposal could be put on the ballot in November.

The quick procedural move, in particular, has provoked an outcry, including from Gov. Philip D. Murphy. Though Mr. Murphy is a Democrat, the redistricting plan would greatly weaken his ability to influence the process.

"I have as much a concern about the process as I do even about the substance," Mr. Murphy said. "I don't like the substance, but this is classic jam something through, and I got elected to stand up against that and I'm going to."

The plan makes significant changes to the way the state's redistricting commission is established. Currently, the Republican and Democratic state party chairs each nominate five people to the redistricting board, and the state Supreme Court selects someone to serve as the tiebreaker. Mr. Murphy is closely allied with the chairman of the Democratic state party, John Currie, giving the governor sway over some of the commission's members.

The redistricting plan would increase the size of the commission by two members, to 13, and state party chairs would only be allowed two nominees each. The senate president, senate minority leader, assembly speaker and assembly minority leader would each get to nominate two members, at least one of which must be a state legislator.

The notion of including legislators on panels that draw legislative districts runs counter to what many advocates for redistricting reform are demanding and the approach that other states are taking.

But the main criticism of New Jersey's plan centers on setting the benchmark for drawing districts based on statewide election results.

The proposal says that at least 25 percent of legislative districts must be "competitive," meaning that they must be within five percentage points of the statewide average based on the results for president, senator and governor in the past decade. That formula would likely result in a Democratic statewide advantage of 55 percent, according to a study by the Princeton Gerrymandering Project at Princeton University.

In effect, competitive districts could still have Democratic majorities of as much as 60 percent.

"The map becomes permanently slanted," said Patrick Murray, the director of polling at Monmouth University. He noted that of the state's 40 legislative districts, at least 25 would have to be majority Democratic under the redistricting proposal.

"It's the exact opposite of where the reform movements are going right now," Mr. Murray added. "Not only are they using formulas to give one party an advantage over another, but they're actually moving away from considering political metrics in their drawing of districts. That includes past vote, voter registration, where incumbents live and a whole host of other things. So this is even a step backward from what the national Democrats are doing."
The advantage of writing these redistricting rules into the Constitution, of course, is that it would make it far more difficult for future legislatures to change the rules back to the current status quo or to something that would arguably be aimed at drawing fair districts that did not benefit one party over another. While most of the attention in recent years when it comes to gerrymandering and voter suppression has been focused, justifiably so, on efforts in states controlled by Republicans such as North Carolina, Wisconsin, and Texas, to protect incumbents and limit the powers of political minorities, it should not come as a particular surprise that in this case it's Democrats who are seeking to limit voter choices and enhance their hold on power shouldn't be all that surprising. As the old saying goes, power corrupts, and absolute power corrupts absolutely and, for the moment at least, Democrats in New Jersey have absolute power and they are obviously attempting to use it to not only gerrymander the state even more than it already has been, but to enshrine the process that would make it easier to do so in the state Constitution in a manner that bypasses the normal procedure for Constitutional Amendments. If they were so confident that what they were doing was right, they obviously wouldn't be doing this.
Fortunately for New Jersey, there are still some opportunities to stop this process before it becomes set in stone. The fact that Governor Murphy opposes the plan and the process by which it is being considered is significant, and while it's unclear how much power he actually has to stop the process the fact that he is speaking out against it is a good sign and perhaps will give Democrats who actually have a conscience the reason they need to resist what the leadership is trying to do. Second, even if the measure passes the legislature it will still need to be approved by voters at a General Election, presumably the 2020 election although it could end up on the 2019 ballot. At that point, it will be up to people of good conscience to educate the public about what might seem like an inconsequential Constitutional Amendment but which really amounts to an unparalleled power grab by Garden State Democrats.