New Jersey Republicans Nearly Entirely Shut Out Of Congressional Delegation
Election Day 2018 saw Republican representation in the New Jersey Congressional Delegation nearly entirely decimated.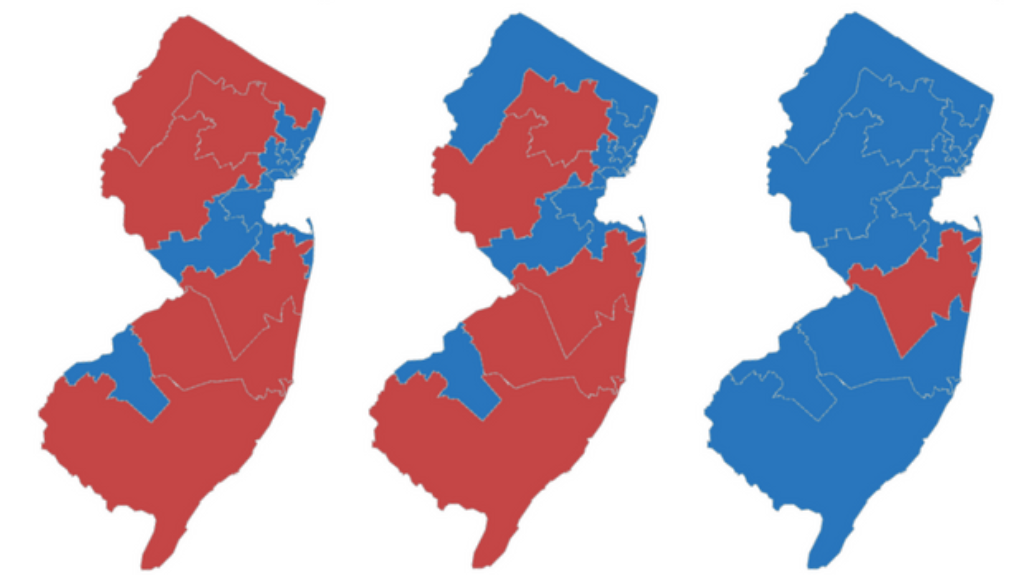 One example of the extent of the Democratic victory last week can be seen in New Jersey, where the Republican presence in the state's Congressional delegation has been nearly entirely eliminated, The New York Times has the details:
Andy Kim, a New Jersey Democrat who had been locked in a neck-and-neck race for Congress, has defeated his Republican opponent, a two-term incumbent and staunch ally of President Trump, according to a final vote tally.

After a drawn-out vote count, Mr. Kim, a former national security adviser under President Barack Obama, was declared the winner by a slim margin, beating Representative Tom MacArthur, who wrote a key amendment in the effort to repeal the Affordable Care Act, according to The Associated Press.

The victory by Mr. Kim caps a devastating midterm election for Republicans in New Jersey.

With 11 Democrats now holding House seats, Representative Chris Smith is the lone Republican in Washington from New Jersey; the last time Democrats had such a large advantage Theodore Roosevelt was in the Oval Office.

Mr. Kim's victory in the Third Congressional district comes after a week spent counting more than 7,000 paper ballots in Ocean and Burlington counties. Though the race was too close to call on Election Day, it became increasingly likely in the days that followed that Mr. Kim would prevail.

"I kept hearing a similar refrain: that they wanted to have a new generation of leaders in Washington," Mr. Kim said in an interview. "I hope to be part of that generation of leaders that can work in that type of way, showing that we can home in on issues across the board."

Mr. Kim said that he hoped to be given a spot on the House Armed Services Committee, citing his national security background and noting that his district is home to a large military facility, Joint Base McGuire-Dix-Lakehurst.

He also pledged to work to roll back the limit placed on state and local tax deductions under the new federal tax plan and to work with Gov. Philip D. Murphy, a Democrat, and the rest of the state's congressional delegation to win funding for the Gateway rail tunnel project under the Hudson River.
The map above is a representation of what the Congressional map in the Garden State looked like after the elections in 2014, 2016, and 2018. While New Jersey is a solidly blue state, it may surprise people to know that, as recently as four years ago, the majority of its Congressional Districts were represented by Republicans. By and large, these Republicans were representing districts in the suburban and rural part of the state where the population is predominantly middle to upper-middle class, and many of them, such as retiring Congressmen Rodney Frelinghuysen and Frank LoBiando and Congressman Leonard Lance, had been in office for many years, As you can see, though, the makeup of the delegation became bluer in 2016 (the middle map in the graphic above). The final map is the map on the right which shows just a single Congressional District still in Republican hands. That district is the 4th Congressional Districts, which has been held by Congressman Chris Smith since he was first elected in 1980.
To be fair, many of the districts in New Jersey were in danger when long-serving Congressmen such as Frelinghuysen, who is the latest representative of a family with deep roots in New Jersey and American history that include a high-ranking officer in the Continental Army during the American Revolution, a Senator, Members of Congress, and a Secretary of State, and LoBiando decided to retire. However, there can be no doubt that the disdain for Donald Trump played a role in what happened on Election Day. In addition to being a factor in Senator Bob Menendez winning re-election despite his many ethical problems, the President was also an issue in the Congressional races and one that clearly hurt Republicans.
So, I guess you can blame this one on Trump.
H/T: NJ.com