Obama To Make Same Promise About Tax Cuts He Did In 2008
Get ready for the battle over the Bush Tax Cuts to start up yet again.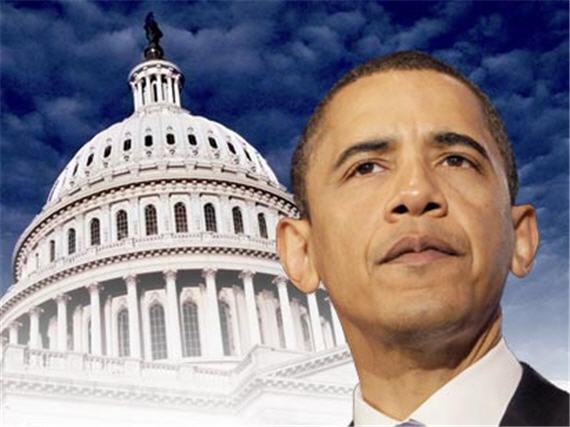 When President Obama ran for President in 2008, one of the central parts of the fiscal plan he put forward included a call for the so-called Bush Tax Cuts for people making more than $250,000 a year to be ended when they were set to expire at the end of 2010. As we know, of course, Obama ended up ignoring that call on his own when he made an end run around his own Democratic caucus on Capitol Hill to make a deal with Republicans to extend all the tax cuts for two more years. With that deadline now fast approaching, and with many analysts warning about the "fiscal cliff" that the economy will face in early 2013 if the tax cuts are allowed to expire, some of Obama's fellow Democrats, including former President Clinton, are suggesting that the party should agree to a temporary extension of all the cuts to allow time for a broader deal to be made and so as not to shock the economy with huge tax increases. President Obama, however, has apparently decided that his own opening move in this dance that will likely last until December will be a repeat of the promise he made in 2008: 
WASHINGTON — With a torpid job market and a fragile economy threatening his re-election chances, President Obama is changing the subject to tax fairness, calling for a one-year extension of the Bush-era tax cuts for people making less than $250,000.

Mr. Obama plans to make his announcement at the White House on Monday, senior administration officials said. The ceremony comes as Congress returns from its Independence Day recess, and as both parties and their presidential candidates head into the rest of the summer trying to seize the upper hand in a campaign that has been closely matched and stubbornly static.

House Republicans plan to vote this month to extend for a year all of the Bush tax cuts, for middle- and upper-income people.

The president's proposal could also put him at odds with Democratic leaders like Representative Nancy Pelosi of California and Senator Charles E. Schumer of New York, who have advocated extending the cuts for everyone who earns up to $1 million. And it will most likely do little to break the deadlock in Washington over how to deal with fiscal deficits, an impasse that has only hardened as Republicans sense a chance to make gains in Congress this fall.

But by calling for an extension for just a year, Mr. Obama hopes to make Republicans look obstructionist and unreasonable. Trying to bounce back from another weak jobs report on Friday, he also hopes to deepen the contrast with his challenger, Mitt Romney. On Friday, the president said Mr. Romney would "give $5 trillion of new tax cuts on top of the Bush tax cuts, most of them going to the wealthiest Americans."

(…)

The struggle to frame the tax debate comes as the campaign moves into a period, only four months before the election, when the perceptions of voters begin to harden. Polls show a persistently tight race, with Mr. Romney closing in on Mr. Obama in certain swing states but with neither candidate able to break out decisively. Control of Congress is also up for grabs, with Mr. McConnell saying on Sunday that he believed the Republicans had a 50-50 chance to regain control of the Senate.

To find a compromise with Republicans on which Bush tax cuts to extend, Ms. Pelosi, the House minority leader, and Mr. Schumer, a member of the Senate Finance Committee, favor making $1 million the cutoff. Above that level, Mr. Schumer has said, people are not likely to spend the savings from lower taxes and help the economy.

Administration officials said they did not believe that the difference between the White House and these Democratic leaders was a big obstacle. They said that whether to use $250,000 or $1 million as a cutoff was more a matter of strategy than a "religious debate," in the words of one official, who added that many other Democrats favored $250,000.

(…)

White House officials insisted that Monday's move was more than politics. They said it would ease anxiety over the "fiscal cliff" — the combination of tax increases and automatic spending cuts that are scheduled to kick in at the end of this year. That one-two punch, economists say, could deal a heavy blow to an already tender economy unless the White House and Congress work out some kind of compromise.

Proposing a one-year extension, a senior official said, recognizes that Mr. Obama and the Republicans are not likely to resolve the larger debate over whether to extend the Bush tax cuts for everyone or, as Mr. Obama has long advocated, just for the middle class. That debate is likely to be decided at the ballot box, where a victory by Mr. Romney would almost certainly enshrine all the tax cuts.

"To the degree that there is concern about the economy, we're saying, 'Let's extend the middle class tax cuts for a year,' " said Gene B. Sperling, director of the White House's National Economic Council. "Economically, extending tax cuts to those workers will have the most effect on them and the strongest impact on the economy."
Politically, it's not surprising that the President is making this move. He's been hitting the "tax fairness" argument since last September when he starting pushing the so-called Buffett Rule, a measure which has pretty much disappeared from the campaign's agenda interestingly enough. Additionally, as was the case when we had this debate after the the 2010 elections, the public is generally supportive of the idea of not extending the Bush Tax Cuts for "the rich," although there as been something of an interesting debate going on inside the Democratic Party over where to draw that line. As noted above, Nancy Pelsoi and Chuck Schumer, among others have pushed for a $1 million threshold on the tax increases, arguing with some justification that in the states they represent $250,000 per year is pretty close to being a middle-class income for an average family.  Additionally, Democrats in the Senate haven't been all that enthusiastic about pushing the Buffett Rule. Nonetheless, one can certainly argue that there are good political reason for staking out as an opening position in the tax cut debate a position that is widely supported by the public.
Of course, the fact that what the President is proposing is widely supported doesn't mean that it will become law. We had the same position in 2010, and it was the President, not the Republicans, who ended up blinking in what, in the end, wasn't really much of a showdown. There's no reason that won't happen all over again, and every reason to think that it probably will. In the end, just as in 2010, the President clearly does not want all of the tax cuts to expire. The Republicans know this, and as long as they maintain a united front it isn't difficult at all to see the President backing down once again.
The White House appears to be pining much of it hope on the idea that the election will decide this issue, but I'm not sure that's the case. Clearly, if Mitt Romney wins, the tax cuts will be extended, most likely for the duration of Romney's first term if not longer. However, a victory by Obama doesn't necessarily mean that he'll get his way on the tax cuts. Republicans are still likely to hold on to the House of Representatives and, even in the case of an Obama victory, could eke out a small majority in the Senate. Obama will still have to deal with them, and the dynamics I noted above will still be in place, as will the desire of all concerned to do nothing that could possible result in the economy being tossed into recession in 2013.
So, this is an interesting political strategy on the Administration's part, and I'm sure they'll get plenty of support for it from the usual suspects, but I'm not sure it's a fight they can win in the end.