Bill Clinton Goes Off Message Again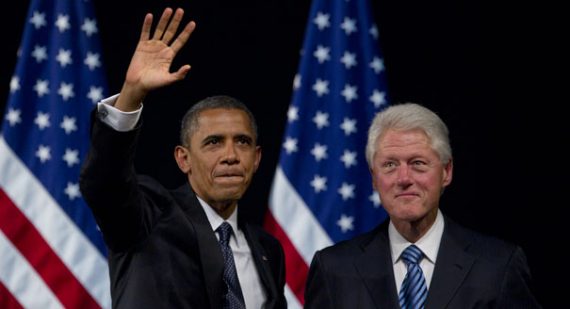 Just a few days ago, we saw Bill Clinton go off message on the Obama campaign's attacks on Mitt Romney's time at Bain Capital. Now, he's gone and done it again on one of the core issues of the President's campaign:
With friends like this, Obama's political enemies don't need to do too much.

In an interview with CNBC that his office was scrambling to clarify Tuesday night, Clinton sided with congressional Republicans over Obama in calling for Congress to temporarily renew the soon-to-expire Bush tax cuts — but he also heaped praise on private equity companies like Mitt Romney's Bain Capital, pleaded ignorance for his past gaffes and asserted his independence from the Obama campaign message operation.

It was Clinton in full Mr. Hyde mode — in a flashback to the deep and lasting tensions between the Clinton family and the Obama team that still linger from the bitter 2008 primary fight.

The interview was part of a whirlwind television tour Tuesday afternoon, with Clinton spending also granting interviews to NBC, PBS and CBS that followed up on his turn last week on CNN, when he referred to Romney's business background — which the Obama campaign had spent days tearing apart — as "sterling." Once again, Clinton was sucking up all the media oxygen and generating dozens of headlines about an intra-party split between the two presidents.

(…)

Talking about the economic crisis in Europe and the persistent economic malaise in the United States, Clinton told CBNC that extending the Bush-era tax cuts across the board was "probably the best thing to do right now."

Obama has made raising taxes on upper earners a signature part of his reelection pitch — and Republicans were quick to exploit the daylight between the two Democratic presidents.

"President Obama's plans for a massive tax increase after the election will further harm the economy," Romney's spokeswoman Andrea Saul said. "Don't just take our word for it. Today, former President Bill Clinton endorsed continuing tax relief for job creators — not the tax increase President Obama has in mind."

Clinton made clear in the interview that he wasn't fully endorsing the Republican plan — "the real issue is not whether they should be extended for another few months. The real issue is whether the price the Republican House will put on that extension is the permanent extension of the tax cuts, which I think is an error."
Clinton is right, of course, about the temporary extension idea and that is likely what is going to happen before the end of the year. Neither party is going to be willing to let Taxmaggeddon as it is being referred to occur at the end of the year, but at the same time the lame duck session after the election is not going to be the best time to reach any kind of comprehensive tax deal. So, they'll kick the can down the road, perhaps just a few months, perhaps longer. Personally, I'm guessing it'll be longer than anyone, including Clinton, is anticipating right now.
As for Clinton, Steven Hayward tries to figure out what he's up here:
First, perhaps this is merely payback for besting Hillary in 2008, and now that Obama is vulnerable he's going in for the kill by subtly undermining him.  Chances for Hillary in 2016 are better against a potentially weak Romney than as a successor to a second-term Obama.  Voters will likely be fed up with Democrats by 2016 if Obama manages to win this year.

Second, a variation of the first theory is that the Big Dog wants to kill off any chance of Hillary replacing Biden on the ticket, thinking this would also tarnish her chances in 2016 if she agreed to this desperation measure.  A series of regular "mistakes" from the Big Dog will help foreclose this gambit.

Third, and my favorite theory, is that Clinton knows that Obama's class warfare strategy is a loser, and is making his comments deliberately to force Obama to change course while he still has time.  Clinton understands that successful presidential campaigns are about the broadest possible vision of the future—one might almost say "hope and change" (heh)—and not retribution and division.  Clinton skillfully overcame his weaknesses and mistakes of Republicans (Blob Dough) in 1996 by grasping the "bridge to the 21st century" theme.  Remember the well sourced view of Clinton's that Obama is still "an amateur" at politics.
Most likely it's some variation on Option Three. Whatever it is, though, it's worth remembering that Bill Clinton's primary concern isn't necessarily Barack Obama's political fortunes so much as it is those of his party, and he's smart enough to know a losing campaign strategy when he sees it.
Photo via Politico