Bill Clinton Goes Off Reservation On Bain Attacks
Bill Clinton is the latest Democrat to defend private equity, and Mitt Romney's business record. It would appear this meme is on its last legs.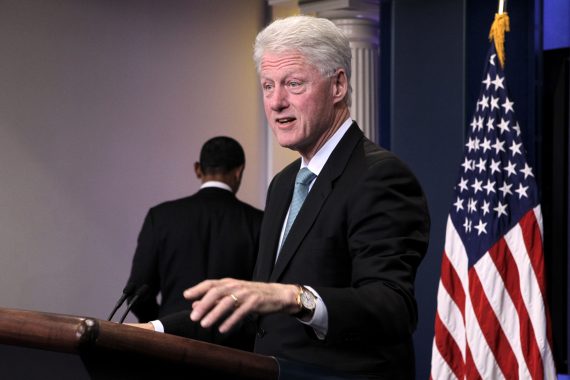 Following the path of Democratic politicians like Cory Booker and Deval Patrick, and commentators such as Harold Ford, Jr., Ed Rendell and Steven Rattner, former President Clinton appeared on CNN last night and went off message on the issue of Bain Capital and Mitt Romney's business record:
President Bill Clinton veered sharply off message Thursday, telling CNN that Mitt Romney's business record at Bain Capital was "sterling."

"I don't think that we ought to get into the position where we say 'This is bad work. This is good work,'" Clinton said. "The man who has been governor and had a sterling business career crosses the qualification threshold."

Clinton also went on to say that Romney's time at Bain Capital represented a "good business career."

The Obama campaign is in the third week of an all-out assault on Romney's time as a corporate buyout specialist — accusing the GOP nominee of bankrupting companies and laying off workers all while pocketing a profit for  himself and investors.
Video:
This isn't terribly surprising, actually. It's been rather obvious for weeks now that there are a host of leading Democrats who aren't entirely thrilled with the campaign's attacks on the private equity industry. More importantly, as Aaron Blake notes, this suggests that the shelf-life of the Obama campaign's Bain attacks is coming to an end:
Obama's campaign has shifted its message from attacking Bain's handling of certain companies to talking broadly about how being in the private equity business doesn't prepare one to be president. But Clinton's comments appear to undermine both arguments.

He's saying both that Romney's business career is an asset, and that when it's combined with his term as governor, there's little doubt that he's qualified to be president.

In the end, the result of the Obama campaign's focus on Bain has been little-to-no traction in the polls and what has become a highlight reel of Democratic heavies praising both Bain and Romney's business career.

One has to wonder how much longer it will continue.
Indeed, I think it is. The question is why the campaign decided to go down this road now. When Romney's Republican opponents, principally Newt Gingrich, unveiled their Bain attacks they didn't do it in September or October of 2011, they did it in the week between the New Hampshire and South Carolina primaries, with the purpose of putting a halt to Romney's momentum before he ended up scoring so many victories in January that the race would have essentially been over after Florida as it was in 2008. In that respect, one could consider the attack a success because Romney lost South Carolina and the race continued long past Florida. If this line of attack had been used earlier in the Republican race, it likely would have not have had the same impact it did by being used so close to the election.
The Obama campaign didn't go down that road. Instead of waiting until September or October, when far more Americans will be paying attention to the election and the impact of any election meme is likely to be far more long-lasting, they unveiled this attack in May. Even if the issue did have an impact in the polls, which doesn't appear to be the case, that impact would be unlikely to last all the way through the campaign season. Perhaps the fact that they unveiled the attack now is an indication that they didn't believe it would have much of an impact on the race, but that placing it out there now would perhaps influence the overall public perception of Romney. Of course, if that was their strategy it seems to have failed given the fact that Romney's favorability numbers have increased over the past month or so, just when the Bain issue was all over the media again.
Already you can see the Obama campaign changing the focus of their attacks on Romney to his record as Governor which is, quite obviously, far more relevant to what kind of President he might be than a distorted attack on the private equity industry was. Within a month or so, it's quite likely we won't hear many Obama surrogates even talking about Bain Capital any more.