Palin's Missed Opportunity
Palin's "blood libel" speech continued to keep here in the conversation about Tucson, and not in a positive way.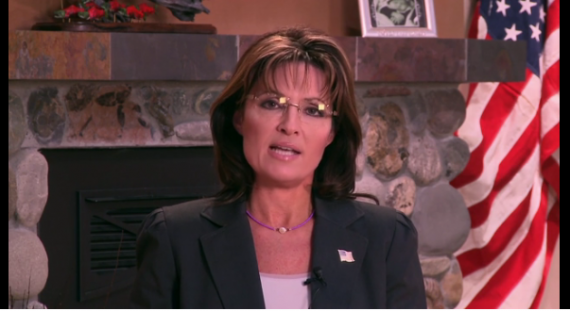 To follow-up to my post from the other day, I would say that Palin's "blood libel" video represents a missed opportunity.
Let me start by saying to the commenters who will not read the whole post before responding:  first, I think that charges that Palin has any kind of culpability in the actions of Loughner are absurd.  Second, I am not arguing that Palin could have used this opportunity to make the whole country love her.  I am not saying that Palin could have ingratiated herself with her opponents on the left.  What I am saying is that she could used the opportunity to show some grace and leadership skills.  I am saying that she could have also turned away a lot of the criticism that she has been facing on this topic.  And yes, she would have continued to face some criticism no matter what, but I think it is difficult to argue that she did anything other than add fuel to the fire.
The video continued Palin's basic pattern in three keys ways.  First, it was highly controlled and came from the safe space that she has created for herself online.  Second, the message was one, primarily, of defensiveness.  Third, the basic content will resonate positively with her fans, who rightly feel that Palin's target/surveyor's symbol graphic has received undo and unfair attention but it will reinforce the negative attitudes that most non-fans have of her (including many of her co-partisans, which is the political key here).
The selection of the phrase "blood libel" is problematic on a variety of levels.  Even if, as Jim Geraghty noted, the phrase is used more commonly than we might think (and by a variety of persons from various points of view), it is a phrase that fairly obviously was going to lead to controversy, even if we set aside fro anti-Semitic history of the phrase.  It strikes me as rhetorically problematic to evoke the image of blood here from the get go, given the bloody events of the weekend.  Second, the evocation of libel simply underscores Palin's defensiveness.  Combine the two and even if one was unaware of the history of the phrase it should have been obvious that the phrase was going to stir up at least a minor furor.
I continue not to understand why Palin couldn't have taken the high road here and acknowledge that while trying to assign blame in regards to the target graphic is absurd, it is understandable how people find it objectionable in retrospect.  This is especially true since Representative Giffords had herself made recent public statements about said graphic and its implications.  Indeed, the very fact that SarahPAC took the graphic down from the website on Saturday is an acknowledgement that the somebody in the Palin camp understood that it was problematic.
If Palin does have real aspirations for the Republican nomination in 2012, she is going to have to learn to sublimate some of her defensive tendencies.  Fans may cheer when she strikes back, but there are times in politics (indeed, in real life) when such responses hit the wrong note and, indeed, may simply be inappropriate.  Now if, as some hypothesize, she simply wants to remain a media figure, the strategy will work for her.  Indeed, while I have maintained that she is planning to run in 2012, her behavior in this moment has caused me to question that assumption.
Further reading on this topic:
Politico:  Barack Obama takes opportunity Sarah Palin missed
The NYT's The Caucus: Obama and Palin, a Tale of Two Speeches