Pelosi Near Deal To Secure Leadership, But It Includes Term Limits
Nancy Pelosi is apparently close to a deal with dissident Democrats that will keep her in power until at least 2022.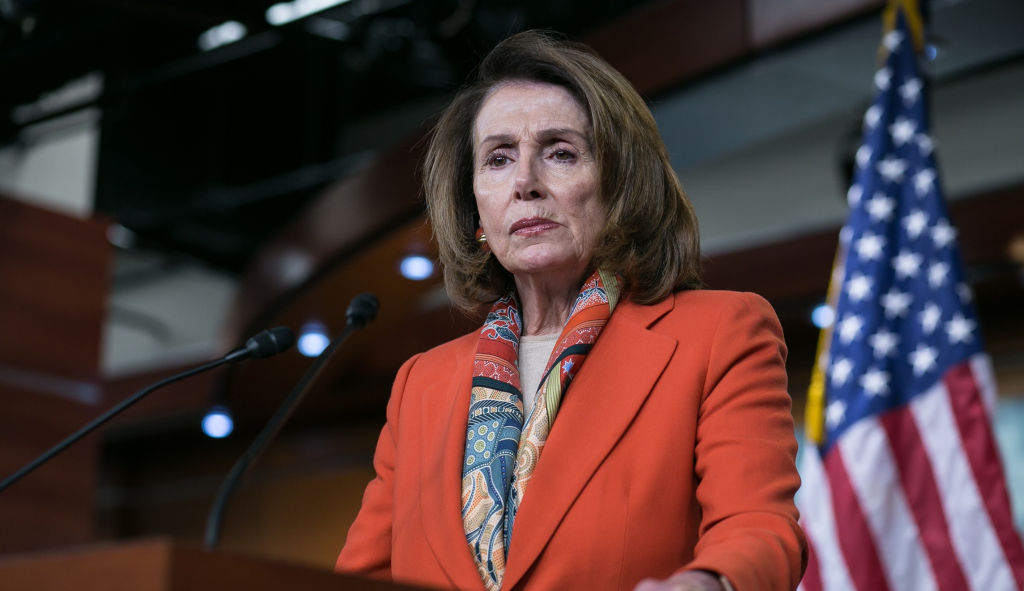 Nancy Pelosi is near a deal with rebellious elements within the House Democratic Caucus that would allow her to continue to serve as leader of House Democrats, and as Speaker of the House as long as the party continues to hold a majority in that body, for the next four years:
WASHINGTON — Representative Nancy Pelosi is nearing a deal with dissident Democrats to limit herself to four years as speaker, according to two senior Democratic officials with knowledge of the emerging plan, her most consequential move to date to put down a rebellion in her ranks and clinch the votes she needs to win the gavel in January.

The agreement, which if finalized and adopted would also bind the other three top Democratic leaders, would almost certainly clear the way for Ms. Pelosi, the Democratic leader from California, to reclaim the mantle of first woman to serve in the post that is third in line to the presidency. It would also signal a major shift for Democrats, who despite the striking diversity and demographic shifts within their party, have governed for more than a decade with the same trio at the helm. That trio, Ms. Pelosi, 78, Representative Steny H. Hoyer of Maryland, 79, and Representative James Clyburn of South Carolina, 79, must now prepare to cede power to a new generation, even as they move to take the House majority next month.

Ms. Pelosi handily won an internal vote among Democrats this month to be nominated as speaker, a post she held from 2007 to 2011. But a small group of defectors who have agitated for new leadership at the top of the party have been threatening to withhold their votes when the new Congress convenes Jan. 3 for a formal vote on the House floor. Ms. Pelosi would need a majority of those present and voting in the chamber — as many as 218 — to be elected.

The rebels demanded that Ms. Pelosi either step aside or give a date when she would do so, something she had refused to do, arguing that it would weaken her hand as a bulwark against President Trump.

Representative Ed Perlmutter of Colorado, a member of the group, has been leading private discussions with Ms. Pelosi and other colleagues about a compromise wherein she would agree to a four-term limit — eight years — that would apply retroactively, taking into account the two terms she already served as speaker.

A spokeswoman for Mr. Perlmutter could not be reached for comment. An aide to Ms. Pelosi, speaking on condition of anonymity, would say only that productive conversations about a path forward are occurring.

The agreement would also apply to the other three top Democratic leaders: Mr. Hoyer, who is in line to be the majority leader; Mr. Clyburn, who is set to be the whip; and Representative Ben Ray Luján, the assistant Democratic leader.

Under the agreement being discussed, which was first reported by Politico, the four leaders would be limited to three two-year terms, with the possibility of a fourth if they could garner the support of two-thirds of the Democratic Caucus. Given that Ms. Pelosi, Mr. Hoyer and Mr. Clyburn, all in their 70s, have already served two terms in the top three posts, it would put a hard cap on their tenures, forcing them out of their posts by 2022.
While Pelosi was re-elected leader of the Democratic Caucus two weeks ago, the margin of victory was insufficient to give her the 218 votes necessary to win the Speakership on the first ballot on the House floor. While this would not have meant that Republican leader Kevin McCarthy would become Speaker in January, it would have thrown the race for Speaker into a second ballot for the first time in recent memory, a development that would have been an embarrassment and would have weakened Pelosi's hand in future negotiations with Republicans in the Senate and President Trump. Given that, it was important for Pelosi to reach some kind of accommodation with those elements of the Democratic Caucus who have objected to the idea of the leadership of the Caucus remaining in the same hands it has been for at least the past twelve years and who have called for younger members to be given the chance to advance in a leadership that has remained remarkably moribund for an extended period of time. Assuming that this plan is accepted, it would provide Pelosi with a clear path to victory in January and a sufficient concession to the rebellious members of the caucus who have objected to the status quo.
To some extent, of course, Pelosi most likely helped her standing among her fellow Democrats with the meeting she had yesterday with President Trump, Vice-President Pence, and Senate Minority Leader Chuck Schumer, a meeting at which the President largely beclowned himself during a televised debate among the three about Trump's border wall. By all accounts, including even the admission of many Republican and conservative pundits, Pelosi walked away from that meeting having appeared to get the best of a President who appeared to be more and more unhinged as the fifteen-minute public portion of the meeting went on. Even that performance, though, wasn't enough to stave off the necessity of the deal that has been reached with dissident Democrats. Assuming this deal is acceptable, this will smooth the path for Pelosi going forward and would keep her in power until at least 2022. At that point, Pelosi and her fellow members of the leadership will be in their eighties and most likely looking to retire anyway. From that perspective, this agreement will be helpful for Democrats since it will allow them to prepare for an inevitable new class of leaders in the future.