Nancy Pelosi Re-Elected Leader Of House Democrats
Nancy Pelosi won a key vote yesterday on the road to returning as Speaker of the House again in January.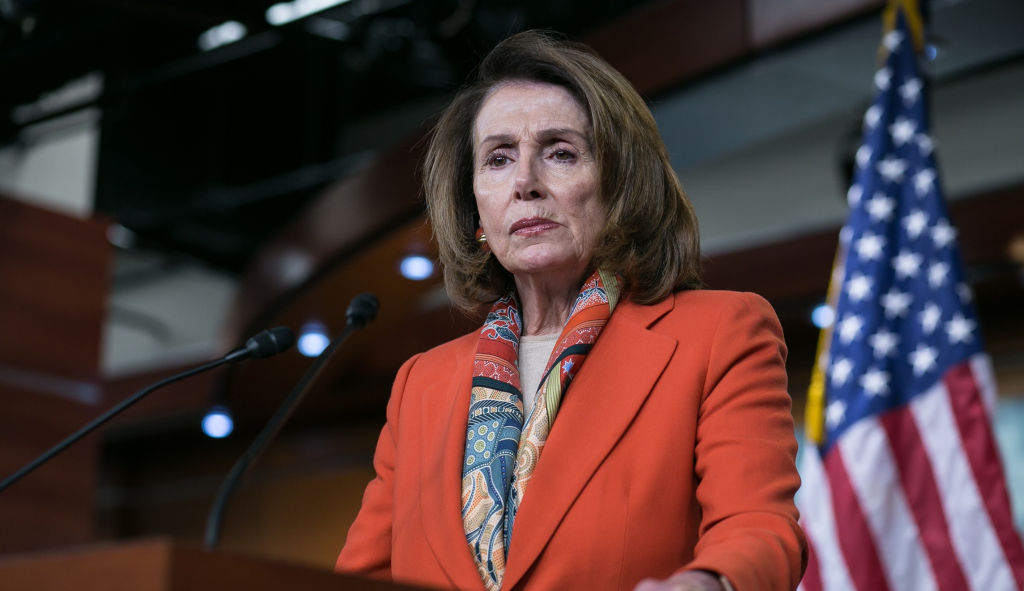 As expected, House Democrats meeting to pick their leadership for the 116th Congress when it convenes in January have largely kept the team that has existed since 2006 in place, thus guaranteeing that Nancy Pelosi will return as Speaker of the House:
WASHINGTON — Representative Nancy Pelosi overwhelmingly won the Democratic nomination on Wednesday to be speaker when the new Congress convenes in January, but the defection of 32 Democrats signaled that she could still face a divisive fight to lead the House just as the party assumes control.

The result kept alive the threat of a messy intraparty feud and touched off what promises to be an intense period of internal arm-twisting and cajoling by a leader renowned for both. At the same time, it confirmed that despite a drumbeat of calls within her caucus for new leadership, most Democrats support returning the 78-year-old Californian, the first woman to be speaker, to the post.

In a secret-ballot vote that dramatized rifts among Democrats only weeks after midterm election victories handed them the majority, Ms. Pelosi, running unopposed, won support from 203 Democrats. Beyond the 32 no votes, three ballots were left blank.

"It's a big victory," she exulted as she made her way to the Capitol after the results were announced, brushing aside questions about her detractors and saying she felt "great."

To become speaker, Ms. Pelosi must win 218 votes in a House floor vote on Jan. 3. That gives opponents time to recruit a serious challenger, something they have said could occur only once they showed that she lacked the votes to be elected.

But the tally also demonstrated the limits of a group of dissidents who want fresh faces at the top of the party. They include newcomers who campaigned promising to change Congress, some of whom made explicit pledges not to vote for Ms. Pelosi, who has led House Democrats for more than 15 years.

Speaking with reporters as the votes were tallied, Ms. Pelosi hinted that she expected her opposition to erode.

"I think we're in pretty good shape," she said. "I don't want to make other people's announcements for them, but we go forward with confidence and humility."

But some of those who voted against her on Wednesday said they were repelled by the politicking that has defined the speakership fight so far, and were determined to maintain their opposition in part because of it.

"I made a promise to the voters of my district that I would be a no — no under any circumstances," said Representative-elect Max Rose of New York, adding that he was mystified that journalists continued to ask him whether he would change his position.

"What it speaks to, though, is a culture of politics in this town where people change their opinions," Mr. Rose said. "So I'm not swaying with the wind, and I believe that many of us members came here to D.C. not for just one fight, but to change politics in this country."

(…)

After painstaking negotiations that stretched into the wee hours of Wednesday, Ms. Pelosi struck a deal with the Problem Solvers Caucus, which had withheld its support until it secured changes that its members said would break partisan gridlock by empowering lawmakers to forge bipartisan compromises.

The deal, the latest example of Ms. Pelosi's quiet campaign to wear down opponents, came minutes before Democrats began formally nominating her for the post, and not long before the start of the vote testing the strength of her support.

"We have reached such an agreement with Leader Pelosi to help break the gridlock for the American people and will support her," the Problem Solvers said in a statement. The deal won her the backing of eight members.

But Ms. Pelosi still faces determined opposition from others, including members of a group of 16 Democrats who signed a letter last week calling for new leadership. Their three leaders met with the minority leader before the vote on Wednesday and emerged declaring themselves unmoved.

Representative Seth Moulton of Massachusetts, an organizer of the group, said their request of Ms. Pelosi had always been: "Produce a meaningful plan for a leadership transition, as you promised in the summer, to allow a new generation of leadership to step forward."

He said he was "disappointed to report that no agreement was reached in this initial meeting," but "hopeful" of continuing talks with Ms. Pelosi.
The most notable thing about the outcome of yesterday's vote, of course, is the fact that Pelosi recieved the support of 203 of the Democratic Caucus members who voted, and that 32 members ended up voting against her. This is problematic at least on paper because it puts Pelosi fifteen votes short of the 218 votes she will need on the House floor in January in order to win the Speakership on the first ballot. Failure to do that would send the House into a second or third ballot that could result in the decision by other candidates in the Democratic Caucus to throw their hat in the ring and, in any case, would be a significant embarressment for Pelosi since it would be generally unprecedented in the modern era. In theory at least, if this vote total were to hold up in January and the 32 people who voted against Pelosi could end up voting "present" or voting for some other candidate or candidates instead of her. However, it seems to me that this is highly unlikely and that what we're really seeing here is an effort by various factions within the House Democratic Caucus to flex their muscles and, perhaps, gain concessions on rule changes from the leadership team in exchange for their support.
On some level, of course, this is not dissimilar from what happened inside the House Republican Caucus over the past seven years. Beginning most especially with the Speaker's election in 2013 and continuing forward with those that occurred in 2015 and 2017, various elements of the Republican Caucus have attempted to rebel against the leadership by threatening the Speakerships of both John Boehner and Paul Ryan. In a handful of cases, this included voting against them on the House floor when it came time for the official vote for Speaker. For the most part, though, the Republican rebels ended up falling in line after getting some concessions from leadership on rule changes or some other matter, and the supposed threat and drama that preceded each of the aforementioned votes for Speaker ended up being largely overblown. You can see some of that same drama in the coverage of the leadership vote from the political media, as exemplified by the report from The New York Times quoted above, as well as similar coverage from The Washington Post, Politico, and, of course, the cable news networks. In no small part this is because this vote for Speaker would be rather boring if it weren't for the sense of drama that coverage of this type lends to the process even if it is rather exaggerated.
In the end, I expect that we'll see the vote for Speaker in January go roughly the same as it has in the past. Some handful of Democrats will either vote "present" or vote for some other candidate, but in the end Pelosi will end up with a vote totally comfortably above the 218 votes she needs to win on the first ballot. The main reason for this is the simple fact that there is no viable alternative out there that would appear to be a serious threat to Pelosi's bid for Speaker. The closest that anyone came to that was in the form of Congresswoman Marcia Fudge, who has represented Ohio's 11th Congressional District since 2008. After Election Day, Fudge did put her name forward as an alternative to Pelosi, but she ended up withdrawing from the race last week after reaching an agreement with Pelosi regarding certain concerns of the Congressional Black Caucus. And that gets us to the final point. As the old saying goes, you can't beat something with nothing and, while there may be some serious questions to raise about Pelosi continuing as Speaker in the new Congress, the lack of a serious challenge makes much of the suspense over what will happen in January much ado about nothing.