2018 Is Looking Good For Democrats, But What About Nancy Pelosi?
Things are looking good for Democrats in 2018, but there's some speculation that Nancy Pelosi's position at the head of the party in the House could be in danger.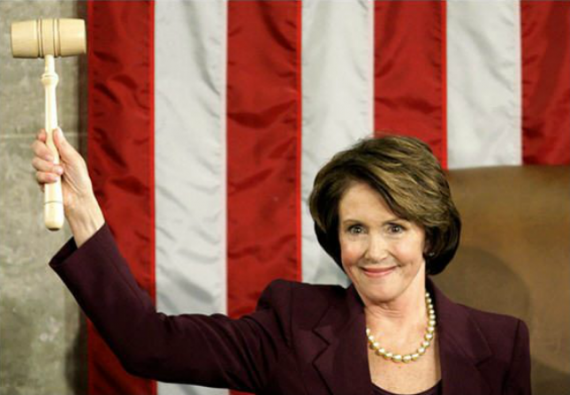 In the wake of the apparent victory of Conor Lamb in Pennsylvania's 18th Congressional District, more Democrats seem to be feeling free to put distance between themselves and the woman hoping to become Speaker Of The House again if Democrats retake the House of Representatives in the fall:
A few hours after Conor Lamb, the Pennsylvania Democrat, claimed victory in a House race with a vow to oppose his party's leader, Nancy Pelosi, the once-and-perhaps-future speaker was explaining to a group of female congressional candidates why she did not retire after 2016.

She intended to do so after Hillary Clinton won, Ms. Pelosi recalled Wednesday at a Democratic Congressional Campaign Committee reception here. But she stayed to ensure Washington had at least one woman in power.

To some lawmakers in the room who described her remarks, the message was clear: Ms. Pelosi is not going anywhere — a point she underscored in an interview.

Yet her resolve is at odds with growing numbers of Democratic candidates who view her as politically toxic and are pledging to vote against her as their leader, as Mr. Lamb did without suffering consequences with voters and donors. These candidates and some current House Democrats — tired of years of attack ads invoking Ms. Pelosi as a "San Francisco liberal," and impatient to see a younger set of leaders take power — are now openly distancing themselves from Ms. Pelosi or declaring outright that it is time for her to go.

Mr. Lamb, by coming out early against Ms. Pelosi and scoring an upset win in a district President Trump carried by nearly 20 percentage points, has clearly emboldened some other Democrats to follow suit and disavow her. Republicans intend to make Ms. Pelosi's unpopularity a centerpiece of their 2018 strategy, hoping that her polarizing status will mitigate their predicted losses.

Anticipating this strategy from the right, Democratic candidates are increasingly opposing her as speaker or refusing to take a stand an act of political inoculation — a trend that even her allies acknowledge could ultimately imperil her grip on the Democratic caucus.

At least two other senior Democrats, Representatives Steny H. Hoyer of Maryland and Joseph Crowley of New York, are already actively laying the groundwork to seek the leader's job if Ms. Pelosi's position becomes untenable.

As Democratic House candidates descended on Washington last week for a round of training and fund-raising, the topic of how to confront the Pelosi question came up repeatedly, according to multiple officials.

"I was just in D.C. and that's the advice everybody gives: Don't say you're for Pelosi," recalled former Representative Brad Ashford, a Nebraska Democrat trying to reclaim his seat. (He would not rule out backing Ms. Pelosi.)

Most ominous for Ms. Pelosi, it is not just centrist candidates running in red-tinged districts who are reluctant to embrace her, but also political insurgents on the left who see her as an embodiment of the Washington establishment.

"I would have to see who's running," said Marie Newman, a progressive Democratic House candidate in Illinois, when asked if she would support Ms. Pelosi for speaker. Ms. Newman is vying to unseat Representative Daniel Lipinski, a conservative Chicago Democrat, in a primary there on Tuesday.

And on Capitol Hill, Ms. Pelosi, 77, must contend with colleagues from her own generation who want their turn in charge, as well as younger Democrats who'd prefer to clear out the party's entire septuagenarian leadership team: beyond Ms. Pelosi, the other two ranking House Democrats, Mr. Hoyer and James E. Clyburn, are 78 and 77.

Yet at a time when women are at the forefront of the opposition to Mr. Trump's presidency — volunteering, donating and running for office in record numbers — the specter of Democrats taking back the House only to unceremoniously dump the most powerful woman in American politics strikes many in the party as outrageous.

And Ms. Pelosi herself is plainly in this camp.

"I'm a woman at the table," she said in the interview Friday before getting on a plane for Houston, where she was going to raise money for House Democrats at the annual rodeo there.

Demonstrating the swagger that delights her admirers and prompts eye-rolling from detractors, Ms. Pelosi said Democrats needed her in charge.

"I am a master legislator, I am a shrewd politician and I have a following in the country that, apart from a presidential candidate, nobody else can claim," she said.

While she would not firmly commit to seeking the speakership again, it is clearly her plan, and she even gave voice to a concern on the minds of many Democrats: the chaotic scramble that would ensue if she steps down.

"If I was to walk away now, this caucus would be in such a musical chairs scenario," she said.
This isn't the first time that Pelosi has faced a potential rebellion from within her own ranks and her own party. In the wake of the 2016 elections in which Democrats fell far short of winning back control of the House even though they did manage to make some small gains, Pelosi and the rest of the Democratic House leadership were forced to deal with a challenge from younger members of the caucus. In the end, Pelosi and the rest of her leadership team ended up winning re-election rather easily, but in some sense, this was a preview of what Pelosi might face in November regardless of what happens in the battle for control of Congress. Whether it will be successful, however, is another question entirely.
The impetus for the discussion this time around, of course, is that Lamb was able to blunt one of the strongest attacks being made by Republican nominee Rick Saccone and his supporters in their campaign against Lamb. Namely, Lamb came out early and said that if elected he would not support Pelosi in a leadership vote, thus making it that much harder for Saccone and the Republican Party to rally the independents and even some Republicans in the district who voted for Trump in 2016 and for whom Nancy Pelosi has become something of a rallying cry for the opposition. Lamb's decision to put distance between himself and Pelosi is hardly a unique position the in the Democratic Party. In the 2016 post-election leadership vote I mentioned above, 63 Democrats voted against Pelosi. Additionally, as Politico notes there are already many Democratic incumbents and hopefuls who are running in 2018 who say they'd prefer someone other than Pelosi, Minority Leader Steny Hoyer, and Assistant Minority Leader James Clyburn in leadership positions after the 2018 elections. Given that, Lamb is hardly out of step with his party when it comes to the question of who should lead the party in the House after November.
As things stand, it doesn't really appear that Pelosi is really in that much danger of losing her position as the leader of the Democratic caucus in the House. For one thing, if Democrats do manage to win back control of the House it is highly unlikely that anyone will step up to seriously challenge Pelosi or any member of the leadership team. Instead, Democrats will be focused on what their agenda for the two years following the midterms, and ultimately the 2020 elections, ought to be and the idea of rocking the boat by challenging the leadership will likely be something that most Democratic House members won't be interested in. Additionally, at this point it's hard to see who could rise up to challenge Pelosi for the top spot in the caucus. Clearly, neither Steny Hoyer nor James Clyburn will do so, and it seems unlikely that someone like Ohio Congressman Tim Ryan, who challenged Pelosi in 2016, will be able to mount the kind of challenge Ryan did in 2016 in the wake of the euphoria Democrats would be experiencing if the won back the House.
Pelosi's future as party leader might be more precarious, of course, if Democrats fall short of winning back the House, which is certainly possible, or if they end up losing seats in November, which seems unlikely under current circumstances. If that happens, then Democrats will no doubt be very disappointed and perhaps even disheartened at the idea of facing down another two years at least in the minority with Trump in the White House. Under those conditions, it's possible that there could be enough of a rebellion inside the House Democratic Caucus for new leadership to give momentum to an effort to oust current leadership team. Even in that situation, though, it's unclear who exactly would rise up to challenge Pelosi and her team and how they would be able to gather the support they'd need to push a group of leaders who have been in place since Pelosi took over as leader of the House Democratic Caucus in 2003 after Congressman Dick Gephardt retired in after the 2002 elections.
All that being said, it does seem pretty clear that Democrats in the House ought to be looking for new leaders, or at least a team that would be ready to take over from current leadership. Pelosi, Hoyer, and Clyburn are all in their late 70s and would be close to or over 80 years old by the time the 2020 elections roll around. They've been in their current positions, either as leaders of the minority or majority in the House, for the majority of the past twenty years. At some point, they're not going to be in those positions and someone else is going to need to take over. Right now, it doesn't appear as though there is anyone in a position to take over and that any battle for leadership after this triumvirate leaves could end up causing splinters inside the Democratic Caucus not dissimilar to those that were revealed during the primary battle between Hillary Clinton and Bernie Sanders. Additionally, there's a fairly good case to make that Pelosi, who represents a solidly red district and very liberal district in San Francisco is really the kind of face that the Democratic Party ought to be projecting to the country as a whole.
For the time being, though, it appears that Pelosi's position is secure.  Over the course of the election we'll probably see candidates in districts like Pennsylvania-18 distance themselves from her, of course, but for the most part it's likely that Pelosi and the rest of the leadership team will be in the same positions they are now when the new Congress convenes in 2019, especially if the Democrats win back the majority.