No, Conor Lamb Didn't Run As A Conservative
Republicans are claiming that Conor Lamb won Tuesday's Special Election in Pennsylvania because he campaigned as a conservative. These people are either deluded or lying.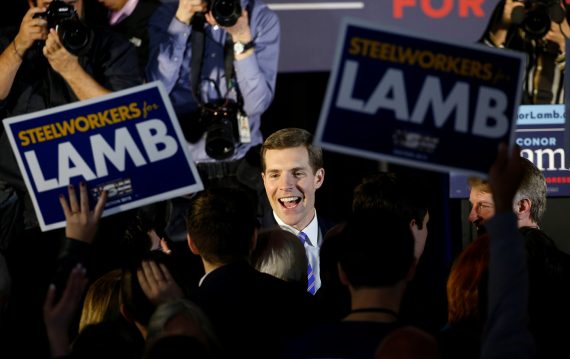 The razor-thin win by Democratic nominee Conor Lamb in Tuesday's Special Election in Pennsylvania's 18th Congressional District must really have Republicans worried, because they are doing their best to claim that his victory in a district that has overwhelmingly sent a Republican to Congress in every election since 2002, and which went for President Trump by 20 points in 2016, is anything other than a stunning rebuke of the Republican Party in general and President Trump specifically.
Consider, for example, these comments from House Speaker Paul Ryan and other Republican leaders yesterday:
House Speaker Paul Ryan stressed to reporters that it's "too soon to say what's going to happen" with the razor-thin House race in Pennsylvania and that the Democratic party "picked a candidate who could run as a conservative" in order to secure a win.

By 1 a.m. Wednesday, Democrats had all but declared victory in Pennsylvania's 18th congressional district, with hundreds of absentee votes outstanding. Republican candidate and Trump-backed Rick Saccone would have to win a significant margin of the remaining votes to declare victory.

Ryan told reporters at the House GOP's weekly press conference that Tuesday's election was not a "big surprise" but that no matter who eventually wins, the candidate is going to be a conservative.

"Both these people, both candidates ran as conservative — ran as pro-gun, pro-life, anti-Nancy Pelosi conservatives," said Ryan.

He added,"So this is something that you're not going to see repeated because they didn't have a primary."

Rep. Cathy McMorris Rodgers, R-Ohio, warned reporters at the press conference, "Remember, we have to be careful about making sweeping predictions" when it came to the narrow race.

Earlier at the Republicans' Wednesday meeting, Ryan's message to caucus members was that the race was much closer than it needed to be. He also stressed to Republicans that the Pennsylvania race should be seen as a sort of wake-up call for the 2018 midterms.

Ryan later told reporters of his charge to the caucus: "We need to execute, we need to get our message, and we need to make sure our candidates aren't massively outspent as was the case."
President Trump made the same claim during a speech at a St. Louis fundraiser last night:
President Trump weighed in on the Pennsylvania special election on Wednesday, telling donors at a private fundraiser in Missouri that Democrat Conor Lamb defeated Republican Rick Saccone in the House race because he ran "like Trump."  According to audio of the remarks obtained by The Atlantic, Mr. Trump said Lamb had run a "pretty smart race" and "sounds like a Republican."

"The young man last night that ran, he said, 'Oh, I'm like Trump. Second Amendment, everything. I love the tax cuts, everything.' He ran on that basis," Mr. Trump said. "He ran on a campaign that said very nice things about me. I said, 'Is he a Republican? He sounds like a Republican to me.'

House Speaker Paul Ryan and Republican leadership used that same talking pointwhen addressing the election with reporters at their weekly press conference on Wednesday. Ryan told reporters that no matter who eventually wins, the candidate is going to be a conservative.

"Both these people, both candidates ran as conservative — ran as pro-gun, pro-life, anti-Nancy Pelosi conservatives," said Ryan.

Mr. Trump, meanwhile, applauded Lamb's tactic of appealing to conservative voters in the state's 18th congressional district — an area the president won by nearly 20 points in the 2016 election. It was his first time commenting on the race, seen as yet another blow to the Republican's control of the House.

The president questioned, however, if Lamb would stick to his conservative values when voting on House floor.

"The bottom line is when he votes, he's going to vote with Nancy Pelosi. And he's gonna vote with Schumer," Mr. Trump said. "And that's what's gonna happen, and there's nothing he can do about it. So it doesn't matter what he feels, it doesn't matter."
Much of what we're seeing here is, of course, a standard operating procedure for a party that has suffered a loss in a district that it should have won under ordinary circumstances. As I noted above, Tim Murphy, who held this seat dating back to when he was first elected in 2002, had won by double digits in every election he ran there. Just sixteen months ago, President Trump won the district by twenty points, and it has gone for the Republican candidate in nearly every Presidential election for the past two decades or more even as Pennsylvania as a whole went Democratic in every Presidential election from 1988 until Trump finally won the state for the GOP in 2016. Under ordinary circumstances, this is a district that a Republican should have won easily even in a hard to predict Special Election. Instead, we got an election where the Democratic nominee appears to have defied the odds and pulled off a narrow victory.
It is true that Lamb ran as a more moderate Democrat than you would see in a place such as Massachusetts. Specifically, he stayed away from making direct attacks on the President and early on in the race said that he would not support Nancy Pelosi in a bid for leader of the House Democratic Caucus or if Democrats take back the House in November, Speaker of the House and would prefer new leadership for House Democrats. As Amber Phillips at The Washington Post notes, though, this is hardly a unique position in the Democratic Party given that 63 Democrats voted against Pelosi in the last leadership election. Additionally, as Politico notes there are already many Democratic incumbents and hopefuls who are running in 2018 who say they'd prefer someone other than Pelosi, Minority Leader Steny Hoyer, and Assistant Minority Leader James Clyburn in leadership positions after the 2018 elections. Given that, Lamb is hardly out of step with his party when it comes to the question of who should lead the party in the House after November.
When it comes to the issues, though, Lamb is hardly the conservative that Paul Ryan, President Trump, and other Republicans are claiming him to Instead, Lamb ran on a record that was clearly Democratic and not either conservative or Trumpian in any respect, as Jon Favreau, a former speechwriter for Barack Obama noted in a tweet yesterday. For example, during his campaign, Lamb came up publicly in support of universal health care and against the tax cut package that was signed into law late last year. Additionally, while Lamb said he opposed a national ban on so-called "assault weapons," he supported expanded background checks that would include sales at gun shows and other private transfers of weapons that currently are not covered by the Federal background check law. He came out in favor of stronger unions, against, cutting Social Security, Medicare, and Medicaid, and in favor of medical marijuana. Finally, while it's true that Lamb stated repeatedly that he was personally opposed to abortion, he also said that he opposes most restrictions on abortion that Republicans and conservatives support, specifically included a ban on abortion after the 20th week of pregnancy except in limited circumstances, something that has become a high priority for the so-called "pro-life" movement in recent years. Indeed, this has led one writer at National Review to call Lamb "extreme" in his "pro-abortion" views.
While it's true that Lamb is more moderate in some of his positions than many in the Democratic Party, it's quite simply a lie to say that he campaigned as a "conservative." Republicans who continue to parrot this line are either lying or they are the Baghdad Bob of American politics.