What Pennsylvania Special Election Tells Us About November
Individual races are idiosyncratic. But there are nonetheless some lessons here.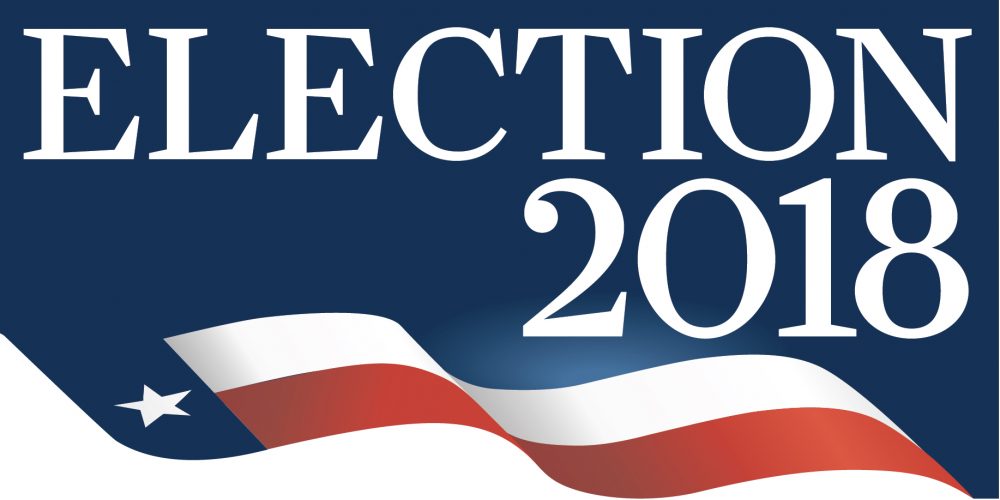 Votes are still being tallied in Tuesday's special election in Pennsylvania's 18th Congressional District but Democrat Conor Lamb has a slight lead that Republican Rick Saccone is unlikely to make up with the outstanding absentee ballots. As always, there's a tendency to extrapolate the results of one, idiosyncratic contest to the next big election:
[T]he Democratic Congressional Campaign Committee blasted out a statement declaring Lamb the victor, despite the fact that the AP said they would not call the race Tuesday evening.

"These results should terrify Republicans…..Candidates and message matter and that was on full display in this election," DCCC Chairman Ben Ray Luján said.
And there's certainly enhanced reason to do so this time:
President Trump won this Pittsburgh-area district by about 20 points in 2016, but it's Lamb who has run a high-energy race to challenge Saccone, after Rep. Tim Murphy, R-Pa., resigned last year amid a sex scandal. Republicans have privately grumbled that their candidate has been lackluster, and the Democrat could be poised to pull off the upset. Polls closed at 8 p.m. ET.

If Lamb does eke out the win, it would be the latest sign of worry yet for Republicans this fall. It's evidence of just how motivated Democrats are in 2018 and shows that the blue collar coalition President Trump was able to build in the 2016 campaign is not necessarily transferable to other Republicans.

While the close margin may give some solace to wary GOP members, it's still another example of Republican candidates way underperforming not just Trump's 2016 numbers, but the past performance of the district, too. Murphy routinely won re-election and didn't even face a Democratic challenger the past two cycles. Other special congressional elections last year in deep red territory in Kansas, Montana and South Carolina also ended much closer than expected.

If Republicans do lose this seat, the fact they were unsuccessful also shows that the GOP's economic argument to voters and touting its tax cuts may not be enough to save the party at the ballot box, either. While early ads in Pennsylvania focused on a fiscal message, closing arguments from Republican outside groups hit Lamb on immigration and crime instead.

Trump visited the district for a rally on Saturday as a last-ditch rescue mission, where he asked his supporters, "Do me a favor. Get out on Tuesday and vote for Rick Saccone." Trump also referred to the Democrat as "Lamb the sham," saying that if elected, Lamb would vote as House Minority Leader Nancy Pelosi wants, even though the candidate has said he would not support keeping her as leader of the Democratic caucus.
Vox's Dylan Scott goes much further ("The Pennsylvania special election shows the 2018 House battleground is enormous"):
Set aside who actually won the Pennsylvania special House election between Democrat Conor Lamb and Republican Rick Saccone — which we might not know for a while yet — and look at the big picture: Republicans are in big, big, big trouble.

Donald Trump won Pennsylvania's 18th Congressional District by nearly 20 points. The House special election will be decided by less than a percentage point, in either Lamb or Saccone's favor (and maybe after a recount?). That is a huge swing toward Democrats.

When you take a step back and look at the 2018 race for the House, you realize: There are more than 110 Republican-held House districts that Trump won by less than he won in the district where the Republican House candidate just effectively tied with the Democrat.

Strategists and election analysts on Twitter couldn't quite agree on exactly how many districts — 114? 118? 119? — but the number is, by all accounts, greater than 110. A few months ago, you wouldn't have heard Democratic operatives, even at their most optimistic, describe the 2018 battleground as that big. (As of last month, Democrats had just expanded their battleground map to 101 seats.)

There are the districts Hillary Clinton won, of course, but there are also the suburban, classically Republican districts where Trump has soured the electorate, and those white working-class districts with Obama-Trump voters.

This comes with plenty of caveats. This was a special election. Republican incumbents are going to be stronger than Republicans in an open seat like the Pennsylvania 18th. Conor Lamb was a particularly strong Democratic candidate, and Rick Saccone might have been an unusually weak Republican nominee.

But still: Democrats need 24 seats to reclaim the House majority. If Tuesday night is any guide, it looks like they will have a lot of opportunities to get them.
It wouldn't shock me at all if Democrats took back the House, even by a considerable margin. President Trump is exceedingly unpopular and, rather than settling into office, his administration seems to be getting more chaotic by the day. There are a multitude of scandals, ranging from porn stars to graft to Russian influence, to which Republican Congressmen seem determined to tie themselves. And we've seen wave elections during midterms before in similar circumstances—massive ones in 1994 (Republicans +54 House seats, resulting in a change in party control) and 2010 (Republicans +63 House seats, resulting in a change in party control) and modest ones in 2006 (Democrats +36 House seats, resulting in a change in party control).
Still, we need to be cautious about projecting too much from one race. In the case of Doug Jones' victory over Roy Moore in the special election to fill the Alabama Senate seat vacated by Jeff Sessions when he became Attorney General, Moore was a particularly awful candidate who was intensely disliked by many Alabama Republicans even before 11th hour revelations that he was a serial dater of underage girls.  Similarly, Lamb was an unusually attractive candidate and Saccone an unusually bad one.
That said, we don't have just these two contests. 538's Harry Enten wrote in December that the special election results up to then pointed to a Democratic wave:
There have been more than 70 special elections for state and federal legislative seats in 2017 so far.1 We're interested in each of those contests, naturally, but we're also interested in what the races tell us about the national political environment. To measure that, we compared each special election result to the partisan lean of that state or district2 — how we'd expect the state or district to vote in a neutral environment (i.e. an environment in which a Democratic and Republican presidential candidate would tie 50-50 nationally).

So, in a neutral environment, we'd expect each special election result to match the partisan lean of that state or district. Instead, Democrats have outperformed the partisan lean in 74 percent of these races.
Certainly, Pennsylvania 18 is another data point in that direction even if the Republican somehow managed to eke out a victory.
While the Alabama and Pennsylvania contests may well be unusual cases, they point to some larger truths:
Candidates matter. While some districts lean very heavily to one party or the other, especially charismatic, likable candidates from the opposite party can beat particularly weak, unlikable candidates of the dominant party.
You can't win if you don't play. Because some districts are so heavily hospitable to one party, there has been a tendency for the other party to simply not contest the race or to fill their ballot spot with a token candidate. That's a mistake since anything can happen between the primary and the general.
Party brands matter. While Tip O'Neill's axiom that "All politics is local" is ultimately still true, elections have become much more nationalized in the age of 24/7 cable networks, Facebook, Twitter, etc. President Trump's job approval has been negative (more disapprove than approve) for thirteen straight months. That simply can't be good for people running under the Republican banner.